Thanks to the Super Bowl run, this is the latest the Bengals.com Media Mock Draft has ever been unveiled. With just 20 days to go until the AFC champions are on the clock at No. 31, here's the first edition of the 2022 exercise that hopefully offers a similar universe of players the Bengals are going to be choosing from as the first day of the draft turns into the second.
The Bengals.com pick isn't the most important part of the endeavor. Like the 30 picks before it from our panel of scribes in each NFL city, it is simply a guess that would be arrogant to call educated. What is interesting is to see who is potentially available because that's about all you can do.
Duke Tobin, the Bengals director of player personnel who runs the draft, takes great pride in the secrecy of his draft room. For instance, there is no more draft board in there. It is tucked away safely in cyberspace and only available if you've got the right laptop.
The only thing that's available is history and Tobin has plenty of it as a Bengal. He's never shy about getting more picks with a second-round trade and he tries to strike a balance between need and grades.
1. JAGUARS _ DE Aidan Hutchinson, Michigan; Gene Frenette, The Florida Times Union
Frenette isn't so sure this pick isn't going to be a tackle if they can't figure out what to do with Cam Robinson. But it makes sense. Take the quarterback last year and the sacker this year.
2. LIONS _ S Kyle Hamilton, Notre Dame, Mike O'Hara, detroitlions.com
Safety is Detroit's weakest position. Hamilton gives them some plays where there have been few.
3. TEXANS _ DE Travon Walker, Georgia, John McClain, The Houston Chronicle
Walker is screaming around the edge and up the draft board
4. JETS _ OT Ikem Ekwonu, North Carolina State; Rich Cimini, ESPN.com
After signing two free-agent tight ends, including C.J. Uzomah, the departure of Morgan Moses is addressed.
5. GIANTS _ OT Evan Neal, Alabama; Mike Eisen, Giants.com
A bookend for left tackle Andrew Thomas.
6. PANTHERS _ QB Kenny Pickett, Pittsburgh; Joe Person, The Athletic
Person says with the top tackles off the board, Panthers head coach Matt Ruhle goes with the most NFL-ready quarterback. And the one who committed to him at Temple.
7. GIANTS _ CB Ahmad "Sauce," Gardner, Cincinnati; Mike Eisen, Giants.com
38 years after the Boomer Esiason draft, Cincinnati gives back to New York.
8. FALCONS _ WR Garrett Wilson, Ohio State; D. Orlando Ledbetter, The Atlanta-Journal Constitution
A scant 18 months ago with Julio Jones and Calvin Ridley, who would have thought they had to use this pick on a wide receiver?
9. SEAHAWKS _ DE Kayvon Thibodeaux, Oregon; Mike Sando, The Athletic
A nice 4-3 fit for a defense that finished in the bottom ten and had to cut leading sacker Carlos Dunlap to save up to $5 million despite his 13.5 sacks in his 25 games since came over from the Bengals.
10. JETS _ DE Jermaine Johnson II, Florida State; Rich Cimini, ESPN.com
The Jets have had a tough time on the edge. Last year old friend Carl Lawson blew out his Achilles before he took his first snap for New York and after getting a $12M per year extension, John Franklin- Myers offered six sacks.
11. COMMANDERS _ WR Chris Olave, Ohio State; John Keim, ESPN.com
A speed and YAC pick to make life easier for Carson Wentz.
12. VIKINGS _ CB Derek Stingley, Jr.; Mark Craig, Minneapolis Star-Tribune
It would be the fourth time since 2013 the Vikes take a cornerback in the first round, an irony in the first draft without old friend Mike Zimmer as head coach.
13. TEXANS _ WR Jameson Williams, Alabama; Aaron Wilson, The Pro Football Network
An offense that averaged less than six yards per pass attempt desperately needs a playmaker.
14. RAVENS _ OT Charles Cross, Mississippi State; Jeff Zrebiec, The Athletic
Think of it as insurance as left tackle Ronnie Stanley comes back from injury to a depth chart thin at tackle.
15. EAGLES _ DT Jordan Davis, Georgia; Zach Berman, The Athletic
They've got 31-year-old Fletcher Cox back for a year, but they're looking for depth there as evidenced by signing former Bengals defensive tackle Renell Wren.
16. SAINTS _ OT Trevor Penning, Northern Iowa; Katherine Terrell, The Athletic
A response to the loss of Terron Armstead in free agency.
17. CHARGERS _ CB Trent McDuffie, Washington; Jeff Miller, The Los Angeles Times
They're looking for receivers, but with Olave and Williams gone, they switch gears even though they signed J.C. Jackson in free agency and drafted Asante Samuel, Jr., in the second round last year.
18. EAGLES _ WR Drake London, USC; Zach Berman, The Athletic
Help for a pass offense that finished in the bottom ten for yards and touchdowns.
19. SAINTS _ WR Jahan Dotson, Penn State; Katherine Terrell, The Athletic
They couldn't account for the loss of Michael Thomas last season and he needs held for his return.
20. STEELERS _ DT Devonte Wyatt, Georgia; Gerry Dulac, The Pittsburgh Post-Gazette
Since taking Stephon Tuitt in the second round in 2014, the Steelers haven't taken a D-lineman above the fifth round since. Tuitt didn't play last season, Cam Heyward turns 33 next month, when Tyson Alualu turns 35 after he played just two games last season and there are no prospects behind them.
21. PATRIOTS _ G Zion Johnson, Boston College; Karen Guregian, The Boston Herald
After trading Shaq Mason and losing Ted Karras to the Bengals in free agency, the Pats' interior turns to a guy in their backyard who may also be able to play center.
22. PACKERS _ ILB Devin Lloyd, Utah; Pete Dougherty, Green Bay Press-Gazette
They'd like to come out of their first three picks with an edge rusher and two receivers. The edge isn't there, but they should be able to get the receivers later.
23. CARDINALS _ DE George Karlaftis, Purdue; Darren Urban, azcardinals.com
The great Chandler Jones (107.5 sacks in 139 games) is in Vegas and they need some sacks.
24. COWBOYS _ G Kenyon Green, Texas A&M; Todd Archer, ESPN.com
Connor Williams left in free agency and this guy could be a day one starter.
25. BILLS _ CB Andrew Booth, Jr., Clemson; Mark Gaughan, The Buffalo News
Probably Buffalo's biggest need with one starter, Levi Wallace, in Pittsburgh and the other, Tre'Davious White, coming off ACL surgery.
26. TITANS _ WR Treylon Burks, Arkansas; Paul Kuharsky, Paul Kuharsky.com
Kuharsky figures they'll be disappointed Zion Johnson isn't there or a faster wide receiver. But the 6-2, 225-pound Burks fits the Titans big, physical receiver M.O. and they won't go for Ryan Tannehill's successor without a second-round pick.
27. BUCCANEERS _ CB Roger McCreary, Auburn; Rick Stroud, The Tampa Bay Times
The Bucs are staring at a couple of incumbent cornerbacks heading into contract years and they need to re-stock for a system head coach Todd Bowles likes to use a lot of pressure man-to-man packages.
28. PACKERS _ WR Christian Watson, North Dakota State; Pete Dougherty, Green Bay Press-Gazette
He's raw, but he runs in the 4.3s and is 6-4, so there's plenty for Aaron Rodgers to like.
29. CHIEFS _ CB Kaiir Elam Florida; Adam Teicher, ESPN.com.
Elam is seen as the replacement for Ja'Marr Chase's good friend Charvarius Ward.
30. CHIEFS _ OLB Boye Mafe, Minnesota; Adam Teicher, ESPN.com
He can help the KC pass rush that finished 29th in sacks and was outsacked by the Bengals in the AFC title game, 4-1.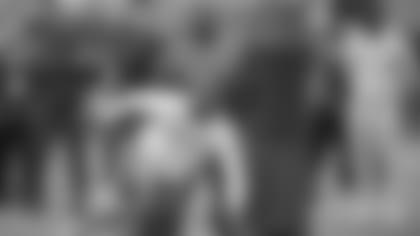 31. BENGALS _ DE Arnold Ebiketie, Penn State; Geoff Hobson, Bengals.com
There are some surprises up there (Watson, McCreary) and you've got to figure three quarterbacks are going somewhere in the first round, leaving the Bengals a couple of more position players to peruse.
But this is pretty much the universe the Bengals are going to be looking at in the wee hours of the round on Saturday morning. Looking at a mix from the big boards from Scout, Inc., Pro Football Focus and Walter Football:
Ebiketie, Iowa center Tyler Linderbaum. Washington cornerback Kyler Gordon, Michigan edge David Ojabo, Baylor safety-cornerback Jalen Pitre and Connecticut defensive tackle Travis Jones.
No question Linderbaum is enticing. He'd be a lock if they didn't draft a guard and center last year or sign a guard and center in free agency last month.
Gordon and Pitre are also attractive simply because the Bengals have little cornerback depth and a guy like Pitre could have the kind of cornerback-safety versatility they haven't had since Chris Crocker.
But you'll be able to get cornerbacks, as well as safeties (another Bengals need) in the sweet spot of this draft in rounds two to four.
If you look at their recent track record at this point in the draft, which is basically the second round, the least surprising thing here is a trade back. They've traded down in four of the last five second rounds and they'll no doubt keep an eye on that quarterback and wide receiver run because you know its coming.
Imagine if they held a draft and nobody came?
Could happen for the Bengals if they trade out of Thursday night into Friday night.
But if the Bengals stay at No. 31, the CW is they'll also stick with their board and the best player. The problem is there are a lot of the same guys here and it's hard to see them stocking up on another receiver or linebacker if nobody is standing out.
As attractive as Linderbaum is, they've addressed the O-line.
So what about balancing a century-old trend? The Bengals haven't taken an edge rusher in the first round since Justin Smith 21 years ago and in the 6-2, 250-pound Ebiketie (he's got the long 34-inch-plus arms), they've got an experienced fifth-year guy coming off a season he had 9.5 sacks and 18 tackles for loss.
If 2021 proved anything to the Bengals, you can't have enough of these guys. Sackers. Ojabo was a highly-rated guy before he blew out his Achilles at his pro day, but his rookie year is basically shot.
Ebiketie doesn't have the size to mix it up on all three downs all the time, but he's a good fit for the Bengals' hybrid 3-4 and he can come in right away and play in sub packages.
The Bengals have some interesting young players on the edge in Khalid Kareem and Joseph Ossai backing up Trey Hendrickson and Sam Hubbard. But Ossai has played only one preseason game and Kareem has battled to stay on the field during two injury plagued seasons.
Time to take that walk on the edge in the first round. They haven't done it in 21 years and in head coach Zac Taylor's three drafts, they've never taken a defensive player in the first or second round.