Joe Mixon has his backers at Freedom High.
Casey Lewis is the flip side of the coin, another take, a page inside the cover of the book when it comes to Bengals rookie running back Joe Mixon.
Then there is Kevin Hartwig, Mixon's coach at Oakley's Freedom High School hard between San Francisco and Sacramento. He's watching Mixon this week as we speak, high-fiving and greeting the track team a few days before he makes his NFL debut at the Bengals rookie minicamp that begins with a Friday afternoon practice.
"That's the kind of guy you're getting," Hartwig says.
There is also Karen Cortez, Mixon's academic adviser during his four years at Freedom, whose daughters befriended him during tutorial sessions at her home. It was Cortez who watched him take the time to coolly and gently calm her jangled nerves in the stands while she  agonized over her youngest daughter kicking for Freedom's freshman football team.
"He made a terrible, terrible mistake," Cortez says. "But I stand behind him. I think he's an amazing young man that has a lot to offer and that has learned from that mistake and will not be repeating that mistake."
But it is Casey Lewis who is the second side of every story.
"I know people will roll their eyes," Lewis says. "But I also know how Joe has been toward me and to my family with my sons. I have nothing but admiration for him. I know everyone makes bad choices and Joe did. It probably sounds personal and maybe it is."
How could it not be personal? Not after they went through that intense drama together in the cafeteria during Mixon's senior year?
Back then, Lewis, now the principal of Belshaw Elementary School in his hometown of Antioch, Calif., was Mixon's assistant principal for four years at nearby Freedom. One day when he was monitoring the lunch room, an ugly scene erupted when a male student had a female student on the ground dishing out physical harm.
But Lewis, nearly 6-1, 195 pounds and an Antioch High football and basketball player in the '90s, couldn't budge the guy. And to make matters worse, if possible, nobody else was budging either, with the crowd of 250 to 300 students content to take a few steps back and fish their cell phones out of their pockets to record the incident while taunting and jeering.
Then Mixon, the school's five-star athlete and everyone's No. 1 in the nation schoolboy back, came out of nowhere. He lifted the kid away from the fray, hauled him to the side, and calmed him down while Lewis attended to the female student and settled the crowd.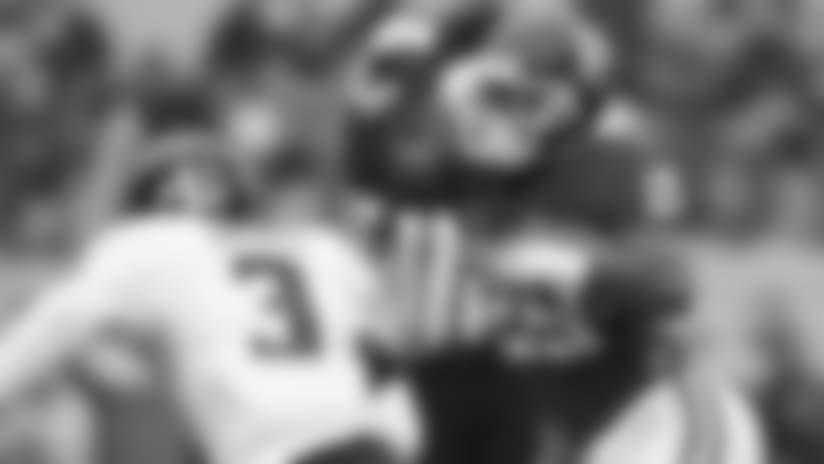 When Mixon came out of Oakley, Calif., he went to Oklahoma rated the nation's top back.
"He stopped a very violent and serious situation. When everybody sat back, he took action," Lewis says. "Joe did more than diffuse it. He literally stopped it from happening. He came across the room to help me out. Nowadays you rarely see that. You see kids backing up with their cell phones. He took action and stopped this beat down. It was a bad scene already, but it could have been worse."
Lewis did more than thank him. He called the Mixon home and spoke to his mother, a single mom who is a day-care provider, and told her how much character her son had shown that day when he stepped up and no one else did.
The irony, of course, is profound and poignant. Mixon is the most scrutinized athlete in America and the Bengals the most talked about team after they drafted him in the second round last week. The video of him punching Amelia Molitor, a female University of Oklahoma student, after they exchanged words is a horrific scene that haunts him. Those at Freedom High hope it doesn't define him as he begins his pro career.
"I know the good choices he does make and what he chooses not to get involved in," Lewis says. "l believe the Bengals' organization will not only be very pleased with whom they get on the field … but they're also going to figure out, 'We've got a good young man in our organization.' That's what I'm proud of most."
Karen Cortez agrees and remembers a Joe moment of her own when they were watching her daughter play football and she could hear the other coach clearly say from across the field, "Take her out. Take her out."
Naturally, Cortez was rattled. But Mixon told her, 'Miss Cortez, she's not hearing it. She's not hearing it. How can that be? Cortez shot back. You could hear the guy across the field. And Mixon said, "Trust me. She's focused. She's not hearing it. Just don't worry about her, all right?
"So she makes her kick or whatever and he's checking on her," Cortez says. "After the game I'm like, 'Did you hear anything?' No, she didn't hear it at all. I was freaking out, so he's calming me down … I just think about that from a Mom perspective. I was getting kind of frustrated and upset, but he had her back. He was just making sure she was OK and was there during that time she was the only girl on the football team."
These are the people who are with him this weekend.
When the Bengals called Mixon's name Friday night, Lewis' youngest son, Caden, an unabashed Patriots fan who believes fellow Bay Area product Tom Brady nearly walks on water, said, "Dad, we have to get Bengals' jerseys."
Mixon and the Bengals realize it is a long haul before there is consensus. The incident happened nearly three years ago when he turned 18 in his first weeks on the Norman campus. His coach and mentors at Freedom never saw him stray despite his Rivals.com celebrity and the relentless tweets of social media.
But now a new town and new sets of media and fans are absorbing the video all over again. Like that day in the cafeteria, Mixon knows he has to step up on and off the field when only he can.
All he can do is put on that new No. 28 Friday that Caden Lewis is going to be wearing and start new. The number may be for Oklahoma great Adrian Peterson, but it is also the number of Corey Dillon, the Bengals all-time leading rusher from the West Coast who fell to the second round 20 years ago.
Corey Dillon, another No. 28, arrived from the West Coast 20 years ago in the second round.
"He's got a fire and a passion," Lewis says. "I don't know where he gets it. But the great ones have it. He'll do whatever it takes to help his teammates and to win."
Hartwig has coached at Freedom for 16 years. He's already seen what the Bengals are going to see Friday.
"He's good," Hartwig assures, as if he had to. The man is 230 pounds and runs 40 yards like a scat back in 4.46 seconds.
He confirms that Mixon can not only throw with both arms, but he can also kick with both feet.
"There's not much he can't do," Hartwig says. "One day in practice I called the Wildcat (with Mixon at quarterback) and called it the wrong way. When he went to his left and threw it I said, 'Oh my goodness.'"
Mixon never went lefty in a game, but he threw plenty of passes with his right.
"He threw multiple times," Hartwig said. "Double passes to him, too. It was fun. We were fortunate to have him."
But Hartwig keeps going back to this week. The new draft pick has been seen in the Freedom weight room showing some of the kids the finer points of lifting. When Mixon  moved on from one station to encourage someone else, the kid he just left said, "Hey, that was Joe Mixon helping me."
And Hartwig told him, "He's one of us. He's just a regular guy who's one of us and has a special chance to make it."
"That's Joe. Not the video," Hartwig says. "He's a presence. He's got charisma and energy. When he walks in, he lights up a room."
So mark down Hartwig, too. In his corner.
"I will put my name down every time," he says.
And then there is Lewis, the flip side of the coin and the second side of the story. A page inside the cover of the book.
"I stand hard and fast with the fact I know Joe for the experiences I've had. And my kids and other staff members and teachers, too," Lewis says. "And this is before the NFL. This is when he was Joe High School."