Nose tackle Domata Peko (94), one of the Bengals' greatest draft steals ever on and off the field.
Andrew Whitworth wrinkled his nose and dumped his Pro Bowl laundry from three months ago on the floor in front of his locker before conjuring up a much sweeter memory.
"I remember my first offseason watching Chad Johnson open up his stuff from the Pro Bowl and spreading it out in front of his locker," Whitworth is saying Tuesday, looking across the way at old No. 85's locker. "And thinking, 'That would be cool.' Full circle."
It turns out equipment managers Sam Staley and Tyler Runk did the wash, so Whitworth has a clear view looking across the locker room through a gaggle of draft prospects visiting before the April 28-30 NFL Draft.
In two weeks, that's when it will be full circle. Ten years as one of the finest Bengals who ever lived. Ten years as part of one of the best draft classes the Bengals ever had, spearheaded by Whitworth, the left tackle, and Domata Peko, the nose tackle. Two trench guys that became the foundation of a locker room perennially in the playoffs. 
"How many drafts have four guys that play 10 years in the NFL? That's pretty rare I would think," Whitworth says. "I don't think anybody has it in their head to play 10 years. I laugh when ever one of these young linemen come in and ask me how long I've done it or how old I am. They say, 'There's no way I'm doing that when I'm that age.' That's what I thought at that time. You don't think you'll do it."
Rare? Right he is. The Bengals are one of just three teams that drafted at least four players that have been on a roster for the last 10 seasons since that 2006 draft and played significantly.
And a list from the Elias Sports Bureau shows they went a step beyond as the only team that had four players from that '06 draft start a post-season game last season for a division champion.
Third-round pick Frostee Rucker didn't play a game in his rookie season, but he has ever since and last year he started 15 games along the Cardinals defensive line and that included two in the postseason.
First-rounder Johnathan Joseph, the South Carolina cornerback, started the Wild Card Game for the Texans. His first 58 of 134 NFL starts came in Cincinnati.
Meanwhile, Whitworth, a second-rounder, and Peko, a fourth-rounder, stayed home to combine for 11 post-season starts and 288 more in the regular season at left tackle and nose tackle, respectively.
The other two teams with at least four 2006 draft picks that played through 2015 are New Orleans, with six picks, and Houston with four.
Ironically, Joseph's Texans drafted tackle Eric Winston 11 spots after Whitworth in that draft and he ended up starting a post-season game for the Bengals in 2014 before being a backup for Cincinnati last year.
But the other three players chosen by Houston in '06 had regular roles last year with overall No. 1 pick Mario Williams playing in Buffalo one last time, second-round pick DeMeco Ryans starting 13 games for the Eagles at linebacker in the last belches of the Chip Kelley Error, and fourth-rounder Owen Daniels being available as Peyton Manning's last Super Bowl tight end in Denver.
Two of the Saints' six picks went deep into this postseason with second-rounder Roman Harper starting the Super Bowl at safety for Carolina and fifth-round defensive end Rob Ninkovich starting the AFC title game for New England.
Meanwhile, New Orleans' first-rounder Reggie Bush got nicked at running back last year and played just five games in San Francisco. Fourth-rounder Jahri Evans, with 153 starts at right guard, seventh-rounder Zach Strief, with 58 starts at right tackle in the last four years, and seventh-rounder Marques Colston, with 45 of his 711 career catches coming last year, stayed with the Saints the whole way.
While the Saints won a Super Bowl with most of that crew and Houston beat the Bengals twice in the postseason with most of those picks, neither team has had the recent long-term consistency of Cincinnati. The Texans have won three AFC South titles in five years, but missed the postseason in the other two seasons while the Bengals have made the playoffs in all five seasons and in six of the last seven years. In the six seasons since the Saints won the Super Bowl, they've been to the postseason three times.
The leadership of Whitworth and Peko is a big reason. Whitworth is huge, white, bald, and southern fried. Peko is squat and Samoan with his Polynesian pride flowing like the hair out of the back of his helmet. There is "Big Whit,' and there is "The Big Uso," which means "Big Brother," or "Big Buddy," in the islands.
But they are the same guy.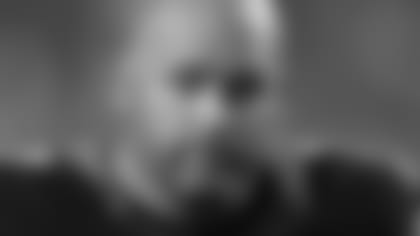 It took a few years in the NFL for Andrew Whitworth to figure it out.
"Whit does on offense what Peko does for us on defense," says fifth-year defensive tackle Brandon Thompson. "Great leaders. Someone you can always talk to about anything and you know it's not going anywhere. It's between y'all."
Indeed, Peko sat down Thompson as a rookie and walked him through how to play nose tackle in the Bengals' scheme. Hands first and swimming along the line of scrimmage rather than doing what he did at Clemson and charging up field.
It wasn't always that way. Not in the Bengals locker room and certainly not in Whitworth's mirror. He says the locker room now and then is "night and day." And he admits when he got drafted, "I didn't know much about myself." He and the Bengals ended up growing together.
 "The first couple of years are a blur. I don't know if I quite had the desire to be a great NFL player or even if thought about it much," he says. "When I first got here I just liked to compete and I was good at something. Then a couple of years in there I began to have a value of what it meant to fight for something. To see where it was. One, I had to change my priorities and we had to turn this thing into a winner."
Frankly, Whitworth just didn't take himself all that seriously coming out of school. So even a two-time Pro Bowl left tackle and team leader had to figure it out. You can see that by the way he spent Draft Day, 2006.
It was in his Baton Rouge apartment at LSU, where he hadn't taken much time to think about the process. There was no party, no barbecue or big screen, no family. He was just hanging with teammates Joseph Addai and Bennie Brazell. He felt like he knew enough that he didn't have to stick around for the first round and even Addai came back to the apartment after he went late in the first.
But after that, "No clue. Heard a million things," Whitworth says.
He had heard nothing and everything. If anything, he was a right tackle. Maybe he could play left tackle, but only maybe. Maybe he was a pure NFL guard. Maybe in the mid rounds. Maybe he'd be picking his team at the end of the weekend as a free agent. He hadn't heard anything as high as the second round until Tampa called that day and said they were going to take him at No. 59. Then Houston, picking at Nos. 65 and 66, called.
Which is funny because when ESPN's John Gruden sat down with him before one of the Monday night games last year and related what he was thinking as head coach of the Bucs in 2006, it wasn't that.
"They weren't sure I could play right tackle Whitworth says. "I didn't work as hard as I could work. I understood football a lot and I worked hard, but it was as punishment. If I played bad, my O-line coach would joke that he knew he'd see me on the field Monday night by myself pushing a sled. If you played well and we won, no big deal. I think that's where I matured. No matter what, you had to be consistent day after day, win or lose, preparing to get better no matter what happens on Sunday."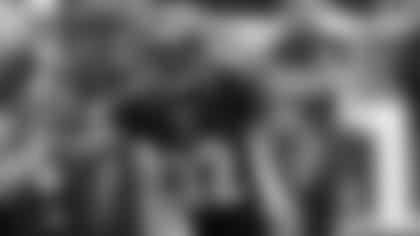 Whitworth and Peko got a lift when Chris Crocker (32) entered the locker room in 2008.
After all, what was left to accomplish for a kid from West Monroe that won state titles and national championships in the Big Easy at the Superdome?
"Where I'm from, that's about all there is," Whitworth says. "I know a lot of guys still living off those times. And they're doing well."
It began to click for Whitworth that third season in Cincinnati. It was such a horrendous year but in reality it set the stage for the franchise's longest stretch of success. Quarterback Carson Palmer was hurt and they went 0-8.
"I started all four seasons in high school 8-0 and three of them ended 15-0 and I never came close to a losing season in college. That was stunning to me," Whitworth says. "It was a gut-check moment. If I'm going to be successful, I have to do things differently. Marvin (Lewis) made me a game captain and somebody was telling me, wow, that's pretty young to be named a captain . . . I started to realize maybe I'm more than just a young guy playing this game. Maybe I can become a difference."
And it helped that in late October veteran safety Chris Crocker came off the street and really impressed Whitworth. He says Crocker was a big reason the chemistry tipped the right way in that 4-3-1 finish.
"He called guys out," Whitworth says. "He wondered why guys were carrying themselves like that when they were better than that and had talent. Then it kind of went from there."
That's why Whitworth finds the draft so mystifying and mysterious. How do you know what's inside a guy? How could any scout, coach, or draftnick know how a guy would react to an 0-8 start?
"You can have the best evaluation team in the world, but you can't evaluate desire and want to," Whitworth says. "Most of the guys are close together when it comes to talent. The guys who want it the most, the guys who are their own worst critics, are the guys that make it.  Even the top 20 guys, they have the talent, but if they can't handle criticism or fix their problems mentally without ruining everything else, they can never be as successful as they can. You can't measure ability to adapt. You can measure IQ, but how fast can a kid learn something?"
But there had to be signs.
The only time Whitworth ever heard about the first round heading into the draft came at one of those mass interview sessions at the train station in downtown Indianapolis during the NFL scouting combine. A guy wearing Bengals gear brushed past Whitworth's table saying "Andrew Whitworth, first-rounder,' and kept going.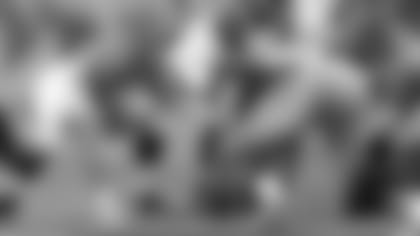 Future Bengals tackle Eric Winston (73) had a cameo in Whitworth's draft story.
Then, as Whitworth saw it, some little graduate assistant coach just vanished into thin air. Maybe a scout. A few days later in the Bengals' informal 15-minute session with Whitworth, the guy turned out to be Cincinnati offensive line coach Paul Alexander.
"You've got to be careful. Your thoughts come back to haunt you," Whitworth says jokingly. "He turned out to be my line coach for the next 11 years."
After Tampa called, Lewis called and Whitworth was a Bengal at No. 55. Gruden and the Bucs took Boston College tackle Jeremy Trueblood four spots later. Houston went back-to-back with tackles, Pittsburgh's Charles Spencer at No. 65 and Miami's Winston at No. 66.
Trueblood made nearly 100 starts for the Bucs and Spencer made just two while Winston took 87 of his 123 NFL starts with the Texans before joining the Bengals and his long-time friend. Winston had been on the Midland High School team in Texas that played Whitworth's West Monroe team in a national schoolboy grudge match.
They're both still at it and even though he's in the last year of his deal and he turns 35 late this season, Whitworth still thinks he might be able to keep going. At the very least, as a guard. The guy who never thought about playing 10 seasons cares about it now enough to play as long as he's able.
"I feel pretty good. Playing outside at tackle, things change naturally over time with footwork and speed and all those kinds of things. Things will be harder," Whitworth says. "But having the ability to play both inside, I think I can play inside for a couple of more years for sure."
Whitworth would like to do it here, but he understands if there's not another extension coming. They're breaking in sophomore Cedric Ogbuehi this year as the starting right tackle and they've also got second-year tackle Jake Fisher in the wings. A second-round pick. No. 53.
"They've got a lot of young talent. They have to do what they have to do," Whitworth says. "I love this game. I want to play and help a team win. If that works out (here), it works out . . . The one good thing is when you draft well, you get a good team. The bad thing is trying to figure out how to keep these (players) together is hard."
But he thinks the Bengals did a good job keeping enough free agents this year to make another run.
"This locker room has always gotten better and better. I think the core is getting stronger and stronger. That's what drives the team. (The core.) Look at New England," Whitworth says. "They key is for A.J. (Green), Andy (Dalton), Carlos (Dunlap), Geno (Atkins), Clint (Boling), the guys they've drafted and invested in are making sure they're snatching people up and making sure they know how things are done around here."
Which is right about where Whitworth and Peko came in ten years ago in that '06 draft.