Now that free agency and the draft have concluded, Bengals.com writers Geoff Hobson and Michael LaPlaca, along with broadcasters Dan Hoard and Dave Lapham will offer their insights to a series of questions regarding the Bengals.
The group offers their answer to the following question: which position group are you most excited to see at the start of training camp?
Lapham: All Bengal fans are excited to see Joe Burrow's game translate to the NFL. Burrow has shown many talents, and the Bengals have multiple weapons for him to utilize, but it's what up front that counts. Will the offensive line provide opportunity for Joe Burrow and his skill players to exploit opponents? Quarterback, running backs, wide receivers, tight ends; all may be capable of All-Pro seasons. Without offensive line support, they cannot reach their potential.  
Zac Taylor says that Burrow plays with an earned confidence because of his legendary commitment to detailed preparation. His offensive line has to match that preparation. They need to be a Triple AAA unit: assignment, alignment, adjustment. They need to know what to do, why they need to do it, and how best to execute it. No matter how a defense lines up, shifts, or movements it may make, you have to know every nuance of the scheme. Smart players give coaches confidence. According to coaches and teammates, center Trey Hopkins is a football savant who knows his and everyone else's assignment. Hopkins says Bobby Hart has an extremely high football IQ, as well. It does no good for anyone to be physically dominating the wrong opponent because of blown assignments or responsibility breakdown. Recognizing, identifying, and communicating proper responsibilities are all musts for offensive line efficiency. Mentally confident players play fast. Mentally unsure players play tentatively.  
Jonah Williams has not taken an NFL snap. Xavier S'ua Filo hasn't taken a snap with the Bengals. New pairs and combinations up and down the offensive line will be working with each other for the first time. You can talk techniques and show video of how to pick up stunts and blitzes virtually, but there is no substitute for live reps with each other on the field. The Pandemic this year makes that incredibly challenging. Physical repetition breeds comfort level.  
Offensive line coach, Jim Turner, and his assistant, Ben Martin, are building a culture based on excellent work ethic and proper makeup. No one is ordained. It is all about competition. Best man wins; everyone earns their spot; no free passes. The best offensive line that I was apart of: everyone wanted to be the best version of themselves that they could possibly be. Football was important to everyone, and we worked hard for the success of our entire unit. The offensive line must take pride in helping coaches focus on creating mismatches to take advantage of the opponent's weaknesses. You never want to be the weak link in the offensive line where the opponent feels that they have a favorable matchup that can be exploited. 
The 2020 Bengals offensive line is a combination of players returning from injury, players acquired in free agency, and draft picks. If this group puts in the work, bonds with a common goal, and plays with a "one for all, all for one" mentality, it will have every chance to live up to its potential and have a special season.
Hoard: What position group am I most interested to see? The one that includes a healthy A.J. Green.
With the seven-time Pro Bowler on the field, the wide receiver group is potentially among the best in the NFL. The last time that A.J. played an entire game was Week 8 of the 2018 season. Green made back-to-back catches of 23 and 11 yards in the final minute to set up Randy Bullock's game-winning field goal in a 37-34 win over Tampa Bay. At that point, the Bengals were 5-3 and shared the third-best record in the AFC at the midway point of the 2018 season.
Unfortunately, the Bengals have gone 3-21 since as Green has been hobbled by toe and ankle injuries.
In his first seven seasons, the 31-year-old was on a Hall of Fame trajectory as he averaged 79 catches for 1,173 yards and 8 touchdowns. Now think about what the rest of the wide receiver group can accomplish if opposing defenses have to gear their coverages toward containing Green.
Need a clutch catch on third down? Over the past two seasons, Tyler Boyd has proven to be one of the top slot receivers in the NFL as he's averaged 83 catches for 1,037 yards. He's been especially effective in moving the chains, converting first downs on 63 of his 76 career third-down catches, good for an 82.9 percent rate that ranks sixth in the NFL since he's been in the league.
Need speed to keep the safeties honest? John Ross ranked third in the NFL with 292 receiving yards in the first three weeks last year before suffering a serious shoulder injury in week four. He still managed to finish the year with 506 receiving yards in eight games and averaged a team-best 18.1 yards per catch.
Need a glue-fingered giant who had to be among the NFL leaders in "how on earth did he catch that" plays? As Lapham likes to say, Auden Tate is "open when he's not open." The king of the contested catch finished with 40 grabs for 575 yards despite missing the final three games of the season.
Need a tough-as-nails pro's pro who can line up anywhere and quietly tied for second on the team in receptions last year? Alex Erickson set career highs with 43 catches for 529 yards including an 8-for-137 day against Jacksonville.
Now add second round draft pick Tee Higgins to the mix. The 6'-4" 215 lb. Clemson star had a first round grade on the Bengals' draft board after having 59 catches for 1167 yards and 13 touchdowns last season. According to Pro Football Focus, "Higgins is probably the most complete 'big' wide receiver we've seen come into the league in quite some time."
Additionally, Damion Willis, Stanley Morgan and Trenton Irwin appeared in games for the Bengals last season and free agent Mike Thomas joins the team with an understanding of Taylor's offense after spending the last four years with the Los Angeles Rams. Scotty Washington and DaMarkus Lodge will also battle for spots on the roster or practice squad.
That's a deep and diverse crew. And one that should give Burrow the opportunity to shine as a rookie in 2020.
LaPlaca: One of the most significant transitions this offseason came with the additions of cornerbacks Trae Waynes, Mackenzie Alexander, LeShaun Sims, Tony Brown and Winston Rose. Paired with the addition of veteran cornerbacks coach Steve Jackson and all of a sudden this is a group that is one of the deepest on the team.
Of the Bengals cornerbacks who played 100 or more snaps last season, only William Jackson III and Darius Phillips returned for 2020. The team knew significant changes had to be made on all three levels of the defense, especially stopping the run. That's one of the most exciting aspects to like about this group. Waynes, Alexander and Sims all rated among Pro Football Focus' top run defenders.
What else is intriguing to watch is this group's depth. Sims played 56 games with the Tennessee Titans over the last four season, while Brown played in 20 games and made his mark on special teams. There is a lot of intrigue as well with Rose and Isiah Swann, the undrafted free agent from Dartmouth. Add in returnees Greg Mabin and Torry McTyer and their familiarity with defensive coordinator Lou Anarumo's system and there could be a lot of surprises with this group.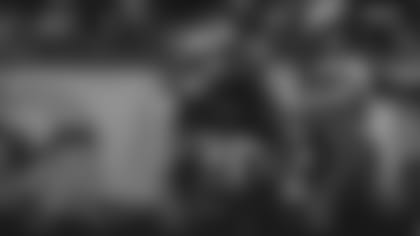 Hobson: The linebackers haven't gone through simply a facelift. It's been more like a change in face recognition and it has been just waiting to happen. In the past three seasons combined no NFL team has allowed more rushing yards and the new backer look starts at the top with the appointment of linebackers coach Al Golden, a two-time college head coach who has coached both sides of the ball after he led the Lions linebackers the past two seasons.
He oversees a room where free-agent middle linebacker Josh Bynes has played more NFL games (101) than the rest of the backers (93). Golden's 64 games in the NFL are more than everybody but Bynes. The only backer who played more than 76 snaps for the Bengals last season is Germaine Pratt with 436 plays in his rookie season.
So, yeah, they're young but the Bengals believe they're also versatile, fast and, most of all, smart. The kids, led by a draft class of three that includes third-rounder Logan Wilson and fourth-rounder Akeem Davis-Gaither, look to be a terrific match for Bynes. Bynes, 30, a highly respected 10-year veteran, came off the couch last season in the first week of October to steady Baltimore's wobbly defense. The Ravens promptly won 12 straight and didn't lose until the postseason as Bynes' leadership helped them climb to fifth against the run.
Remember the last time the Bengals raided the Baltimore defense for a leader that would prove to be a settling, strong mentor after a 2-14 season? After being named the Bengals head coach following a one-year stint in Washington, former Ravens defensive coordinator Marvin Lewis got them to 8-8 in his first season.
What Golden likes 17 years later is he's got a well-represented room with an obvious mentor in a long-time veteran (Bynes), young players that know the defense (Pratt and Jordan Evans), young veterans that have been with other clubs (Austin Calitro and Brady Sheldon) as well as a rookie class of four that has a great chance of sticking around on one list or the other.