The third and final edition of the Bengals.com Media Mock Draft is in the books and we thank the participating 26 members. Thankfully, we found them and theirs well as they made the turn for the draft's stretch run.
It turns out the draft that was to be held in Las Vegas is now the first remote draft in NFL history and, quite fittingly, everyone is going to be sitting in front of their own personal slot machines masquerading as computers.
So what else is new? Virtual or not, the reality is this thing is always a crapshoot, from predicting what teams are going to do to and how the prospects are going to perform. And this year it's even tougher to know what teams are going to do because the more social distancing, the less information.
Sure, there are phones. But tried-and-true public markers that tip off teams and media, such as pro days, stadium visits, physicals, never happened.
It seems the only things that people know for sure this trip are the top two picks. And even then, you'll have to tune in.
1. BENGALS: QB Joe Burrow, LSU; Geoff Hobson, Bengals.com
Burrow has been No. 1 on everyone's big board that night in New Orleans he lifted his index finger into the air to celebrate a national title. All the way back on Jan. 14, a pandemic and what seems like a century ago. Everything that has emerged since has kept him there.
2. WASHINGTON: DE Chase Young, Ohio State; Les Carpenter, The Washington Post
Status quo. Unless there's that too-good-to-be-true trade, this looks to be too good of a match between player and new defensive head coach Ron Rivera as he hopes to welcome the Julius Peppers of the '20s.
3. LIONS: CB Jeff Okudah, Ohio State; Mike O'Hara, Detriotlions.com
O'Hara covered the Lions when they were trying to recover from the retirement of a cornerback named Charles Richard Lebeau. Now they're trying to replace Darius Slay and while O'Hara's heart says take the best corner here, his head tells him they can trade back and maybe still get him.
4. GIANTS: OLB Isaiah Simmons, Clemson; Mike Eisen, Giants.com
There's going to be a quick burst of a run at offensive tackle in the first round. It's just a matter of how high. The way Giants general manager Dave Gettleman has been talking lately, it could start right here. But the Giants just need so much help all over their defense, why not go with the draft's top backer in the middle of it all?
5. DOLPHINS: QB Justin Herbert, Oregon; Armando Salguero, The Miami Herald
Apparently the Dolphins can't get the Bengals out of No. 1. They also can't get their hands on Alabama quarterback Tua Tagovailoa one final time for a physical. This is the third option. If Herbert isn't as highly ranked, he's healthier.
6. CHARGERS: QB Tua Tagovailoa, Alabama; Jeff Miller, The Los Angeles Times
The Chargers like Herbert. But the Miami pick doesn't change anything. They still need a potential franchise quarterback for the long term.
7. PANTHERS: DT Derrick Brown, Auburn; Joe Person, The Athletic
New head coach Matt Rhule, coming out of his offensive greenhouse at Baylor, had an interesting observation recently. Here's a team with desperate needs for starters on the defensive line and at cornerback and yet Rhule mused about sticking with his fast ball. That could mean going out and grabbing one of the top receivers, a la Jeudy or Lamb. But Brown answers so many problems.
8. CARDINALS: OT Jedrick Wills, Jr., Alabama; Darren Urban, azcardinals.com
OK. Here go the tackles. Now, if Simmons or Brown is there, they probably go defense. But if not, protecting last year's No. 1 pick in Kyler Murray is a close second. It's the Bengals in reverse after they made Jonah Williams the first tackle taken in last year's draft.
9. JAGUARS: CB C.J. Henderson, Florida; Pete Prisco CBS Sports
A.J. Bouye is in Denver and Prisco loves how the in-state Henderson covers.
10. BROWNS: OT Tristan Wirfs, Iowa; Tony Grossi, 850 ESPN Cleveland and TheLandOnDemand.com
Grossi has been consistent all the way. Ever since Bengals defensive ends Carlos Dunlap and Sam Hubbard combined for four sacks in last season's 33-23 win over the Browns in last season's finale. Tackle.
11. JETS: LT Mekhi Becton, Louisville; Rich Cimini, ESPN.com
Despite multiple off-season signings up front (George Fant has surfaced in The Apple at left tackle), they need long-term answers.
12. RAIDERS: WR Jerry Jeudy, Alabama; Vincent Bonsignore, The Las Vegas Review Journal
Three mocks. Three times the pick has been Jeudy. Last year no Raiders wideout had 50 catches.
13. 49ERS: WR CeeDee Lamb, Oklahoma; Matt Maiocco, NBC Sports Bay Area
Emmanuel Sanders has left and gone away and the NFC champs turn their eyes in search of another Deebo Samuel after grabbing the 802-yard rookie at No. 36 last year.
14. BUCCANEERS: DE K'Lavon Chaisson, LSU; Alex Marvez, Sirius NFL Radio
They would seem to be in no man's land here. Too high for a right tackle, cornerback or running back. But Chaisson does offer a future hedge with defending NFL sack leader Shaq Barrett on the franchise tag.
15. BRONCOS: LT Andrew Thomas, Georgia; Mike Klis, 9News
With Jeudy and Lamb off the board, Denver figures they can get that much needed wide receiver in the second round while now securing what many view a top ten player. Profootballfocus.com ranks Thomas No. 8.
16. FALCONS: DT Javon Kinlaw, South Carolina; D. Orlando Ledbetter, The Atlanta Journal-Constitution
Here's another big board pick. Not the edge rusher the Falcons seek, but they can put this tall, big and athletic force next to Pro Bowler Grady Jarrett.
17. COWBOYS: CB A.J. Terrell, Clemson; Todd Archer, ESPN.com
They need a lot on the NFL's 24th-ranked defense and this pick mitigates the loss of Byron Jones in free agency.
18. DOLPHINS: LT Austin Jackson, USC; Armando Salguero, The Miami Herald
No matter which quarterback they secure on Thursday night, they still have to protect him and here they finally counter the trade of Pro Bowl tackle Laremy Tunsil.
19. RAIDERS: CB Kristian Fulton, LSU; Vincent Bonsignore, The Las Vegas Review Journal
The Raiders helped out old friends Paul Guenther, the former Bengals defensive coordinator, and David Lippincot, his linebackers coach and former Bengals aide, with a busy enough free agency that they can take a look at the secondary. Fulton is a Paulie G. kind of corner, a long cover guy, although he doesn't check the experience box with just one season of starting.
20. JAGUARS: WR Justin Jefferson, LSU; Pete Prisco, CBS Sports
Prisco is sticking right here with one of Joe Burrow's favorites. Why not? He has only five career drops, according to PFF.
21. EAGLES: WR Henry Ruggs III, Alabama; Paul Domowitch, The Philadelphia Inquirer
Here's another constant. Domo has been going wide receiver all the way with the Eagles sitting pretty trying to find a speed bookend for last year's second-rounder, JJ Arcega-Whiteside and veteran Alshon Jeffery. The names have just changed, but they should be able to get one of the top four wide receivers.
22. VIKINGS: CB Jeff Gladney, Texas Christian; Chris Tomasson, St. Paul Pioneer Press
After losing two of his starting three corners to the Bengals via free agency in Trae Waynes outside and Mackensie Alexander in the slot, you figure old friend Mike Zimmer makes a move here. Gladney seems to be his kind of guy. A feisty, tall guy (6-0) that doesn't mind hitting and has 4.3 speed.
23. PATRIOTS: ILB Kenneth Murray, Oklahoma; Karen Guregian, The Boston Herald
Guregian is thinking about guys like Kyle Van Noy and Dont'a Hightower. Big guys that can move and you never know if they're going to line up inside or out.
24. SAINTS: OLB Patrick Queen, LSU; Katherine Terrell, The Athletic
Old friend Kat Terrell, who covered the Bengals at the end of the Marvin Lewis run, has returned to her beloved hometown and it looks like Queen stays, too. Great fit. Two of their starting backer spots are up in the air and they need depth.
25. VIKINGS: OT Josh Jones, Houston; Chris Tomasson, St. Paul Pioneer Press
They need a left tackle and they could do it a couple of different ways involving veterans Riley Reiff and Brian O'Neill. Reiff can kick inside and O'Neill can move sides, all depending on which rookie tackle they choose.
26. DOLPHINS: RB D'Andre Swift, Georgia; Armando Salguero, The Miami Herald
The Dolphins want to beef up at tackle and take another one here, but is the first-round offensive line group six-deep?
27. SEAHAWKS: DE Yetur Gross-Matos, Penn State; John Clayton 710 Seattle and The Washington Post
History says they'll trade here because they haven't used their original first-round pick in about a decade. Jadeveon Clowney is unsigned but it's hard to see him not coming back. They have situational pass rushers but are looking for an edge starter. This spot could also ignite a run of a couple of trade downs right here.
28 RAVENS: C Cesar Ruiz, Michigan; Jeff Zrebiec, The Athletic
Guard Marshal Yanda has retired and begins his five-year wait for the Hall. Center Matt Skura tore three knee ligaments late enough last season that he's probably not going to be ready for Opening Day. With two questions inside they can turn to a guy that can play either and they'll have plenty of info on him since he played for Ravens head coach John Harbaugh's brother in Ann Arbor.
29.TITANS: DE Terrell Lewis, Alabama; Turron Davenport, ESPN.com
No corners here, it looks like, but Davenport has talked to all of them on 102.5 The Game in Nashville and his Talking With TD podcast. But he's also talked to Lewis, too, and he sounds like a Mike Vrabel kind of guy with a big upside as a defender that can come off the edge and drop into coverage, too. The Bengals saw it when they coached him doing both at the Senior Bowl.
30. PACKERS: RT Ezra Cleveland, Boise State; Jim Owczarski, Milwaukee Journal Sentinel
What about our man Jimmy O? Owczarski, the former exhaustive Cincinnati Enquirer Bengals beat reporter (ask Geno Atkins)? Here's a guy not only covering one of the world's most high-profile sports teams for one of the NFL's hungriest fan bases at the apex of the draft, but he's also working news side for a newspaper gutted by the pandemic. For half a year back in 1992 at The Enquirer, a former NFL scribe felt he proved a point, too. If you can cover sports, you can cover anything.
Oh yeah. After covering a protest this weekend, he had time to stick with his pick. Bryan Bulaga is on the alumni list, Rick Wagner is there for a cup of coffee and A-Rod must be protected.
31. 49ERS: CB Trevon Diggs, Alabama; Matt Maiocco, NBC Sports Bay Area
All their cornerbacks are on the last year of their deals. Perfect time to bring in a rookie to learn at the feet of the ultimate pro in Richard Sherman. Yes, Sherm is a Hall-of-Famer.
32. CHIEFS: S Xavier McKinney, Alabama; Terez Paylor, Yahoo Sports
Paylor just can't resist passing up McKinney here even though they have "The Honey Badger," back there. He calls McKinney an incredible value pick here, the kind of guy that you pick now and find a place for him later. For instance, they could unleash The Badger with a guy like McKinney. It also shows that the re-signing of cornerback Bashaud Breeland has opened up the board a bit for them.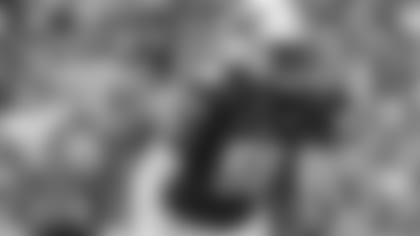 33. BENGALS: OLB Zack Baun, Wisconsin; Geoff Hobson, Bengals.com
Flash back to 1991. Paul Brown's last draft and our first one. We invited him out to lunch and he invited us in and over brown bags we hashed through the 19th pick.
We pressed him on his famous quote: "You draft for need and don't let anybody tell you any differently," and we don't remember him backing down.
This is certainly a need pick here. A no-brainer, you'd think.
Yes, in the first 2020 Bengals.com Media Mock Draft before the NFL scouting combine, we went with a SAM backer- type in Alabama's Terrell Lewis, a Senior Bowler the Bengals coached for the South.
 Then late last month, after the Bengals re-made their defense in free agency, we picked Colorado wide receiver Laviska Shenault, Jr. with the board wide open.
Now we're back to need with the thinking that if this is, indeed, one of the deepest crop of wide receivers ever, get one later and go for Paul Brown's need at 33.
Using big boards belonging to media outlets such as profootballfocus.com, ESPN.com's Scouts, Inc., and the great Gil Brandt, let's take a look at the universe of players available:
Shenault and fellow wide receivers Tee Higgins of Clemson and Texas Christian's Jalen Reagor, defensive ends A.J. Epenesa of Iowa, Julian Okwara of Notre Dame and Curtis Weaver of Boise State, Missouri defensive tackle Jordan Elliott, LSU safety Grant Delpit, Utah cornerback Jaylon Johnson and Baun.
The Bengals have traded down in the last three second rounds with limited success. Success in the sense in all three drafts they got the players they targeted and two of them are their brightest of young stars. Running back Joe Mixon has been their best offensive player in the last year and a half with A.J. Green, injured and safety Jessie Bates has played almost every snap. Plus, they liked what they saw from tight end Drew Sample in limited fashion as a rookie last year and he's poised to play a bigger role this season.
But limited success because the extra picks didn't pan out. Third-rounder Malik Jefferson and fourth-rounder Josh Malone are no longer with the club, although last year's fourth-rounder in the Sample trade, Arizona State defensive tackle Renell Wren, is seen as a developing factor.
Still, it's a great concept and they've executed well on the clock on draft day and they'll have all day Friday to toy with that 33rd pick. The rest of the league has to come to them.
Obviously, a first-round pick on their board is going to be there at the top of the second. But how many? If there are more than a couple, maybe they can trade back and still get one. If the No. 15 player is there, they'd have to draft him purely out of value, you'd think. That's why, depending how it goes, the 33rd pick is a higher brand of player compared to being at something like No. 38 and looking to trade back.
"It's hard to predict. I don't know that it's a strategy, more than a reaction to a situation," said director of player personnel Duke Tobin during last week's Zoom conference. "We'll see what situations come up in this draft. Obviously if we're very satisfied and we don't want to risk losing a player that's on the board when we're on the clock, then we're just going to sit there and take him.
"We're not going to take on too much risk if there's a guy that's right in our sights. We'll see how this draft breaks. Sometimes you feel good about moving back and still getting the same guy and sometimes it's a little riskier to do that and each draft is a little different."
If it's one spot the Bengals need, it's a linebacker, a position they began to re-make in free agency when Nick Vigil signed with the Chargers while they went out and signed Ravens middle linebacker Josh Bynes, a 30-year-old veteran traffic cop that can stone the run.
He's seen as a mentor for Germaine Pratt, last year's third-round pick, and the multiple backers they're expected to acquire in the draft and undrafted free agency.
Back in February at the NFL scouting combine, defensive coordinator Lou Anarumo, said he was looking for a certain kind of backer: "Start with before the ball is ever snapped stuff … Command of the huddle, command of leadership. Communicative guy. A guy that can cover a back or a tight end or fit a gap. Leadership. Playmaking."
Now two months later the beauty is Bynes can be that guy right away, but the 6-3, 235-pound Baun, a former high school quarterback, sounds like a worthy student. He would seem to fit the elements needed for a SAM backer with enough pop off the edge for 12.5 sacks last season married with deft coverage skills.
He also said at the combine there's tape of him breaking up some deep passes and said one team that week called him, "The Toy," because of his versatility. The Bengals saw that diversity in the Senior Bowl when he played off the ball against them for the North.
According to ESPN NFL insider Adam Schefter last week, Baun tested positive for a diluted sample at the combine and notified all the teams, blaming it on drinking too much water for weight-related weigh-in purposes.
It doesn't seem to have hurt his draft stock or eclipsed his terrific intangibles he built up during a career he worked his way up from the bottom of the depth chart to be a Badgers great.
Postscript No. 1: Baun is ranked 33 on the Pro Football Hall-of-Famer Brandt's board at NFL.com.
Postscript No. 2: In desperate need of a pass rusher in 1991 the Bengals, the defending AFC Central champs despite a NFL-low 25 sacks, selected rush linebacker Alfred Williams of Colorado at No. 19.