Everybody has been talking about how changing the quarterback going into the bye has been tough on this guy, tough on that guy. How tough has it been you to make such a big decision so early in your tenure?
It's not easy because you're dealing with a guy that's been a leader on this team for a long time. Obviously it's part of the job and hard decisions come with it. Delivering bad news is never easy. Especially to a guy that's represented this place the right way for a long time and done great things for the community. That part is hard. But it's part of the process.
Is there ever a right time?
No. It's never easy. It's always hard when you're dealing with a player that's respected. We felt like the bye week was the right time to do it. Give Ryan a couple of extra days to prepare. Get his mind around the fact he's the starting quarterback. I just felt like this was the right time to do it.
What did you think when you saw Andy stand up in the team meeting and address it with his teammates?
He's a professional. That's not surprising he would handle it the right way. He certainly still has the respect of the team and he certainly has a lot of close friends on the team. He handled it the right way.
You said yourself there's a lot guys in here that have won a lot of games with Andy. Did you have to balance that with what you want to get done without losing the locker room, as they say?
Yeah there's never a right way to go about it, necessarily. It was just a decision I felt we needed to make. It doesn't mean it's easy or there are not going to be challenges that come with it. It's just the direction we're headed. We've got the right people in this locker room. They understand what we're trying to build here and I think we have a respect for each other. I think they know it wasn't easy for me. Whether or not they agree with it, I think there's a respect level there.  That's important.
How do you marry starting a rookie quarterback with telling the locker room you're trying to win?
We're doing everything we can to try and win a game. We're looking at every avenue. This is just the next direction we're headed.
Now that the trade deadline has come and gone, it seems like you guys concluded you don't want to give up your best players and if you traded them to a contender the value of the draft pick would be compromised. Is that about it?
People want our good players. We want our good players. People get frustrated when you don't want to give up your good players. That doesn't make a lot of sense. We're excited to keep the guys that we have.
It seems pretty cut and dried, doesn't it? You see how Ryan plays and if you think he can do it, you draft another position first?
We'll see what he can do starting next Sunday against Baltimore.
What does Finley give you?
We'll find out. He's done everything we've asked him to do so far. He had a good training camp. He's absorbed the playbook the right way as any backup would. He had a great college career. That's why we drafted him. He's got a very calm demeanor, a consistent demeanor. I think the guys will respond to that. He throws with great anticipation and accuracy. He's got good touch down the field and he can extend plays in the pocket a little bit.
He certainly doesn't lack for confidence. He's got a swagger.
Yeah, he's got a quiet confidence about him.
I know you guys were really impressed when Finley came in here for his pre-draft visit. He won't be lacking for brains.
Smart guy. He's been able to handle a NFL playbook as you would expect a smart, intelligent rookie would handle it.
Given the shuffling status of the offensive line, his pre-season pocket awareness may help him right away.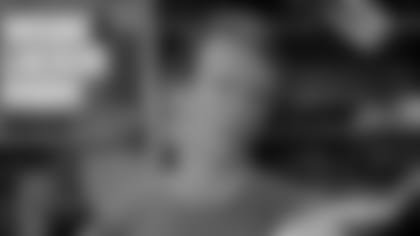 He's good at extending plays, keeping his eyes downfield looking for receivers. He ran. He can create a little bit, too.
Bye week usually means self-scouting. What do you think you guys will find on your self-scout?
We'll keep that in-house. We'll try to find any tendencies we have and anything we need to focus on.
After the first eight games of calling the plays, how do you want to adjust? It looked like the double tight ends and the extra lineman formations worked pretty well in Wembley. Did you like the look? Will we see more of it?
It was good. When we put 12 (two tight ends-two receivers) on the field, they played nickel (an extra defensive back and that was a good match in the run game for us and our guys executed it well. We'll do whatever we have to do each game to try and give ourselves a chance to be successful.
That's part of the self-scout, I imagine. What personnel group is working and what's not?
Injury wise, A.J. Green sounds hopeful he'll play next week.
We take it day-by-day and I know he's excited to get back on the field and we'll see where it goes.
Anybody who missed the last couple of games be back for Baltimore?
I think (slot corner) Darqueze (Dennard) is progressing. (Left tackle) Andre (Smith). (Right guard) John Miller. (Left end) Carl Lawson. All those guys have a chance to play. We have a chance to get back healthy. It looks like (right guard) Alex Redmond (foot) will be out a week.
If there's a message for the last eight games, what is it?
Try to win as many as we can. Our guys have to focus on little details and technique. We can't avoid the things we've worked on since training camp. I think our guys are starting to settle into the systems and have a great understanding of what we're trying to achieve and it will pay off sooner rather than later.