DETROIT - Bengals head coach Zac Taylor unveiled his third different starting right guard when rookie Trey Hill took the snaps with the starting offensive line before Sunday's game against the Lions at Ford Field.
Hill, a sixth-round pick out of Georgia, took the bulk of the week's snaps in practice when rookie Jackson Carman went on the COVID list on Monday and didn't return to Paul Brown Stadium until Friday.
Another rookie, fourth-rounder D'Ante Smith, replaced Carman but tore his meniscus on one of the first snaps in Wednesday's practice and faces arthroscopic surgery. He'll be out until at least after the Nov. 14 bye and veteran Xavier Su'a-Filo (knee), replaced by Carman, and can't return from injured reserve until after next week's game.
The 6-3, 320-pound Hill has drawn raves for the athleticism he brings to a massive lower body. The Lions figure to try and match him up with former first-round pick Michael Brockers.
Taylor revealed his other plans for Sunday late in the week, so there were no surprises when the inactive sheet came out before the game.
Cornerback Tre Flowers, claimed on waivers Thursday, was inactive, as well as pass rusher Darius Hodge, wide receiver Mike Thomas and defensive tackle Tyler Shelvin. With rookie offensive linemen D'Ante Smith (knee) on injured reserve, backup tackle Fred Johnson went active for the first time this season.
Also active for the first time after getting called up for the practice squad this weekend were running back Trayveon Williams and linebacker Joe Bachie and they'll be charged with trying to replace two of their best and most experienced special teamers.
Fifth-year running back Samaje Perine, on the COVID list, is one of two Bengals with multiple tackles in the kicking game, where he took more than half the snaps. He'll be back. But fifth-year linebacker Jordan Evans won't be after Sunday's knee injury. He was in on three-quarters of the kicks before he went down and they'll miss a resume that includes the most Bengals games by a defender and 18 career teams tackles.
(By the way, with Evans out another core special teamer, kick returner Brandon Wilson, now has the most Bengals games on defense with just 56.)
Bachie, who checked in on 57 teams' plays during his rookie year with the Eagles last season, makes his Bengals debut. Williams, a sixth-round pick in 2019, makes his season debut after two years he's played a total of 152 snaps in the kicking game.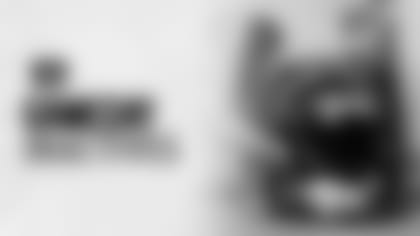 Inactives
Find out who is in, and who is out each week for the Bengals in the Game Day Inactives.
DEEP THOUGHTS: Tee Higgins is a thinking man's receiver. We know because he got ready for Sunday's game thinking about last Sunday's two drops. Especially the one in overtime.
"That drop I had over on that sideline, that one stayed in my thoughts for a long time," Higgins said this week. "Really the whole night because I felt like if I would have caught that ball, we would have been on the (Packers) 40 right away and then we could have easily ran two more plays and put us in even better field goal position, and we could have won that game."
So that meant more work on a day usually reserved for film work.
"Monday, I was just out there, just working, working, catching more balls," Higgins said. "I wouldn't say I ran the routes. I was just coming out of the break, just reiterating keeping my eyes on the ball."
Higgins hasn't limited his thinking to himself. He's watching the wide receiver opposite him, Ja'Marr Chase, tear up the league in his rookie season.
"I've got to keep my eye on the ball. I'm just trying to turn out before I even caught it," Higgins said. "And then some of the plays that Ja'Marr was making, I'm learning from him as well. It's just the little things.
"Just the way he runs routes, the way he goes out there and gives 100 percent every play. Just the little things that he does that I see in his game that I can really put into mine … He's just smooth. He's a smooth cat. He's just in and out of his breaks real quick. I really like that.
Higgins could have blamed last week's drops on rust after missing two games with a shoulder injury. But he didn't. And at 6-4, 220 pounds, he's as rugged as they come at that position He says it feels 100 percent.
"Just a little bit," he said of the rust. "I left some things out there that I usually make. But it's things I can learn from and keep it going moving forward."
Higgins has thought enough about his first part of the season that he gives himself a "C." He does have two touchdowns and last week's huge tying two-point conversion with 3:23 left in regulation. But he's averaging just ten yards per catch.
"The first game I had a really good game," Higgins said of four catches for 58 yards. "The second game, I wouldn't say I played that well. Obviously, the fumble. I think I had a drop that game as well. And then this past game, I had two drops. If I was to grade myself, I grade myself a 'C' right now. There's definitely room for improvement and I plan on improving."
He's been thinking about it.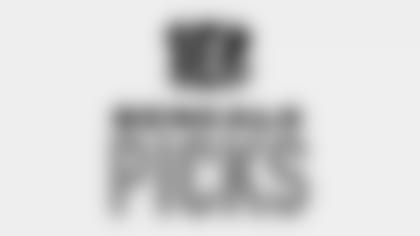 Bengals Picks, presented by OHIO Lottery
Play Bengals Picks every week for a chance to win prizes. Predict individual and team outcomes and compete against other Bengals fans for a chance to take home the prize, and the bragging rights!