Running back Joe Mixon is poised to get his "normal" workload in Sunday's game (1 p.m.-Cincinnati's Channel 19) in Detroit and even though rookie right guard Jackson Carman is back with the team it's not certain he'll make his fourth straight start.
It's been a turbulent week for the Bengals' promising trio of rookie offensive linemen they drafted in rounds two, four and six. Carman, the second-rounder, was sent home after being put on the COVID list Monday. His replacement, fourth-rounder D'Ante Smith, injured his meniscus on one of the first plays of Wednesday's practice and sixth-rounder Trey Hill has taken the rest of the week's snaps.
After Friday morning's practice head coach Zac Taylor said Smith is headed to injured reserve and surgery. Smith will be week-to-week after the Nov. 14 bye. They'll make a call on Carman after they see him move around Friday and Saturday and he has had access to the game plan via the team's iPad playbooks. Taylor says he'll be active, as is backup tackle Fred Johnson for the first time this season. They did list wide receiver Mike Thomas (ankle) as limited after he went full Friday.
Hill played center at Georgia but the Bengals projected him as both a guard and a center and has been getting enough reps at both in practice that they've been impressed how athletic he is at 6-3, 320 pounds
"We think Trey has a really bright future, too," Taylor said. "We think he'll be ready to go if he has to play for us."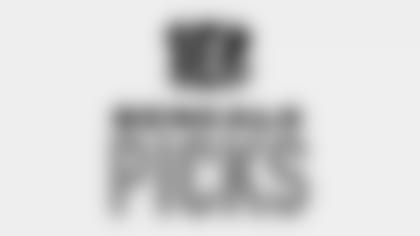 Bengals Picks, presented by OHIO Lottery
Play Bengals Picks every week for a chance to win prizes. Predict individual and team outcomes and compete against other Bengals fans for a chance to take home the prize, and the bragging rights!
On orders from the medical staff this week, the Bengals kept quarterback Joe Burrow from speaking for any length of time and from projecting his voice. So he didn't meet with media and used mostly the silent count in practice. Taylor said Burrow did use his voice sparingly in the huddle and in small position meetings.
"We're just being mindful of it so he's great on game day," Taylor said. "As he's been in the huddle he's done a good job managing himself. We've kept him out of talking in these environments so he'll be ready to go on Sunday, which he will be.
"On the road it will be loud and so the guys have to strain to hear (in the huddle). He's just trying not to project his voice too much during the week. It's good because the guys are able to lean into it (the huddle) and listen and read lips. Just like we practice every time we go on the road."
Mixon, coming off a 10-carry game (his fewest since Oct. 20, 2019), returned to practice Friday after sitting out Thursday. He went limited and is listed questionable, but Taylor sounds like he's full go.
"I think every week you come off a sprained ankle, it gets better," said Taylor, who indicated Mixon is back to his regular amount of carries.
But with No. 2 running back Samaje Perine out (COVID list), rookie running back Chris Evans and practice squadder Trayveon Williams are in line for their first carries of the season. Taylor said Williams is to be activated in what will be his 22nd NFL game in his third season.
Taylor indicated that the newest Bengal, cornerback Tre Flowers, won't be active Sunday. But he'll travel with the team and "get to know his teammates."
Flowers arrived late Thursday after finding out the Bengals claimed him off waivers following his release from Seattle, where he started 40 games during his three seasons. He was out on the field Friday, where cornerbacks coach Steve Jackson spent some extra time with him going through the differences between the scheme here and in Seattle and there are apparently many. Jackson gave some pretty clear insight on just why he may be inactive.
"He's a talented player. Good personality, good player, he'll fit right in," said Jackson after coaching him up to the locker room door as they were among the last off the field. "He was there three years, catch a flight and the next day you're doing something different in a new helmet. All that in 24 hours."