During their three 21st century appearances in the city where they went to their first Super Bowl, the Bengals have never lost while averaging 33 points. That's a number they'd love to hit Sunday (1 p.m.-Cincinnati's Channel 19) at Detroit's Ford Field.
As the 3-2 Bengals look to unleash an offense that resembles the simmering hisses before an explosion and get into the 30s for the first time this season, they're trying to prevent a winless Lions team from taking out their so many last-call frustrations in one combustible afternoon.
But the Bengals.com Media Roundtable just doesn't see how the Lions can out-roster the Bengals.
The Cincinnati contingent of Bengals.com team reporter Marisa Contipelli and Wayne Box Miller, the host of the Bengals radio network's game day coverage, gives the edge to quarterback Joe Burrow and his band of receivers against Detroit's decimated secondary. The glue of detroitlions.com, columnist Mike O'Hara and senior writer Tim Twentyman, have seen the Lions from Dick LeBeau to Penei Sewell and they come out of it split.
Let's go around The Table. As always, ladies, visitors and the alphabet first:
I like the matchup with the Bengals receivers against the Lions secondary. We could see another big Joe Burrow to Ja'Marr Chase type of day. There are a couple of factors that could have an impact on the offense. There is uncertainty who is going to start at right guard and running back Joe Mixon is coming off a 10-carry game because of an ankle injury. If they use him like that again, I would imagine we would see Burrow throwing it a little bit more again this week, which ties back into the advantage I think they have against the Detroit secondary.
On the other side of the ball, Detroit hasn't shown they have been able to run the ball consistently and one of the Bengals' strengths this season is stopping the run. That's another edge for them.
THE EDGE: The heartbreak with the late kicks for Detroit is going to continue and it's a bounce-back game for Bengals kicker Evan McPherson. It won't be a cakewalk for the Bengals. The Lions aren't your typical 0-5 team. But Cincinnati has the advantage in some key areas. BENGALS, 27-24.
The No. 1 edge in this one is the passing game and it goes to Cincinnati by a wide margin with Burrow and Chase and the supporting receivers they have. The Lions don't have Chase, Tyler Boyd and Tee Higgins and they're going to have to fight hard to even it up. When you think about it, the Bengals have two of the brightest young stars in the NFL. The two weakest parts of the Lions have been their secondary and the lack of quality depth at wide receiver, two big advantages for Cincinnati.
On the other side of it, despite all the injuries they have been pretty good on the offensive line and they would have had one of the top five or six in the league if not for losing Pro Bowl center Frank Ragnow for the year and left tackle Taylor Decker hasn't played yet. For all the assets they put into the line with first-rounders, they have not played one snap together this year and they won't. But it's still well coached by Hank Fraley.
Defensively, I think the Lions have the edge with their front seven, however they do it. They've got some guys who used to be defensive ends now listed as outside linebackers and maybe the surprise of the first half of the season is outside linebacker Charles Harris. He's got four sacks after it didn't work out in Miami, where he was a No. 1 pick five years ago. It's working out here. When they have the edge I think something good is bound to happen. It's a heck of a way to go into a game, but I think the Lions have really shown some grit and muscle and desire in these losses on a 66-yard field goal, the longest in the history of the National Football League, and then last week a 54-yard kill shot at the buzzer again by the Minnesota Vikings.
THE EDGE: I think the Lions are galvanized after two heartbreaking losses. They'll have home-field advantage. I like the Lions. Why? It's time for them to win a game. They've lost nine in a row dating back to last season. Don't get it into double figures. LIONS, 27-16.
It's been a tough start for the Lions, but you look at a couple of those games. A 66-yard NFL record field goal to beat them at home. They played San Francisco tough in the opener and battled their way back after getting behind. They went to Minnesota, a tough place to play and it took a 54-yard field goal as time expired to beat them. I think this is a team that has taken on their head coach's and coaching staff's mantra. A lot of former players on this coaching staff and head coach Dan Campbell was known in this league as a guy that worked hard and played hard and they've taken on that persona.
They're the second youngest team in the league and they make mistakes. That's the fear come Sunday when a team like Cincinnati that has so many good weapons starting with Chase. He leads the league in 40-plus yard passes. The Lions have given up a 40-plus pass in four of their five games. They give up the big plays. Lions defensive coordinator Aaron Glenn talked this week how they have to have a plan for Chase. Burrow is so good that if you give him chances down the field, he sees it and he'll attack it.
One of the things with Jared Goff is early in games is some of the turnovers. Look at the statistics. They're not bad. Against Chicago they get inside the 10 four times and don't score with two of them turnovers by Goff. And they just don't have the weapons on the outside to stay with a team like Cincinnati that can score points.
THE EDGE: This is a young secondary on a young Lions defense. They played well last week and they're improving. But they just make a few too many mistakes. Against a team like this with all the weapons the Bengals have on the outside in an indoor game with good conditions against a quarterback I think is playing really well and sees the field really well, I think they may make a few more of those explosive plays and it's the difference in the game. BENGALS, 31-24
I honestly believe this game may not be close from the standpoint the Detroit Lions have to be mentally drained after two gut-wrenching losses. Can you get up three weeks in a row after suffering emotionally draining losses like that? And I think the Bengals coming off the field goal rodeo make sure it doesn't come down to that this week.
Jared Goff is the type of quarterback that gives you chances and if you can pick off Aaron Rodgers like Chidobe Awuzie did last week, you're going to get some opportunities. The way the Bengals defense is playing, the league has taken notice and I expect them to put pressure on Goff and the defensive backs to be very active and get some chances. The Lions just don't have a lot of firepower with the running back their leading receiver.
THE EDGE: The talent level of the Bengals is the difference with all their weapons on offense and their defense is not an aberration. This defense is legit. The Lions play hard and have a great coach, but getting up three times in a row after two losses like that is a big ask. BENGALS, 28-14.
If you think the Lions are mad about the last two games where they lost the lead at the gun, take a look at the seething Bengals. They're livid at not being 4-1 after last week's fourth quarter and overtime where Green Bay's Mason Crosby gave them more chances than the lottery.
So let's see who comes out angrier. As dangerous as the Lions are with a scary 0-5 record in a league where it always seems to even out, the Bengals have to be just as daunting for Detroit.
The Lions are clean out of starting cornerbacks in a secondary that has allowed four plays of at least 40 yards, they haven't had their two best offensive linemen and their new big-play quarterback is having trouble getting it down the field at 6.6 yards per throw. Now here come the Bengals with Chase leading the league with four catches of at least 40 and the NFL's 11th best defense with 13 sacks while allowing less than seven yards per throw.
But as the matchups are favorable for the Bengals, it probably comes down to a battle of wills and how each team copes with last week's final-snap losses. It's a huge test for a Bengals team looking to find a foothold away from Paul Brown Stadium as it seeks back-to-back road wins for the first time since late in the 2015 season when Andy Dalton won in Cleveland and A.J. McCarron won his debut in San Francisco.
It also may turn out to be a test for Chase and Higgins, the Bengals' marvelous pair of young playmakers on the outside. Lions defensive coordinator Aaron Glenn said last week that they have to have a plan for Chase and if that doesn't say "double team," what does?
And after watching Green Bay's Davante Adams destroy the Bengals' double team for 206 yards last week, Chase asked for his jersey. The great ones find a way and Chase looks like he's one of those. Sunday's another step up the ladder he has to climb as the attention widens with the stats.
And the Lions can't forget about Higgins. He's a competitor who can't stand the two drops he had last week and now that he's got a game under his belt after missing the previous two with a shoulder injury, he's got some of the rust off. Higgins, who had seven games with at least 62 yards last season, is looking to bust open with his first one this season that is going to remind people just how potent this 1-2 combo can be.
But they can't go seven-on-seven. The Lions have one of the league top sackers in outside backer Charles Harris and the right guard spot is up in the air with Trey Hill getting the bulk of the practice snaps. It would be Hill's first NFL start, but the nod still could go to fellow rookie Jackson Carman in just his fourth start after going off and on the COVID list this week.
Could the Lions lose three straight at the gun? Weird things happen up in Detroit when the Bengals play. They won an overtime game in 1998 on Corey Sawyer's pick-six that Scott Mitchell threw with Barry Sanders in the backfield. The last time they went to Ford in 2013, they won it on Mike Nugent's last-play 54-yard field goal that was set up on a 28-yard punt.
Now here comes rookie Chris Evans, the former Michigan running back returning to the state where he'll no doubt get his first NFL carries with Samaje Perine on the COVID list.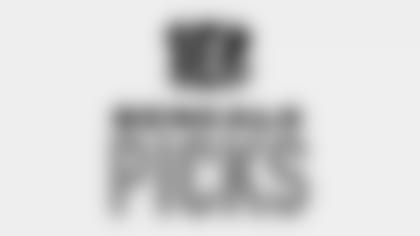 Bengals Picks, presented by OHIO Lottery
Play Bengals Picks every week for a chance to win prizes. Predict individual and team outcomes and compete against other Bengals fans for a chance to take home the prize, and the bragging rights!