Journeyman quarterback Ryan Fitzpatrick's 17-year run through the NFL that coincided with the league's rise to cultural prominence through its kaleidoscope of platforms even has an impact on a Bengals offensive line flexing new-found leadership.
"The ultimate teammate. My favorite teammate of all-time," said new center Ted Karras after Tuesday's voluntary practice. "A cultural, spiritual, emotional leader. Fitzy was like the turning point of growth for me … A catalyst about how it was like to be a man in the NFL … Connect with everyone. That's one of my strengths, but he was to the max."
Fitzpatrick, who played with Karras for just a year with the 2020 Dolphins, retired last week and he recalled for Bengals.com how his two seasons here in 2007 and 2008 not only jump-started his career into the elite back-up category, but it's also the place where he began to learn how to be a leader for an NFL team. It turns out Fitzpatrick still lives at Paul Brown Stadium through Karras as he and two other new offensive line starters finish off what offensive line coach Frank Pollack began last season.
The Bengals re-made their front when six memorable days in the trenches of March's free agency brought them Karras, a two-time Super Bowl champ from the Patriots, another Super Bowl champion in Tampa Bay right guard Alex Cappa, and Pollack's monstrous, talented right tackle from the Cowboys in La'el Collins.
It will be recalled the offensive line the Bengals used in last season's postseason had three players (right tackle Isaiah Prince, right guard Hakeem Adeniji and left tackle Jonah Williams) with a combined 70 NFL games. Karras brings 93, Collins 74 and Cappa 52, the top three leaders on the offensive line now in NFL games played and it's showing up in places other than the salary cap and the playbook.
Try Tuesday's walkthrough, where Bengals head coach Zac Taylor went out of his way to salute Collins.
"LC's a guy that we really highlighted today as a great example of just working technique in a walkthrough," Taylor said. "Trying to get better and make (left end) Sam (Hubbard) better, so it's been really great to have him in the building and we're excited he's here."
"(Collins) has been a pro every second he's been here. He's one of the first guys in that room, in the weight room. Him and Alex and Ted have really been good up there. Just watching what we ask our guys to do in these walkthroughs and how detailed it can be to some. It can be boring and monotonous if they don't understand how to utilize that stuff to their advantage."
It is is after a meeting and Collins is sitting at his locker, leaning over his stool and making marks on his play sheets. Cappa, who is sidelined this spring with muscle problems but is expected back for training camp, is stirring a cup of coffee and looking over Collins' shoulder.
Pollack had plenty of good veterans in his room last season. They don't come any better than center Trey Hopkins, guards Xavier Su'a-Filo and Quinton Spain and tackle Riley Reiff. But they were 29, 30, 30 and 33, respectively. Su'a-Filo and Reiff were hurt and couldn't go in the playoffs. On Opening Day, both Karras and Collins will be 29 and Cappa 27.
"I think Riley was awesome at that last year," Taylor said of the line leadership. "We had a lot of younger players. Xavier and Q were really good there, Trey. There have been guys that did it. But you got a new group of guys now that are coming from somewhere else and they've really hit the ground running that way of doing how Frank wants it done.
The key word there is "Frank," as in Pollack, whose reputation as one of the league's best line coaches stemmed from his work with the dominant Cowboys fronts late in the last decade. He's why Collins signed here. He also brings his own 90 games from the '90s and the Super Bowl champion 49ers as a self-made sixth-rounder.
"Frank is very demanding. The expectations are very clear. I think offensive linemen appreciate that," Taylor said. "At the same time, when you do it right, there's no one more excited than Frank. And so I think the players just appreciate that. He's won a lot of championships as a player as well. He's been in a lot of stuff like that. There's respect there as well that he's been through what he's asking them to go through. He's done it at a high level himself. He's coached a lot of great players, been part of a lot of great teams, and he knows his stuff."
Karras brings a similar NFL pedigree as another sixth-rounder, this one a find by another great NFL line coach in the Patriots' Dante Scarnecchia. The one year Karras was away from New England, he became close with Fitzpatrick in Miami and says he now has what basically amounts to a Fitzy Hall of Fame in his house. In the next to last game of the year in Las Vegas, the Dolphins fell behind by two with 19 seconds left and Fitzpatrick still got a field goal to win.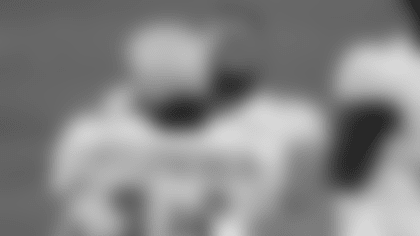 "He could make an environment fun but focused. He was such a joy to work with every day. And he was such a baller," Karras said. "I was glad to get my FitzMagic moment in Vegas. Fourth quarter he just launches one and we win the game. I have a big picture of that in my house. .I have his jersey hanging in my house I have like a shrine to Fitz almost."
Karras takes a lot of Fitzpatrick into that Bengals offensive line room.
"He never had a bad day. He always brought the energy," Karras said. "Here he's got seven kids and he's been in the league 16 years and we've got 22 year-olds complaining about being tired and he's keeping everyone up with his energy. He could make everyone feel special when they were talking to him. I thought that was just very cool."
Taylor can feel the cool breeze of a new generation in his O-line room. It also has the whiff of FitzMagic.
"Ted is going to be a coach some day," Taylor said. "That's what I see from him. He's not only a really good football player who's won a lot of championships and knows what it takes. But he maintains a very high standard for himself and others and that's really exciting. "