This story to appear in the Bengals Gameday Program ahead of the Sunday, Dec. 5, game against the Los Angeles Chargers.
Trey Hendrickson, the richest Bengal ever in free agency, is turning into a bargain basement steal. 
As heads into Sunday's game at Paul Brown Stadium against the Chargers, Hendrickson has bull rushed the market at right end with a staggering 10.5 sacks in his first 11 games. He already banked one team record last week after his sack-strip of Steelers quarterback Ben Roethlisberger gave him a full sack in seven straight games and he's got his eye on the gold standard of 13.5 sacks that is Carlos Dunlap's club record. 
And that means everyone is making change. His partner on the left side, Sam Hubbard, has racked up seven sacks and is just two from a career-high as they try to become the first Bengals' edge combo to have double-digit sacks in the same season.   
Two Bengals in double digits in this century hasn't happened very often, either. Dunlap (13.5 on the edge) and tackle Geno Atkins (11) did it in 2015. Atkins (12.5) and end Michael Johnson (11.5) did it in 2012. In the 1981 AFC championship season, Eddie Edwards had 10 and Ross Browner had nine on the other side, but it was linebacker Reggie Williams who led the team with 11.
"(Hendrickson's) helped me immensely just from every day pushing me to be better competing," Hubbard says. "He's a great player. I mean, it's not by accident by any means. You know, that's something that he talks about is 'one a game,' and that's what his goal is, to get a sack every game, and he said that from training camp on, and he's doing it every day. So, it's rubbed off on me a little bit. I think it's great to have him as a partner in crime." 
The Bengals could be charged with larceny after they heisted Hendrickson from New Orleans following a season his 13.5 sacks made him one of the biggest catches in free agency. But they wanted him badly, not only because he would punch up the pass rush that had the fewest sacks in the NFL, but because they knew his special work ethic and laser approach would be another key ingredient in head coach Zac Taylor's sizzling locker room chemistry. 
"I'm obsessed with quarterbacks," Hendrickson told Bengals.com when he arrived back in March. "If I'm not sacking them, they're my water break. It's a lifestyle. For a defensive end, everything has to do with quarterbacks. I'm fortunate to have such a great quarterback at the helm for us. 
"If he's got the ball, we're in good standing. If I have to get him the ball back, I want to do it as quickly as possible." 
Playing for Drew Brees Saints put Hendrickson in ear shot of Bengals quarterback Joe Burrow's 2019 Heisman Trophy season at LSU. That was a big draw. After last Sunday's game when he wrecked the Steelers with two turnovers (his bull rush of left tackle Dan Moore, Jr. into Big Ben turned into cornerback Mike Hilton's pick-six), the investment of the spring had turned into the riches of the fall. 
At about the same time Hendrickson signed, they wrapped up Browns defensive tackle Larry Ogunjobi to team inside with nose tackle D.J. Reader, the man Hendrickson supplanted as the Bengals highest-paid free agent in 2020. Now after a blip in the middle of the season, the defense is back where they were at the beginning of the year. In the two games since the bye they've allowed just two touchdowns and those in the fourth quarter.  
"You've got a talented quarterback in Joe Burrow. A talented back in Joe Mixon. And a great O-line. I can't say enough about the weapons he has on the outside," Hendrickson said after Sunday's 41-10 win. "That offense is exciting for a defensive player to come into this building. 
"Then, even the defense and their pieces that they have in, rushing with Sam, Larry and D.J. The linebackers are fitting holes in the run game and the coverage is amazing. The coaches are a part of the group and a part of the chemistry. They care a lot about these players and you can feel that. What we have is special and that's what we've been planning on doing since I walked into the building."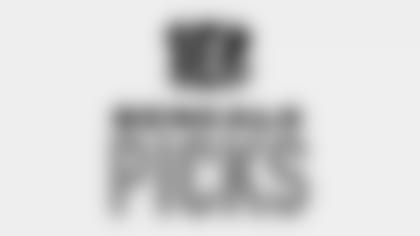 Bengals Picks, presented by OHIO Lottery
Play Bengals Picks every week for a chance to win prizes. Predict individual and team outcomes and compete against other Bengals fans for a chance to take home the prize, and the bragging rights!
Hendrickson prefers to walk the non-hype line in a no nonsense approach to pretty much everything. While he put up those 13.5 sacks last season, there were murmurings about how he was the beneficiary of the players around him, an offense that piled up the points and was he really a double-digit guy?
The answer has been resounding. And Hendrickson could care less.
"I don't play for the media hype or the camaraderie," Hendrickson says. "I play for my Lord and Savior, Jesus Christ, and my teammates and family and the people that support me, who know what I can do. It's not my concern if people don't believe in me."
But at 3-1 in the AFC North, he does see a common thread with what happened in New Orleans under head coach Sean Payton.
"I was fortunate to play under Sean Payton and you see a lot of similar things in this locker room that I felt over there when we won the division over there," Hendrickson says. "But … there is no foreshadowing you can do. You have to go out there and prove it every week if you want to do something special in this league."
He already has and it is paying off.
"A sack's a sack," said Hendrickson after coming up big in another money game. "They don't ask how it happens. They ask how many so it's just a fun thing when you're balling with your brothers and we're just loving football."