The age-old training camp saw played out for the Bengals during Tuesday's first day of pads on the Kettering Health Practice Fields.
Defense is ahead of the offense.
"Especially without Nine," said slot cornerback Mike Hilton of quarterback Joe Burrow's absence as he nurses a strained calf.
"Especially in pads," said cornerback Chidobe Awuzie.
There weren't any scrums or any hits that would take the air out of you. Which meant it was a business-like effort by a Super Bowl contender.
"It was underwhelming in that sense," said safety Mike Thomas, in his tenth year in the NFL the dean of the roster, of any of the big stuff.  "It's great guys know how to practice. That's a good sign."
The way head coach Zac Taylor explained it before Tuesday's practice, he's not looking for big shots on tackles.
"It's thud for us. The physical portion of things for us is really going to come up front with the O-line, the D-line, the linebackers, the backs in pass protection," Taylor said. "When you say the pads are coming on, there's an element to that for the receivers and for the safeties but when you're not tackling it gives a better chance to see the guys up front, the offensive linemen, the defensive linemen, the backers and the backs in the protection. Even when you see a back burst through the hole, carrying the ball in a tight-zone run, you really can't evaluate whether that was a great run from a physical standpoint for them because they aren't going to take them to the ground. They are going to try to punch the ball out, rake it and do all that and the back's got to finish the runs, but that stuff comes up more in the games."
A slew of Bengals defensive backs continued their solid play while the line got off some good rushes on quarterbacks Jake Browning and Trevor Siemian even with Pro Bowl sacker Trey Hendrickson on the rehab field.  Cornerback Cam Taylor-Britt got a good enough shot on wide receiver Tee Higgins from the back that he dislodged a short catch over the middle.
"It's a football play. Just drove on the ball. Not intentional," Taylor-Britt said.
CTB was into it. He got nicked on one snap and was limping around and cornerbacks coach Charles Burks pulled him out just before the next play, running on rookie D.J. Turner while Taylor-Britt ran off yelling he was OK.
"Who are you? Paul Pierce?" joked Burks of the Celtics great who never lived down leaving a 2008 NBA Finals game in a wheelchair before coming back to lead Boston to another banner.
Of course, Turner was able to make a play on a ball intended for Chase.
"That was my ball," CTB groused as he went back on the field for the next snap.
Other cornerbacks making plays were Hilton, Turner, the other rookie standout D.J. Ivey and veteran free agent pickup Sidney Jones IV, who got his hand on two red-zone balls.
The biggest hit was inadvertent. Awuzie, in the final stages of his ACL rehab, talked himself into a team punt drill as a vise. He has been doing individual drills but has yet to go against the offense.
"Nothing too crazy.  Hop in there to help my conditioning.  My conditioning is down. Still working on it," Awuzie said.
The drill was half-speed, but someone didn't get the memo and was going full speed and Awuzie ended up getting spilled on the sidelines in the backwash, taking his biggest hit since his last game.
"I probably needed that. All good," Awuzie said.
PLAYER OF THE DAY: Bengals slot corner Mike Hilton
On a day it could have been any number of defenders, why not Hilton? He's one of their leaders and tone-setters and did both Tuesday. He stoned Tyler Boyd in the end zone, denied Ja'Marr Chase on a fade and counseled two rookies in between.
"Punch it out, D.J.," he exhorted rookie cornerback D.J. Ivey as he put the stop on rookie running back Chase Brown. "He has trouble when he changes hands."
But he wasn't going behind Brown's back. Hilton has been telling him that since he arrived in the spring in the fifth round from Illinois carrying the knock of occasionally fumbling the ball.
"If I saw that the first couple of days, you know other defenses are going to pick up on that," Hilton said. "He'll learn. It will take time. But you have to be multi-handed. That's why I'm always in his ear."
Hilton, 29, headed into his third season with the Bengals and seventh in the league, is a winner. He's been on four AFC North champs, two each with the Bengals and Steelers, and he's in your face whether you're a rookie or a Pro Bowler.
In team drills, he skied with Chase on Browning's underthrow. Hilton pounces on mistakes. (See Ben, Big and Pick Six, 2021.)
"It was a slot fade. He's not inside too often. It was a man coverage, so I was expecting some kind of a go-ball. He had a step on me. I just trusted my instincts and timed the punch out right. He definitely underthrew him; but when you have a chance, you have to make a play. It was good on good. He's one of the best in the league against myself, one of the best guys in the league. Iron sharpens iron."
Earlier in red zone seven-on-seven work, it was more best-on-best. Hilton vs. Boyd. Among the best working the NFL slot. Last week in this drill, Boyd beat him on a jump ball in the left corner of the end zone. This time Hilton dove to break up an in route at the goal line.
"I knew he was going to stop at the goal line but I was able to break it up before he reeled it in," Hilton said.
PLAY OF THE DAY: WR Charlie Jones
Fitting on this day for defense that the play of the day was by an offensive player becoming a defensive player. The rookie Jones made a veteran play when another rookie, ubiquitous seventh-round cornerback D.J. Ivey, screened him off on a fade and had inside position.
"He just made a good play on the ball," Jones said. "I didn't think I could catch it at that point. Turning into a defender to stop a bad play from getting worse."
Hilton has been watching the 6-1 Ivey, the man they have to start calling "Poison." The wide receivers have been Ivey-covered.
"He's been having a heck of a camp," Hilton said. "His length is a problem down-field."
QUOTE OF THE DAY: S Mike Thomas on slot corner Mike Hilton:
"Mike had a day. A lot of PBUs. I know that first interception is coming for him. He was flying around, he was communicating, he looked like the best nickel in the league today. He gets everybody lined up. He makes plays on the ball, especially in critical situations. Third down. The Money Down. Red zone. That's what Mike does."
SLANTS AND SCREENS: The offensive and defensive lines mixed it up in one-on-one drills. The two new tackles, Pro Bowl left tackle Orlando Brown, Jr., and converted left tackle Jonah Williams at left, had a mixed day. Brown wasn't pleased with his first three sets of the season and no excuses, but he admits the drill isn't one of his strengths, although everyone knows he'll be there when the bell rings on Sept. 10.
In a rematch of their two meetings last season in the iconic Bengals-Chiefs game, edge Joseph Ossai got around him on the outside in their one 1-on-1 battle.
"I've said it before. He's got all the tools to be a 10-sack guy," Brown said. "I think I got a little bit too aggressive when I tried to jump set."
But Ossai says Brown got him back in team drills.
"Really good work," Ossai said. "Good hand-to-hand combat. Strong-handed guy. Big guy. Once he gets a hold of you, kiss it good-bye. He does a really good job working the pocket. He has a really good understanding of where the quarterback is, knows how much to give, just enough. He's really good. I caught him once, he caught me a few times."
Brown had a better rep against first-round pick Myles Murphy, but he thinks he should have cut down the ball-rush sooner.
Jonah Williams figures he went against left end Sam Hubbard for the first time since 2020 after getting a load of Trey Hendrickson on the other side for the past two camps.
"Trey has probably the best get-off in the NFL of an edge rusher I've seen," Williams said. "His up-field burst is unbelievable. He really stresses tackles out trying to get depth. Sam is a little bit more varied, he's not as much up field … He's a great rusher, too."
Williams had two decent reps against Hubbard, although he knows he has to handle the bull rush better.
"I could have shut it down a little bit better, but I stayed in front of him," Williams said. "It's all right for the first day, but I have to get better moving forward."
But considering he is playing right tackle for the first time since he was a freshman at Alabama, it was a good first day. Here's his philosophy:
"The good thing about moving sides is I don't have any bad habits," Williams said. "I can build my technique from the ground up." …
Running back Trayveon Williams rolled his ankle in warmups and reported on social media it's a mild sprain and he'll be back in a couple of weeks ….
Undrafted rookie defensive lineman Devonnsha Maxwell from Tennessee-Chattanooga was also carted off with what appeared to be a knee injury …
Burrow hasn't been on the field since his injury and Zac Taylor says don't keep looking for him:
"Maybe if he was a rookie, in his first year and was seeing it all for the first time, maybe. We watch the tape so much. He's up there watching every rep, so whether he was out there on the field, watching it live, the only thing he can't do is hear the communication, but he's always the one who's done the communication of a hundred more times than our other quarterbacks have. So, he's a part of all those conversations."
Plus, practice is the best time to rehab:
" There's no one else in there. He gets chance to rehab, do some stuff in the weight room. It's all good." ...
Taylor sees how good Awuzie looks:
"I won't put a timetable on him again. We'll ease him into it. I'm always pleased with Chido. He never lets you down. They guys worked the right way. He's put himself in a position to have a great year, and we're not going to do anything to disrupt that. So I think right now him doing individual (work), him doing walkthroughs, him doing a little bit of rehab work when he needs to has been a good plan for him right now." ...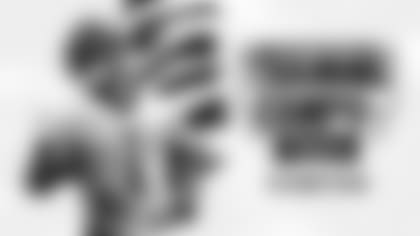 Training Camp 2023 Center
The official source of news and information about Bengals Training Camp 2023.