BENGALS RE SAM HUBBARD VS. STEELERS LT ALEJANDRO VILLANUEVA
Hubbard, the Bengals' Cincy-bred rising star, and Villanueva, who got his NFL start at a Bengals minicamp as a mega lanky Army tight end before he was deployed to a distinguished three-tour career under fire in Afghanistan, serve as symbols for this something old, something new rivalry in Monday night's game (8:15 p.m.-ESPN, Cincinnati's Channel 5). Hubbard, last year's third-round pick, has become the face of the Bengals' most multiple defensive looks since the Mike Zimmer days. Villanueva has reached the last two Pro Bowls and last season helped Pittsburgh allow one or zero sacks in 10 games.
"I've heard about that," says Hubbard of that 2010 minicamp Villanueva participated in before becoming a rifle platoon leader who won a bronze star.
But long before Hubbard and Villanueva arrived on the scene, this rivalry has been defined by the Steelers' ability to run the ball against the Bengals and the Bengals' inability to get their own footing in the run game.
No question that quarterback Ben Roethlisberger's resourceful brilliance has dominated the rivalry with a 25-7 record that includes nine game-winning drives since 2004.
But go back to 2003 and the start of the Marvin Lewis-Ben period of the series. In the last 34 games the teams have played (32 in the regular season and two in the postseason), the Steelers have rushed for at least 100 yards in 24 of those games and have won all but three. They have at least 25 rushes in 27 of the games and have won all but five.
Flip it and the Bengals have rushed for 100 yards 10 times (4-6) and at least 25 times in nine games (5-4).
And, before Lewis arrived the numbers were much sharper and deeper.
Now, though, the Steelers are struggling to run the ball on 3.8 yards per carry for a quarterback making his second NFL start (maybe even more telling is they've averaged just 17 runs per game), and, well Hubbard is young but he wasn't born Monday morning.
"We're 31st in run defense and they're going to try and run the ball with that young quarterback and we have to be physical," Hubbard says.
And if they didn't know, their defensive line coach Nick Eason would be glad to tell them. Eason played a rotating defensive end on both of Steelers head coach Mike Tomlin's Super Bowl teams and has a ring. He practiced against Steelers center Maurkice Pouncey and left guard Ramon Foster, not to mention offensive coordinator Randy Fichtner when he was the quarterbacks coach. Eason played in seven Bengals-Steelers games from 2007-10 and never did they allow 100 yards rushing.
"I've sat in that room over there. There's a few guys that I've played with over there. It's all about being physical. They'll be ready to play Monday night on the stage," Eason says. "My first year there was Mike Tomlin's first year there. I know exactly what he's telling them this week. All I know is he'll have those guys ready to get after us and we'll bring that energy, too. I can't control what happened in the past, but I can control the now. But they'll try and run the ball. It's no secret. We need to improve and we will."
Bengals defensive coordinator Lou Anarumo has kept them guessing. They've shown five-man lines and 3-4 shades and a 5-2 blackboard alignment in a look right out of the '70s. And that's not even getting into the whir of activity in the secondary. Anarumo knows what's going on, too, even though it's his first Bengals-Steelers slugfest.
"Yeah that's the Steelers right?" Anarumo said of the run. "You play the Steelers and you expect to get it right in the face. That's what I know and that's what our players should be prepared for … That's a veteran O-line that's played at a high level for an awfully long time. They would certainly like to run the ball better and I'm sure they're going to try to come out and do it."
Mason Rudolph, the third-rounder out of Oklahoma State from 2018, becomes the first Steelers quarterback in 15 years to start against the Bengals who is not Ben Roethlisberger. Or since the Bengals sacked Tommy Maddox five times in their Nov. 30, 2003 win at Heinz. So, it's pretty basic Monday night.
"The playbook is open (when Ben is in there). It's like when you play Tom (Brady) or Drew (Brees) or any of those guys - Russell Wilson - you can get anything," Anarumo said. "We played Green Bay in the past and (Aaron Rodgers) could check to a play that they haven't run in three years. That's not what is up for this kid obviously so those are the major differences. He is going to be honed into just the game plan. You look when you're playing a guy like that that what you get is probably what you are going to get the whole game … They did a little bit more than I thought they would (last Sunday in San Francisco's win) to be honest. While they paired it down a little it wasn't like it was a ton."
Despite the multiplicity, the Bengals are narrowing the matchup to winning their individual battles in the gaps and on the edge. Hubbard and left end Carlos Dunlap did a better job on the perimeter last week against Buffalo than they did against San Francisco the week before.
And they're emphasizing getting the big turnover to turn the game around. They got one last week on Hubbard's huge forced fumble in the red zone, but they need more because they're minus-four in turnover differential to Pittsburgh's plus-three. The hope is making them one dimensional so the pass rush that merely harassed Josh Allen melts the newcomer.
Anarumo refused to pin the run troubles on his two linebackers Nick Vigil and Preston Brown, both ranked in the bottom half of NFL backers against the run. But Brown is rated ahead of old friend Vontaze Burfict and Steelers rookie Devin Bush, the Michigan linebacker so coveted by Pittsburgh they traded up ahead of the Bengals to No. 10 to take him.
"They've done some good things, but there's been some inconsistencies just like all of our levels of the defense," Anarumo said. "In the run game it's been 0, 2, 3, 0, 20. That's not how it can be, it has to be consistent. We're looking for consistency throughout."
While the Bengals want to get running back Joe Mixon more involved, there's an echo at Heinz. The Burgh is clamoring for the Steelers to give the thing to running back James Conner. The 6-1, 233-pound Conner exploded into the league last season as a sophomore. While Le'Veon Bell sat, Conner stood tall with five 100-yard games and nearly 1,500 yards from scrimmage while racking up nine carries of at least 20 yards.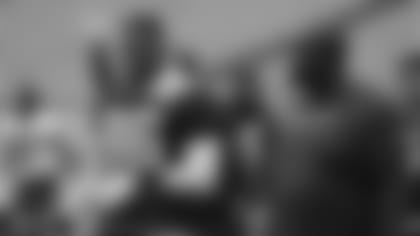 But now he's averaging 2.9 yards per carry and only 11 carries per game with no run longer than 14 yards. And there's all sorts of theories floating about, starting with Conner simply isn't sneaking up on teams anymore. Which is certainly the case in Cincinnati, where he had an 111-yard game that included one run of 26 yards.
"Disciplined runner," Dunlap says. "Patient. Not as patient as Le'Veon, but patient and a guy who stays on his tracks. Great runner."
Hubbard: "He runs really hard. He has good vision and he's hard to bring down."
There's another theory that the Steelers' very good offensive line is built to protect Ben and not so much to run the ball. New right tackle Matt Feiler, a massive 6-6, 330-pounder that came into the league undrafted in Houston in 2014, is rated nearly the same as a run blocker and pass blocker by profootballfocus.com with a top 30 rating for both. Pouncey, the highly-regarded veteran center, is rated higher in the run than pass. The others aren't rated higher in the pass than run, but that doesn't mean they're not excellent. For instance, right guard David DeCastro is rated the top pass-blocking guard in the league and 22nd on the run.
Villanueva may be ranked 74th on the run, but his toughness, of course, is unquestioned. He's played in 67 straight games for the third longest streak among tackles.
Another theory is that offensive line coach Mike Munchak's departure to Denver has them in transition. Long considered Tomlin's run-game coordinator, the theory goes that they're trying to adjust and now that they're back home at 0-3 there's no better time than the present against an AFC North foe with a quarterback in his second NFL start.
That's what Dunlap, Eason and the Bengals expect.
"We haven't done a good job stopping the run. I wouldn't blame them for trying," Dunlap says. "Any time we play an AFC North opponent it's like that. They like to run the ball. It's a physical division. We're both going through adjustments. At the end of the day Monday, one of us has to lose the Ohs. We're both trying to get our season going.
"Big on big and you want your big boys to do all the work. That's what they pride themselves on and where we pride ourselves."
Eason, the man, who has been there, couldn't have said it better.
"They know me over there and I know them and so do all the players," Eason says. "Look what we did in Seattle. We stopped the run and we were able to send those guys up front."