If you're not careful this NFL Draft week in the run-up to Thursday's first round, you can get hit with flying clichés at every turn.
One of those that teams frequently offer, usually right after the pick, is a stunned "We Just Can't Believe He Was Still On The Board." It's a real doozy, but Bengals head coach Zac Taylor actually lived it on the second night of the 2020 Joe Burrow draft.
It will be recalled future two-time 1,000-yard receiver Tee Higgins led off the second round at No. 33 and Logan Wilson, who turned out to be their most productive homegrown linebacker since Vontaze Burfict, led off the third at No. 65.
"When you ask the question the first thing that comes to mind is Tee and Logan, both of those guys," Taylor said in his Monday draft news conference. "We think highly of them because we have high grades on them. Maybe nobody else did. Obviously it's paid off for us so we can pat ourselves on the back, but you always have higher grades than anyone else, seemingly, when you pick a player in a certain spot. Everybody else passed on that player. Those are two guys that stand out when you really didn't think they would be there and suddenly they were and you feel great about it."
Wilson is the wrong guy to ask what he was thinking that Friday night in Wyoming.
"I just don't remember my thought process. It's a while ago now," Wilson said Monday. "I knew it was kind of a tossup. You naturally try to do that (match up the teams with the needs), but it's a guessing game when you're going to hear your name called in the draft as the dominos start falling."
He watched the night before, knowing the more linebackers that went in the first round meant the earlier he would go Friday. A pretty good haul of four went in the first, starting with Isaiah Simmons at No. 8, but he was a bit surprised when he didn't go to the Chiefs at No. 63, a spot that went to Mississippi State's Willie Gay.
"I wasn't disappointed. I wanted to go to whoever got me. That's all I was worried about," Wilson said.
He wasn't surprised the Bengals called at No. 65, particularly after Bengals assistant coaches Al Golden and Mark Duffner spent so much time with him at the Senior Bowl. Taylor's Bengals coached the South and Wilson played for the North, but one day the other coaches were allowed to meet with the other players.
Maybe Wilson thought it was a tossup, but Taylor says the Bengals were zeroed in on him right after they picked Higgins. So it was an agonizing wait. No linebacker went between future Bengals nemesis Patrick Queen (No. 28 to Baltimore) and edge rusher Josh Uche (No. 60 to New England). They worried a little bit about Seattle at No. 48 even though the Seahawks picked Jordyn Brooks at No. 27 (Seattle was aging there) and hearts were flip-flopping with the Chiefs on the board.
"Logan is the guy I can remember watching 30 picks tick off the clock with your fingers crossed. He's one," Taylor said. "There have certainly been other guys that fit that description from, what was Tee, 33? From about pick 34 to whatever we drafted Logan, you are just crossing your fingers and watching the clock." 
It was, as they say, worth the wait. No NFL linebacker has more interceptions in the 2020s than Wilson's seven. In his draft, Wilson has the same Pro Football Reference weighted career approximate value (17) as the top 10 Simmons and late first-rounder Brooks. Queen is the leader with 26, third best on defense in that draft behind safety Jeremy Chinn and cornerback Trevon Diggs.
Of the traditional backers in that 2020 draft, only Queen (10) and Simmons (7.5) have more sacks than Wilson (4.5), and only Brooks (247), Queen (213), and Simmons (181) have more tackles than Wilson (163). Wilson is the only backer in that class with at least five interceptions.
"I think it worked out pretty well," Wilson said.
Can't believe he was still on the board.
HUBBARD-BROWN ON SAME SIDE: Speaking of productive third-rounders, what about these new teammates? Left end Sam Hubbard, the senior Bengal on defense, and new left tackle Orlando Brown Jr.? After lining up against each other their last two collegiate seasons, Ohio State's Hubbard went No. 77 to the hometown Bengals in the third round and Oklahoma's Brown went six picks later to the Ravens in 2018.
Brown: "What a baller. He's a great player. I've got a lot of respect for his approach to the game."
Hubbard: "I think we've got a mutual respect for each other. It's going to be great to have that dominant presence on the offensive line. I've been going against him for years and I like how he plays."
Brown noted how they've gone against each other at least once a season since 2016. The schools split in 2016 and 2017, but since they've been in the pros they've played each other twice a year. After Brown left Baltimore and the division following his first three seasons in the league, he spent the last two seasons with the new rival Chiefs.
Hubbard primarily lines up over the right tackle, so he got Brown early in his NFL career with the Ravens. But not lately. Brown says they did go at it in each game in college with Hubbard lined up over him at left tackle. Hubbard managed 1.5 sacks in the two games.
"I felt like when he played at Ohio State he was the guy for them," Brown said. "He does a really good job using his hands on the rush. He does a really good job transitioning some of his counter moves smoothly and, bro, he's got a hell of a spin move. You would never expect it, but he's got a hell of a spin move."
You also have to know your opponent. Like everyone globally, Brown saw Hubbard's 98-yard fumble touchdown return in the Wild Card Game: "He's also got wheels. That's the lacrosse background."
More Hubbard: "I think (Brown) also has got that chip on his shoulder. Third-round guys, day two guys stick together."
SLANTS AND SCREENS: Back in 2007 when he was coming out of Nebraska fresh with the Cornhuskers'' record for single-season touchdown passes, Taylor thought he had a chance to be drafted. But not even his father-in-law, then Texans offensive coordinator Mike Sherman, signed him as a free agent before he signed with the Buccaneers after going undrafted.
"(The Texans) took Jared Zabransky over me (as an undrafted free agent). Not that I haven't forgotten that or anything," said Taylor, who also recalled when he began to sense it may not happen. "(Bucs head coach) Jon Gruden called me probably early in the seventh round and started recruiting me. Then I was like, 'Ah, that's not good.' Started getting recruited, I know how that works, trust me.
"Looking back I think I was an undrafted college free agent. My sons ask me all the time, 'Why didn't you get drafted?' I say, 'It's OK. Having a solid college career and being a solid college player is fine. It's acceptable.' We have a lot of those guys upstairs in this building on the (coaches' floor) and on A2. They were solid college football players and now we coach and we scout. There's nothing wrong with that. I think I probably got picked where I was supposed to get picked."
When Taylor was the quarterbacks coach with the Dolphins, someone forwarded him their scouting report on him.
"It was good from the character standpoint," joked Taylor, good sport all the way. "I was proud of that. I think my mom would be proud of the scouting report." …
Right tackle La'el Collins was talking up the offensive line Monday, indicating it is the deepest he has been a part of in nine NFL seasons. And that includes Jonah Williams, moved from left tackle to right tackle and competition for Collins when he gets back from his ACL rehab.
"Jonah's going to be fine. He's a hell of an NFL player. He's a first-round pick. He's done it," Collins said. "I've got all the confidence in the world in Jonah with the type of person he is. It's like every one of these guys in here. To me, man, all it is is we're going to be better and we're going to have depth and we're going to be deep and we're coming and we're not stopping."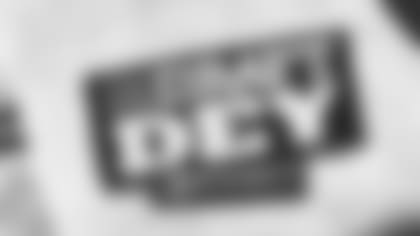 Draft Dey 2023 Center
The official sources of news, photos, interviews and more of Draft Dey 2023, presented by Integrity Express Logistics.