The Bengals today signed QB Joe Burrow to a contract extension through the 2029 season. The extension will pay the Pro Bowl signal caller at the highest level ever provided in the NFL.
A native of Athens, Ohio, Burrow was the No. 1 overall pick in the 2020 NFL Draft and has started for the Bengals since his rookie season.
"My father always said that in the NFL, the quarterback is like the key to your car," said Bengals President Mike Brown. "You can have a great car, but you need a key to get the car going and to operate it at a high level. We feel that we have a good one in Joe.
"Our franchise has been fortunate to have many good quarterbacks over the years, starting with Greg Cook and now running through Joe. Half a dozen Pro Bowl quarterbacks have graced our corridors, and Joe is an intelligent player who loves the game of football. The franchise is pleased to be in good hands."
Recently named a team captain for the fourth consecutive season, Burrow has served as a centerpiece of one of the NFL's most talented rosters while building a selfless locker room culture under Head Coach Zac Taylor.
"Quarterback is the most critical position in sports, and Joe has embraced his role here with intelligence and determination," said Taylor. "The team responds to Joe as our quarterback, and we look forward to a bright future with Joe continuing to lead our talented roster. He makes everyone better."
"Today's announcement continues the team's efforts toward investing in our talented players and investing in our future," said Bengals Executive Vice President Katie Blackburn. "Joe has come in and immediately established himself as a winner and a leader, and the team is excited to continue building a strong program under Coach Taylor."
A former Heisman Trophy winner at Louisiana State, Burrow has started 42 career regular-season games for the Bengals and owns single-season franchise records for passing attempts (606; '22), completions (414; '22), passing yards (4611; '21), TD passes (35; '22), and passer rating (108.3; '21). Regarded for his pinpoint accuracy and ability to pick apart defensive coverages, Burrow enters his fourth season in 2023 as the NFL's all-time leader in career completion percentage (68.2; minimum 1500 attempts).
Burrow was selected to his first Pro Bowl and voted the FedEx Air Player of the Year in 2022, when he tied for second in the league in TD passes while ranking second in completion percentage (68.3), fifth in completions, fifth in passing yards (4475) and sixth in passer rating (100.8). He eclipsed several career milestones at a historic rate last season, as he tied for the third-fastest QB in NFL history to reach 10,000 passing yards (36 games), became the fifth-fastest to reach 75 TD passes (40), and tied for the second-fastest to reach 1000 completions (41 games). Burrow is the first QB in NFL history to be drafted No. 1 overall and reach a conference title game multiple times within his first three seasons.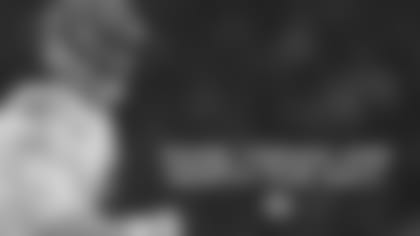 Some Things Are Worth The Wait
Join the Season Ticket Waitlist for a chance to see Joe Burrow live and in action.
Away from the field, Burrow has made it a priority to help underprivileged and underserved communities in both Ohio and Louisiana. Burrow, alongside his parents Robin and Jimmy Burrow, launched a nonprofit foundation that seeks to provide resources for families who are working to overcome food insecurity and childhood mental health issues. In under a year, the Joe Burrow Foundation has established numerous programs and events, including a "Do Good" grant program, the "Dine For 9" fundraising initiative, and a golf invitational in June that raised nearly $1 million.
QB Joe Burrow signs his contract extension on Saturday, September 9, 2023.