Hi Geoff, Have you had a good chortle over what the "expert pundits" say that the Bengals will do with their first draft choice? I know I have. :) You'll really have lots to write about after this week! Good luck and thanks. – Lynn S. Marshall, Cincinnati, OH
LYNN: Thank you for reading and for checking in. Draft Day is wonderful, isn't it, whether you've got the No. 1 pick or not? I feel great for the fans who have waited so long for this through what has to be the tensest and most trying time of our lives.
We'll know later today if the Bengals, who have already re-built it this offseason, go with Seamless Joe No. 1 and if he's already been fitted for No. 9 as he meets the press Thursday night.
I think the only thing I've chortled about is how the Bengals spent so much last month in free agency and the reaction was one of shock and awe. We've been around long enough that we know the Bengals spend on free agents when they've had to. They haven't lately, but there are enough John Thorntons, Tory Jameses, Dexter Jacksons, Deltha O'Neals, Bobbie Williams, and Antwan Odoms in their past to know they'll do it.
I'm not surprised they spent the money. But the fact they did it in the most uncertain economic outlook of Bengals president Mike Brown's 84-year-old life that includes the last belches of The Great Depression should certainly prove the pundits something other than the banal narratives.
We won FA (Reader, Bynes, Bell, Waynes, Alexander, Su'a Filo), but still have lots of holes. Why not cross RT off by signing Peters in FA? 2021 OT class is deep. Get a stud then, focus on LB, WR, OG/C, TE, edge, DT depth Jason Wilder, Columbus, OH
JASON: By Peters, the assumption is Jason Peters, 38-year-old former Pro Bowl left tackle. That's not the direction they're headed up front. They look at right tackle Bobby Hart's tape from 2019 and believe he had a solid season. His film is better than the love he gets from fans and certainly better than what his critics believe. They're ready to go into Opening Day with him and, plus, Fred Johnson, coming off an impressive rookie season, can compete.
Of course, a tackle at No. 33 could change all that, but they've done enough work on the offensive line between last year's draft (Jonah Williams, Michael Jordan and count Johnson since the Bengals plucked him off waivers after the Steelers signed him undrafted) and this year's free agency (Xavier Su'a Filo) that they don't have to go in grabbing O-linemen unless someone falls to them.
You're right. They had an excellent free agency and to me that gives them reason to treat the draft a little more open ended and go for the best player more often to beef up depth. You hit the spots, but other than linebacker, they don't desperately need a starter. They need upgrades to starters and that's not the same thing.
Hey Hobs, Give me some names of prospects that you think the Bengals may target in the back half of the draft. I like Thaddeus Moss and think he'd be a steal from the 4th round on. Give me your thoughts on Moss and share your picks. Gregg Greilich, Upper Sandusky, OH
GREGG: I don't know about a fourth-round steal. Pro Football Focus rates Moss 217th on the big board of a draft that has 255 selections. But I was extremely impressed with Moss' media appearance at the NFL scouting combine back in February. Very polished. He sounded like a 15-year vet and, really, that can't be a surprise since he grew up watching dad Randy Moss go to the Pro Football Hall of Fame before getting into the media.
I think Moss would be a great pickup, too, because it seems like he's the anti-draft guru guy from what I read. He can block, he can catch, he understands the game, but I guess since he's not going to medal in the decathlon, he's got a low grade. I don't know where you take him and they have to attack other positions in the first four rounds or so, but if you get him late, yeah, I think he's a back-of-the-draft gem.
When you get deep into the draft on Saturday, I think you're looking more at talent and upside rather than positions. I'm also guessing they're going to go heavy on Senior Bowl players since they spent so much time with them in Mobile and most of the pro days and all the team visits got wiped out.
I'm not sure what is the back of the draft, I'm not looking to insult guys by calling them late-rounders and the Bengals hand out very few clues. In fact, if they told you who they liked, they wouldn't kill you, but, well, you get the idea. This is all guesswork, especially on Saturday.
Yet some non-headline names that intrigue me?
Penn State cornerback John Reid, for one. He played in the East-West game instead of Mobile, seems like he'd be a great pro and is PFF's 100th-ranked player. Forget that he had the best 20-yard shuttle of anyone at the combine (3.97) and that he started 40 games, but he's got top grades in Penn State's School of Electrical Engineering and Computer Science with his focus on coding and software. There may be a red flag because of a knee injury that wiped out his 2017 season but sign me up.
The Bengals worked with some interesting offensive linemen at the Senior Bowl, particularly Kentucky guard Logan Stenberg, ranked 114 by PFF. You've got to love this guy, known as the meanest lineman in the SEC, but with three big mauling guards on the Bengals roster already, not sure there is room.  
During the Senior Bowl, Bengals assistant line coach Ben Martin called Oregon tackle Calvin Throckmorton "a genius," even before he impressed at both tackles and center. What is impressive is he basically just showed up and played. He wasn't even listed on the Senior Bowl depth chart. After playing in the East-West Shrine Game in Tampa, Fla., the week before, Throckmorton, ranked 117th by PFF, got a mid-week call to Mobile because of injuries. And if they didn't get blown up at tackle during the game, they probably would have put him in all five spots.
And talking to him after the game, he seemed like a pretty even-keel guy about it all.
Stenberg's Kentucky teammate, wide receiver Lynn Bowden Jr., ranked a slot ahead of him by PFF, has me in his camp. He bailed out the Wildcats at quarterback, he has what one UK observed called the "cold-weather," toughness and mentality conjuring up Randall Cobb and he's got versatility now the rage in the NFL.
But who the Bengals like later? Good luck.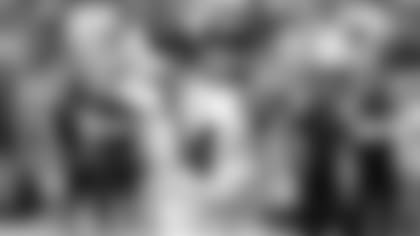 Hello Geoff, As the draft closes in, what are the chances we can parlay Dalton with #33 (and a 7th if necessary) and move up to the NE pick at 23? That could net us Queen with no PED/diluted sample questions. Phil Tackett, Summerville, SC
PHIL: As always, we pause to honor the hometown of the great A.J. Green. That's an interesting proposition, although I think LSU linebacker Patrick Queen is going to be gone by then.
Plus, how much difference is there going to be between the 23rd player and 33rd? If you're picking at 33, I think you've already done your trade back up into the first round. There will be a first-rounder at No. 33 that is probably going to be pretty closely ranked to the last 10-12 players in the first round. But I hear you. If there's a guy dropping like a rock out of the top 15, maybe you're making that call.
I think you're right to keep an eye on Dalton as a chip to get back up into a round. You just may be a day or two early.
Positive post. Yannick for Dalton. Long term deal for Yannick. Carlos gets new money owed 12M in 2021. Dalton will start games since Minshew is average. Lawson to hybrid DE/OLB. D-Line is Yannick, Reader, Geno and Carlos. Fight me about it. Mike M. Willoughby, OH
MIKE: A) I'm not a fighter. B) I like it. You have to figure Jaguars offensive coordinator Jay Gruden is coming after his old quarterback Andy Dalton at some point. Gruden, a rookie NFL offensive coordinator in the lock-out season of 2011 when he was one of those that stood on the table for Dalton in the draft, proved with Dalton that neophytes could survive in a truncated offseason. Remember, the Bengals were supposed to go 0-16 and they went to the playoffs.
And I'd venture that current Bengals offensive coordinator Brian Callahan has maybe talked to which ever quarterback they're going to draft more than Gruden talked to Dalton before the 2011 pre-season opener because back then there could be no communication between coach and player between the draft and training camp.
And I think a guy like Jacksonville defensive end Yannick Ngakoue would thrive here in a great change of scenery. Look at how many guys have. Give the guy a shot in a new spot and I'm sure he'd be fine. I mean, the man has missed just one game since the Jags took him in the third round four years ago, which means he's got 37.5 career sacks in 63 games and he has a Carlos-like pick six against the Bengals.
But I don't know how they can afford him after dropping so much in free agency. Ngakoue is set to make nearly $20 million on the tag, so what does that long-term deal look like? Maybe I'm wrong, but I don't see the salary cap room for a club that just committed more than $150 million in free agency and still would like to extend two of their best players in Green and running back Joe Mixon.
I like the concept and I think Ngakoue would be a great get. But the math just doesn't seem to work.