It is 5:15 p.m. on a Wednesday and A.J. Green's teammates are starting to leave Paul Brown Stadium after their first full day of preparing for the Ravens Sunday (1 p.m.-Cincinnati's Channel 12) in Baltimore.
You remember the Ravens? The Paul has been Green's home for nine seasons, but Baltimore has been his stomping grounds. He has more yards against the Browns (953-886), but more kills against the Ravens.
Now it is 5:20 p.m. and Green is doing what the pros do.
"I've got until about 6:30," Green is saying on a training table. "That's the way it's been. I get in at 6:30 and leave at 6:30. That's rehab."  
Green won't play in Baltimore. Maybe the next week against the Jags. That looks like his first real shot. If not, Bengals royalty maybe returns the next week after that in Wembley. As long as there's not a setback. A twinge. A grab.
Right now, he's just happy that on Wednesday he ran at full speed and cut for the first time since injuring his ankle in the first 45 minutes of training camp and now everyone is crossing their fingers to see how it responds.
Four days before his 31st birthday.
"I felt good. Let's see how it feels tomorrow," Green says. "The biggest thing right now is getting the strength back, getting all the muscles strong and the mental part of it down. I want to play so bad, I can lock out the pain. I can't do that. I'll be hurting myself in the long run."
And Green says there is a long run. "Five years left at a high level," he says.
Everyone wants to know if he's going to be Larry Fitzgerald from the age of 31 on (486 catches, 31 TDs, 5,270 yards, 10.8 yards per catch) or Chad Johnson (154 catches, 14 TDs, 1,854 yards, 13.9 yards per catch).
 As he flashed last Sunday at PBS, Fitzgerald at 36 is still damn good. Huge. But Hall-of-Fame dangerous. At 35 turning 36, Isaac Bruce caught 21 balls. At 36 turning 37, Terrell Owns led the Bengals in receiving (the circus  eclipsed his nine TDs and 13.9 yards per catch while playing hurt) and he would have had 1,000 yards easy if he didn't get injured. At 33, Randy Moss caught 28 balls for the Patriots, Vikings and Jets. At age 35, Steve Smith was a monster for the Ravens with 79 catches and 1,065 yards.
Larry or Chad? Moss or Smith?
Certainly when he comes back from this injury, Green says he'll be A.J.
"I think I'll be the same guy," Green said. "There's been nothing career-threatening. Nothing you'd call major.
"When I'm healthy, give me 16 games and my yardage will be crazy."
Bengals head strength and conditioning coach Joey Boese is a believer. He's in his first year, seen Green practice for less than hour and he can't get enough of the guy. "A genetic freak," is what Boese calls him. "Genetically gifted."
"A.J. Green is a pro in all senses of the word," Boese says. "Everything he does is full speed. He's not only a great player, he's a great guy. He doesn't cut corners."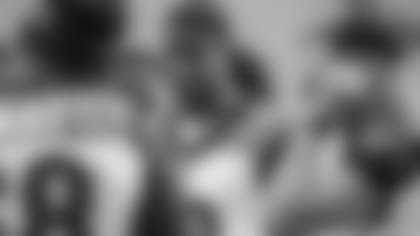 This is what pros do. They get in at 6:30 in the morning to rehab. They work with rehab chief Nick Cosgray in Paul Sparling's training room before heading out to the weight room to work with Boese and assistants Todd Hunt and Garrett Swanson. They meet with the receivers, too, and they spend time with assistant quarterbacks coach Dan Pitcher going over the game plan.
Pros go to walk-throughs and during practice they watch the offense before heading over to the rehab field with Cosgray. That's where this pro was Wednesday making those long-awaited cuts. When the pro starts standing next to Boese on the rehab field and running those long sprints, he's close.
The pros not there yet, but he's a pro.
"He's not like most guys," Boese is saying. "He got back in the weight room about five to six weeks ago and it didn't take him very long to get back where he was."
Boese shakes his head. Here's a Hall-of-Fame player who loves to train and knows what it means. The weight-room guys marvel at how much he can squat. They don't want to put a number out there. They laugh, though. They would never go overboard with of a certain number of plates on the bar, but there's no doubt in their minds Green could squat it.
"It's just me. That's my emotions on the sidelines. I'm not a robot on the sidelines," says Green of the all-too familiar TV shots of him suffering this season. "I'm thinking how I wish I was out there. Thinking what I would do if I was out there.
"But you play this game long enough, you'll have set backs at some point in your career."
It is 5:25 p.m. on the training table and that's a lot of time to look at your phone. It's been blowing up for a few days since everyone wearing stripes but Garfield has been mentioned in trade rumors.
The texts have come from all over. "A.J., you should go here. A.J., you should go there." But you know Green. He's a safe harbor in the choppy seas of NFL divas. He's not fantasizing about following Moss and Chad to New England.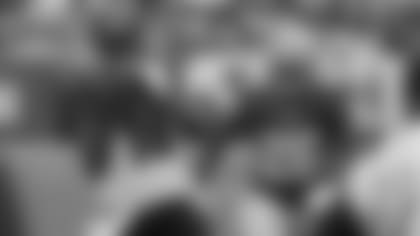 "I tell everybody I haven't heard anything," Green says. "I don't fantasize about anything like that. I'm just trying to get healthy and go from there."
He also knows it's a business: "I'm prepared for anything. A trade's not going to change who I am. I'm still going to play. I'm still going to be A.J."
Green's in the last year of his deal and the Bengals have never hid from their desire to lock up one of their franchise greats one more time for a third contract that solidifies him as the Bengals all-time leading receiver and locker-room anchor for new head coach Zac Taylor's culture.
The injury, coming on the heels of big toe surgery that wiped out the last half of last season, put the contract talks that were percolating during the summer on hold. Now the Bengals are focused on getting a win and Green is focused on getting back healthy. Everybody has to see where everybody is. What we do know is that a fire sale just isn't Bengals president Mike Brown's style. A deal with one of his all-time greats is more like it.
It certainly is to Green. As he told Paul Dehner, Jr., of The Athletic last week, he wants to pull The Larry and stay in the same city for his entire career like Fitzgerald has spent his 17 season in Phoenix.
The trade rumors and the start have done nothing to shake him. He says if the contract is fair, he's all in. Whether they re-build or not. He says he's not looking to jump to a hot team.
"That's just not who I am. I'm loyal to the person who gave me my shot," Green says. "They took care of Larry. He's a Cardinal. No matter how many times they rebuild, he's a Cardinal. He's the only guy still there."
So amid the buzz, the contraption strapped to his foot on the training table, the contract, Green is as impassive and as intense as ever. "We'll see," he says of the future. Right now he just wants to get back and win games and get back in the AFC North race.
"I want the team records. I want more Pro Bowls. I want all that," Green says, "so when I leave there is going to be a standard. I still want the yardage, I still want the touchdowns."
He says he also wants to do it for one team. "That's my legacy," he says. Green, 1,877 yards shy of passing Chad Johnson as the Bengals' all-time leader, has had to scale back his career projections.
Before the last two injuries robbed him of at least 14 healthy games, he was thinking between 15-16,000 yards. With 8,907 yards, now he's thinking 13-14,000. He thinks that still gets him into the Hall of Fame. He plans on tacking on to those seven Pro Bowls and if he adds two or three he probably will get to Canton. Five more Pro Bowls would make him a no-brainer.
It's 5:30 p.m. More guys are leaving. The thing on his ankle is strapped to a machine humming with stimulation. It alternates between heat and cold, just like Green's frosty brew of passion. A pro's hour remaining.
"It's nothing frustrating. It's just time. I just have to be patient," Green says. "I can't rush it and not be the same guy and mess around and get hurt again. I've got to make sure it's right before I even step out there."