At his first signing stint in the Bengals Pro Shop this week, Rex Burkhead is splitting the carries with fellow rookie running back Giovani Bernard and his orange and black Team Jack bracelet brushed every autograph.
"When you get news like we did, that's what you really think about," says Andy Hoffman, Jack's dad, back in Nebraska. "I know we're always talking about raising money and awareness. But when you get right down to the matter, what Rex has done in terms of bringing in people to pray for Jack is far more important than anything he's done. It's everything."
It was in all the papers last week, which says something, too. The doctors in Boston told Jack Hoffman, the eight-year-old Burkhead embraced three years ago while playing at the University of Nebraska, that the MRI showed his inoperable brain had been rendered "rock stable" by chemotherapy and he needs no more treatments.
Not only that, his pin cushion port that has been embedded in his neck gets removed this Thursday.
"He can be a kid again," Andy Hoffman says. "He won't have to worry about infection so much and he can be swimming in the river, or tubing, things he loves to do."
Not only that, Jack's next medical event in a little life that has been framed by the next appointment would not be until January and another MRI.
"It's the best possible news given the circumstances; get on with life," Andy Hoffman says. "They reminded us, but we already knew. There's a better than a 50 percent chance it could relapse and he'd need more treatment. We're realistic. But if this is a marathon, we like the leg we're on."
Burkhead got the news with the rest of the family. "Just like he was an aunt or uncle and grams or gramps," Andy says about his text blasts.
"I think about it a lot. I think about him a lot," Burkhead says. "When you have a relationship with someone like that, you can't help but not. It's great news. And it was great to see it on ESPN and in all the sports sections. It's sports, but not really, and that was kind of cool to see."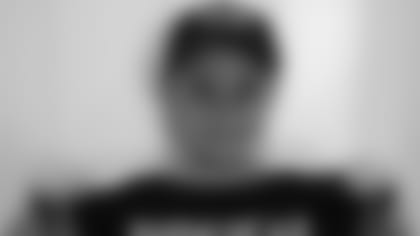 Jack proudly displays his new Bengals jersey.
As a true member of Bengaldom, Jack's huge win at Children's Hospital in Boston last week foreshadowed Cincinnati's massive win at Paul Brown Stadium on Sunday over Boston's Patriots. Hours after Jack had tamed the MRI, he was getting his picture taken in front of Fenway Park in his Bengals hat and his orange-and-black Rex Burkhead Team Jack Foundation shirt.
"He didn't take off his Bengals hat the entire time he was there," Andy says. "He wore it on the plane; he wore it to all his appointments. He wore it to supper after the MRI at Beer Works. The Bostonians liked giving him a hard time about his Bengals hat. He told them, 'Hey, my friend plays for the Bengals.' Well, then the gig was up."
They asked who his friend was and when he said, "Rex Burkhead," it dawned on them. Are you the little boy who scored the touchdown at Nebraska?
"They treated him great. Everywhere he goes, people treat Jack more gracious and generous than they need to be," Andy says.
Burkhead has yet to suit up in his first five games, but the coaches are telling him to be patient. His time will come. Even though he's inactive, he plays the games in his mind, standing next to practice squad quarterback Greg McElroy on the sidelines as the plays are called. He also helps out special teams coordinator Darrin Simmons trying to pick up opponents' tips. And he'll talk occasionally to Bernard and running back BenJarvus Green-Ellis about a particular play, or buck them up, like when he told Bernard to forget about it after his late fumble Sunday against the Pats.
"They're playing so I don't want to bother them too much," Burkhead says. "I'm trying to take it all in. You can see the difference out there (from college). Everyone in the NFL is so good. Every team is good, so it comes down to the little things. Whoever executes best is going to win."
He may not be playing Sundays yet, but Burkhead is still 24-7 with Jack Hoffman.
When Jack celebrated his eighth birthday back on Sept. 26, it showed just how much the little kid and the running back had accomplished together. Jack's birthday is now Pediatric Brain Cancer National Awareness Day, and about 600 fans and friends gathered in Jack's central Nebraska hometown to raise funds for research that nearly doubled the size of Atkinson. The governor may have been there, but the King of Nebraska phoned in his birthday wishes to start the event.
The wildly popular Burkhead was put on the public address system and with the help of the items he signed and made available to the live auction, the event pulled Team Jack ever close to $1 million.
"With all the excitement the past couple years, it's been a big thrill for me seeing the support you bring, not only across Nebraska, but across the nation as well," Burkhead told Jack.
It wasn't the first time that week that Burkhead went public with his birthday wishes. A few days before, Nebraska held a Pediatric Brain Cancer Awareness event at its football game and when Burkhead ended his video message with "Happy Birthday, Jack," the full house serenaded the guest of honor with "Happy Birthday."
Jack may not have any doctor appointments looming, but he's got enough commitments to school and the cause that Andy isn't sure when they can get to a Bengals game. The Browns on Nov. 17 is looking more and more like a possibility. Until then, DirecTV is going to have to do.
"We watched Sunday's game and he was pumped," Andy says. "Great game. The Bengals are our team now. We have a cousin who was a G.A. at TCU when Andy Dalton was there and he's an Andy Dalton fan. Rex's time will come. Their success is reflected by guys like Rex who have valuable roles on the team. His greatness is defined by the things he does for people like Jack and the cause."
The games are when Jack pulls out the No. 33 Burkhead Bengals jersey.
"He didn't bring that one to Boston," Andy says. "That's sacred. That's only for game day."
Burkhead has one of those, too.
"The coaches keep telling me to work on my game," he says. "You never know."
Andy Hoffman already does.
"Look at all the things that have happened," he says. "All because of a running back taking the time to meet a little boy and take him in."
It reminded him of yet another thing Team Jack needs.
"We need to get more bracelets," he says. "They almost got sold out at the event."