The day that Michael Donovan Jordan had been named the Bengals' Opening Day left guard would have been his uncle's 54th birthday. Kevin Michael Jordan, his father who also goes by Michael, didn't miss the sign in what has been a tough summer. He lost his father, Michael's grandfather, just as the NFL spring practices began at the end of May.
"My brother and father would have been out of control," said Michael Jordan the elder, who admitted in an e-mail this week that he let go with a Tiger Woods fist pump when his son called with the news. "But I know that God let all of these things happen on this day in this way for a reason."
The evidence just keeps piling up. Michael is the guy born to be an Opening Day Bengals starter. His dad is a Roger Bacon High school grad that still knows the fight song. Born and raised in suburban Cincinnati before his dad's auditing profession took him out of state to middle school and high school, he never forgot his Bengals roots.
It was at a playground near his elementary school, Zion Temple Christian Academy, where the Bengals came to visit and his mother took him. He met them. Or at least saw them up close. There was Chad Johnson. T.J. Houshmandzadeh. Carson Palmer. The park, at the corner of Reading Road and North Fred Shuttlesworth Circle is now called "Season-good Square," and that's exactly how the Bengals hope 2019 goes.
"No. 77 was Whitworth, right?" Michael Jordan the younger asked of Andrew Whitworth, then a young left guard.
On Sept. 8 in Seattle's Centurylink Field, one of the loudest places on earth, Jordan lines up next to this season's No. 77, left tackle Cordy Glenn. And offensive line coach Jim Turner could care less where he was born or when he was born or how the fates conspired to get him here. He's thinking about that relentless Seattle defense in the just as relentless din.
"He's the guy that we think can help us win right now against the Seahawks at left guard," Turner said after Monday's rain-stained practice on the Paul Brown Stadium field. "People forget but Mike could spend another year in college Mike is 21 years old. He jumped out at us on tape at Ohio State. I went up there and interviewed him. The scouts loved him, I loved him and obviously he was the right decision. He's just very smart, very physical and he's ready to play."
Jordan may have a baby face, but he proved in the preseason he's got an old-school motor and a stubble of a competitive streak to match. He's still wondering why it took 135 selections before his phone rang. His parents have told him there are reasons for everything. Not only did a team take him in the fourth round, it was the first time that the team in its 52-year draft history ever traded back up into a round to select a player. Not only that, it was his Bengals in the town of his dad and uncle. And grandfather Ben, Taft High School alum and the fire fighter of Engine 9 in Bond Hill.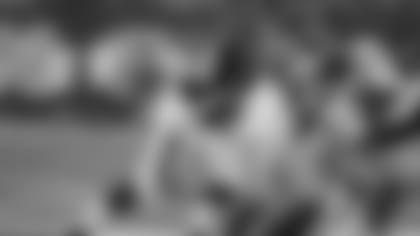 His uncle, his dad's brother, had been named after his father. Rev. Benjamin F. Jordan, Jr. His grandfather took ill around the draft and passed a month later. But his grandson had already come home through the power of the draft and something else.
"If my son had not been drafted by the Bengals, then he would not have spent the last several weeks being able to visit my Dad 3 or 4 times a week during the Rookie Mini-Camp and in between his training sessions in Columbus," Michael Jordan wrote.
The past somehow merged with the future quicker than anybody thought. On and off the field. The reason the Bengals traded back up is they felt Jordan was the last starting offensive lineman on the board. They knew they had just selected a starter for the future, but they didn't know where or when until Turner saw him start two pre-season games at left guard.
"Did we want him to do this? Of course we wanted him to do it. But at the same time, did we expect it? No. But I'm really happy that he's where he is," said Turner of the timetable. "He's lined up against the ones against a couple of NFL teams now, and you don't notice him. So that's a great start, No. 1. No. 2, if you watch him block, just watch him pass protect, you watch him come off the run ball in the run game, he's going to make mistakes, all right? But at the same time, he's ready to play. If he wasn't ready, we wouldn't put him in there. He's ready to play and he's ready to help us win."
The other linemen have been buzzing about him for a while. Andre Smith had been here for about two weeks and said, "He's going to be a good one." John Jerry, a dozen years older than Jordan who now looks to be his backup, says, "Mike can be as good as he wants to be."
"There's no denying that," Jerry said of the observation Jordan has all the tools. "Not too many people in this league come in as young as Mike. He's definitely mature. Smart guy. Tough. He does things the right way. Very consistent. I'm looking forward to seeing that guy get out there."
Jerry told him when training camp began anything he needed, don't be afraid to come ask. Jordan hasn't been shy.
"He asks a lot of questions and I try to provide the answers," Jerry said.
A quarterback who also started as a rookie Opening Day has been impressed.
"He's going to get a lot of extra experience early on in his career," Andy Dalton said. "He's been great. He keeps getting better. One thing you realize with him, he's a guy with his size that can make a move, too. He's got a good understanding of everything that we're doing. I'm glad for him. He's earned that spot."
That's what he's done all through his football career. His dad has a laundry list of the things he heard and endured.
"You probably won't start in PeeWee football, because you will have to wait your turn. You won't start in middle school, because you just moved here from out of town and nobody knows you. You won't get a varsity letter as a Freshman in High School. You won't start as a Sophomore in High School on Varsity, so you should go back down to JV. You won't get a division 1 scholarship. You won't be able to graduate early from high school. You won't ever play if you go to Ohio State and you will NEVER start as a freshmen. You won't be an All-American. You won't get drafted in the NFL. And finally, "You won't start in the NFL your first year."
"Every one of those 'Naysayers,' were proven wrong," his father wrote. "After he continued to overcome adversity time after time, it didn't shock us anymore."
After the news broke on Sunday, he answered all the questions for the media. Such as, "It means a lot to me … trusting me, a rookie fourth-round draft pick, I'm going to play my heart out for (head coach Zac Taylor) and I appreciate him for giving me the opportunity, it means a lot to me." Then he was asked about all the noise in Seattle and where was the loudest place he'd ever played.
"Penn State. I'm sure it can't be louder than Penn State," Jordan said. "Because I could be right here, face-to-face, screaming at you and you'd be saying, 'What?'"
The kid may be 21, but he's been around.
And he came back to start an opener for the team in the home of both Bens.
"It was certainly meant to happen this way," wrote his father, who works with numbers but has a way with words.