The Bengals "doubled down" with their first two picks in the 2023 NFL Draft.
That expression is typically used to describe the idea of taking two players at the same position, but in Cincinnati's case, the team chose a pair of defenders with the same goal in mind – to boost their chances of thwarting the great quarterbacks in the AFC.
Following the selection of pass rusher Myles Murphy in the first round, the Bengals grabbed Michigan cornerback DJ Turner in the second round with the 60th overall pick.
"You're adding at premium positions and that's what it takes at this part of the draft," said defensive coordinator Lou Anarumo. "They seem to disappear pretty quickly."
Adding a cornerback also addresses one of the team's biggest needs.
"We feel like we needed to add depth there in the secondary and he's a guy that can come in and really compete in multiple roles for us and provide depth outside and inside," said head coach Zac Taylor. "We really liked the intangibles he'll bring to the table as well."
The Bengals current roster includes three outside corners who did not spend most of last season on their practice squad: Chidobe Awuzie, Cam Taylor-Britt, and free agent acquisition Sidney Jones IV.
Awuzie is coming back from a torn ACL and entering the final year of his contract. Taylor-Britt only has 13 games under his belt, and Jones signed a one-year prove-it deal after battling injuries throughout his first six NFL seasons. Turner not only adds depth, but could see significant snaps as a rookie.
"If there are two positions where you can say that you can never have enough players over a 17-game season plus playoffs, it's defensive line and corner," said Taylor. "Any time there's a good player there who is going to help you, I don't think you're ever wrong hitting at those two spots."
After drafting three defensive backs last year who ran sub-4.4 40-yard dashes at the combine in Dax Hill, Cam Taylor-Britt, and Tycen Anderson, the Bengals added another speedster in Turner. The 22-year-old ran the fastest 40-yard dash (4.26) and 20-yard split (2.32) at this year's event in Indianapolis.
"When you look around the league and the weapons that so many teams have on offense and the speed that people have, you've got to try to match it somehow," said Anarumo. "The more fast guys that we can get is certainly going to give us an advantage. We're going to have to chase quarterbacks and that means you're going to have to cover a little longer. The faster we are, I think the better chance we have of getting off the field."
Turner is 5-11, 179 pounds and doesn't have great length. But his speed and quickness enabled him to have 20 pass breakups and three interceptions in his two seasons as a starter for the Wolverines.
"I've been lighter my whole life," said Turner. "I just trust my feet and speed. Nobody is faster than me, so I've got to trust my technique and know my speed and use it to my advantage."
"He's got a little ways to go from a weight standpoint, but you can put some weight on – you can't make them 4.2's," said Anarumo.
Turner says his personal best is a hand-timed 4.22 and he made it a goal to run the fastest 40-yard dash at this year's combine.
"It definitely was," he said. "I was trying to go for the record actually."
More importantly, Turner's speed shows up on tape.
"If he gets out of position, he can get back in it because of his speed," Anarumo said. "Defensive backs in our league are going to get beat and going to get out of position. This guy has the recovery speed to get back in and maybe make a play on the ball."
The Bengals also like Turner's big game experience in the Big 10.
"When they come from big programs like this, they're going to walk into the stadium and be used to the place being full, and they're not going to flinch when it comes to that part of it," said Anarumo. "You like the guys coming from the bigger programs and he's from one of the biggest."
Turner will be reunited in the Cincinnati secondary with his former Michigan teammate Hill
"I was watching them all of the time because Dax was out there last year," said Turner. "I was tuned in every week.
"We joked around about it said, 'What if we get back together?' It actually happened."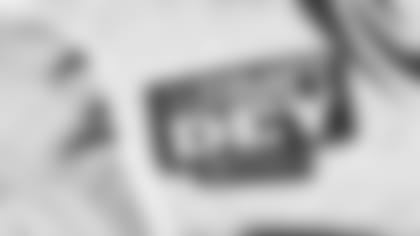 2023 Draft Dey Center
The official sources of news, photos, interviews and more of Draft Dey 2023, presented by Integrity Express Logistics.