FOR IMMEDIATE RELEASE; WED., APRIL 1, 2015
FROM CINCINNATI BENGALS PUBLIC RELATIONS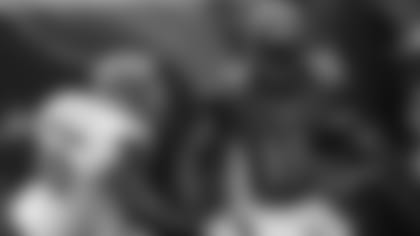 BENGALS RE-SIGN WR BRANDON TATE
The Bengals today re-signed WR Brandon Tate. Tate's contract had expired this past March 10, making him an unrestricted free agent.
Tate (6-1, 195; North Carolina) is a seventh-year NFL player for 2015. He has not missed a regular season or postseason game in the last five years, including four with the Bengals. Last season he logged 17 receptions for 193 yards (11.4) and one TD. He also rushed three-for-21 (7.0), averaged 9.7 yards on 18 punt returns and averaged 22.1 yards on 18 kickoff returns.
In the fourth quarter of last season's playoff-clinching win over Denver, Tate had a 49-yard punt return, setting up a 23-yard field goal to give the Bengals a lead they would not relinquish.
Tate ranks third all-time on the Bengals in both total kickoff returns (127) and punt returns (126), and he could take over the all-time lead in both categories in 2015 with 20 kickoff returns and 15 punt returns.
"Brandon has been a big contributor to the success of our team in qualifying for the playoffs the past four seasons," Lewis said. "We are happy he has decided to remain a Bengal."