Television: The game will air nationally on CBS-TV. In the Bengals' home region, it will be carried by WKRC-TV (Ch. 12) in Cincinnati, WHIO-TV (Ch. 7) in Dayton and on WKYT-TV (Ch. 27) in Lexington. Broadcasters are Kevin Harlan (play-by-play), Trent Green (analyst) and Melanie Collins (sideline reporter). 
Radio: The game will air on the Bengals Radio Network, led by Cincinnati flagship stations WLW-AM (700), WCKY-AM (ESPN 1530; all sports) and WEBN-FM (102.7). Broadcasters are Dan Hoard (play-by-play) and Dave Lapham (analyst). 
The game also will air nationally on Sports USA Radio. Broadcasters are Larry Kahn (play-by-play) and Mark Carrier (analyst). 
Setting the scene: The Bengals this Sunday return home to face the Baltimore Ravens in a game that carries significant playoff implications. Cincinnati and Baltimore are both 8-6, however the Bengals hold the upper hand in the standings due to a tiebreaker. Cincinnati currently leads the AFC North and is the No. 4 seed in the AFC playoff race, while Baltimore is second in the division and eighth in the AFC — just one spot outside the playoff picture. 
Last week, Cincinnati slugged out a 15-10 win at Denver, in what was the lowest-scoring Bengals game since 2017 (Sept. 14 vs. Houston). 
"Just a tough all-around performance from the whole team," said Bengals head coach Zac Taylor. "No panic, great poise. You probably could tell from my tone all week, but I have a ton of respect for the Denver Broncos and their coaching staff and players. They play the right way, they coach the right way. 
"Today wasn't sexy, but man, it's what we needed. All of our guys stayed patient, and it paid off." 
The Bengals started slow, with a FG and five punts in their first six offensive possessions. They ultimately finished the day with just 249 total yards, were four of 13 on third downs, and outside of the end-of-game kneel down managed just one trip inside the red zone (FG). 
"It's like that sometimes," said Bengals QB Joe Burrow. "Not every game is going to be throwing for three touchdown passes and 300 yards and all of that. They're a really, really good defense that has invested a lot in their secondary and linebackers. They're very well-coached too. So you've got to give them credit." 
Momentum shifted just before halftime, though, when a missed 51-yard FG by the Broncos gave the Bengals possession at their own 41-yard line with nine seconds remaining. Bengals QB Joe Burrow completed a 19-yard pass to WR Tyler Boyd, who got down immediately and allowed for a time out with four seconds remaining. Rookie K Evan McPherson then nailed a Bengals-record 58-yard FG as time expired to give Cincinnati a 6-3 edge at halftime. McPherson now has nine FGs of 50 or more yards this season, one shy of the NFL record of 10.
"It was really big," Taylor said of the sequence. "We knew they were going to get possession to start the second half, so we needed some momentum. 
"We were going to be pretty aggressive outside to Ja'Marr and Tee, but they changed the defense on us. Joe just did a great job — he was patient and took what they gave us. TB (Boyd) was there for the big play." 
 After Denver jumped ahead 10-9 late in the third quarter with with a 25-yard TD pass, Cincinnati needed only two plays and 45 seconds to re-take the lead with a 56-yard TD pass from Burrow to Boyd. 
"We've run that play before over the last couple years, and today it finally paid off for us. We haven't always connected on it, but Joe did a great job. C.J. Uzomah came across and shoved out a defensive end, Joe did a good job buying time in the pocket, and then TB made the big play." 
Denver answered Boyd's score by driving all the way to Cincinnati's nine-yard line, but then reserve DE Khalid Kareem crashed into the backfield and wrestled the ball from Broncos QB Drew Lock, who took over in the third quarter after starter Teddy Bridgewater left the game with a head injury. Kareem rumbled 26 yards and fumbled (Broncos recovered), however that portion of the play was overturned by replay, which declared Kareem down by contact shortly after recovering the fumble. 
"It was a really a tremendous effort by Khalid," Taylor said. "It's 15-10 and they're driving, so a touchdown would've put us in a tough spot. That was a really big play by him to step up and take that ball away." 
Added Burrow: "Our defense came up with a big play there when we needed it. Khalid has fought injuries all year, so to have him make a play like that is awesome. He works really hard, so I'm happy for him." 
Cincinnati's offense ran clock late, and a 15-yard pass from Burrow to Boyd on a third-and-10 gave the Bengals a key first down and forced the Broncos to burn their final timeouts. Denver finally got the ball back with 1:04 remaining deep in their own end, but Cincinnati topped off a stellar defensive performance with a sack and three straight incompletions to turn the Broncos over on downs and seal a win. 
"When our defense plays the way they did today, you can just feel it," Taylor said. "You feel like they have control over the game, and it allows you to play a pretty dirty game. 
"We knew it was going to be tough today, but our defense played their tails off. Those guys stepped up and made plays when they needed to, and they enabled us to play the way we did on offense to be able to get this win." 
This week vs. Baltimore, the Bengals square off against the NFL's top-ranked rush defense and one of the league's most dynamic offensive players in QB Lamar Jackson. The Bengals won the teams' previous meeting this year — 41-17 at Baltimore on Oct. 24 — so a win this week would give them their first season sweep of the Ravens since 2015 and put them in the driver's seat for the AFC North title. (It should be noted, though, that there is no scenario in which Cincinnati can clinch the division title or a playoff spot this week.)
"You know what kind of team Baltimore is," Burrow said after the Denver game. "We're going to enjoy this win tonight, and then watch the film tomorrow and get right on to Baltimore. We've still got two more division games left that are really going to decide the fate of the division."
The series: Baltimore leads the series, 27-24.
Here are some series notes:
When Cincinnati took a 23-22 series lead in Week 2 of the 2018 season, it was the first time the Bengals had led the series since after the first of two meetings of 1998, when they were up 3-2. That lead didn't last long, however, as the Ravens now have won five of the last six meetings and have a three-game advantage.
The Ravens have swept the Bengals two consecutive seasons (2019 and'20). Prior to 2019, the Ravens had not swept the Bengals since 2011.
With a win on Sunday, the Bengals will sweep the Ravens for the first-time since 2015.
It hasn't been an easy series for the visiting team. The Bengals lead 15-10 in Cincinnati, and the Ravens lead 17-9 in Baltimore.
Since 2010, 14 of the teams' 23 meetings have been one-score decisions, by eight or fewer points.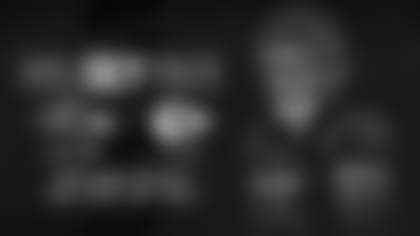 Holidey Pack
The perfect holiday gift! Lock down the same seats for the final two home games against the Baltimore Ravens and Kansas City Chiefs.
Mixon shuffling toward Ickey's record: Bengals HB Joe Mixon this season has 12 rushing TDs, tied for fourth-most in team history and just three shy of RB Ickey Woods' team-record 15 in 1988. The last Bengal with 12 rushing TDs in a season was RB Rudi Johnson, who scored exactly 12 TDs in three straight seasons — 2004, '05 and '06.
Chase gathering Bengals rookie records: Bengals WR Ja'Marr Chase this season has had what already could be considered one the top rookie seasons in team history. Chase in recent weeks has cemented that claim by setting new team rookie records, and he figures to take down a few more by the end of the season. 
Chase currently has 61 receptions, the fourth-most ever by a Bengals rookie. WRs Cris Collinsworth and Tee Higgins (67) share the team's rookie record in that category, followed by Green (65). Chase already has passed HB Giovani Bernard (56), WR Tyler Boyd (54) and WR Eddie Brown (53). 
Chase currently has 1038 receiving yards, second-most ever by a Bengals rookie behind Green (1057). Chase has already passed WR Cris Collinsworth (1009), Brown (942), Higgins (908) and WR Darnay Scott (896). 
Chase has three 100-yard receiving games this season, and could tie WR A.J. Green's team rookie record (four) this Sunday. He currently is tied with WRs Isaac Curtis and Eddie Brown for second-most by a Bengals rookie. 
Chase has 10 receiving TDs, already the most ever by a Bengals rookie. He surpassed WR Isaac Curtis's previous team record of nine in just his 13th game — Curtis' record was set in a 14-game season in 1973.
'Fire department' tough after turnovers: The Bengals' offense and special teams units this season have committed 21 turnovers, including three that were returned for TDs, which means opposing offenses have taken over possession 18 times after Bengals turnovers. In those 18 instances, the Bengals' defense has allowed just three TDs and eight FGs (46 points). That means opponents failed to produce points on seven of those possessions — two punts, one missed FG, a turnover on downs and three INTs (one pick-six). 
Opposing offenses have taken over in plus territory after Bengals turnovers on 12 occasions this year. Those have resulted in two TDs, seven FGs, a punt, a missed FG and an INT (26 points). 
When opposing offenses take over inside the Bengals' 20-yard line, they have one TD, three FGs and a missed FG (17 points). 
Bengals defenders and coaches say that they have embraced these kinds of back-to-the-wall situations. Defensive coordinator Lou Anarumo has even coined a name for them. "I tell our guys all the time that we're like the fire department," he said. "We're here to put the fire out. We don't ask how or why. We just go out there and we put it out." 
Hendrickson on torrid sack pace: DE Trey Hendrickson, one of the headliners of Cincinnati's free agency haul in March, has made a significant impact in the sack column in just his first season as a Bengal. 
Hendrickson has a team-high 13.0 sacks (fifth in NFL) through 14 games. That total is more than double the team lead for all of last season (former DE Carl Lawson, 5.5), and he also is the first Bengal with double-digit sacks since former DT Geno Atkins' 10 in 2018. 
Hendrickson is on pace for 15 sacks for a full 17-game season, which would be second-most in team history between DE Coy Bacon's team-record 22 in 1976, and DE Carlos Dunlap's 13.5 in 2015. 
Last season with New Orleans, Hendrickson had 13.5 sacks, tied for the NFC lead and tied for second-most leaguewide. And since the beginning of the 2020 season, Hendrickson's 26.5 sacks are third-most in the NFL, behind only Pittsburgh's T.J. Watt (32.5) and Cleveland's Myles Garrett (27.0). The Rams' Aaron Donald (23.5) and Carolina's Haason Reddick (23.5) are tied for fourth. 
Bell rings of reliability: One of Cincinnati's most trusted leaders and consistent players on the field over the last two seasons has been S Vonn Bell. The sixth-year pro joined the Bengals as an unrestricted free agent prior to the 2020 season, and then proceeded to play in every snap of his first 20 games with the team. His streak of consecutive snaps was broken in Cincinnati's 34-11 win at Detroit on Oct. 17, when the starters were rested late in the fourth quarter. 
And although he has missed a few more snaps since that game in Detroit, Bell still leads defense in snaps played (884 of 938) this season. In his now 30 career Bengals games, he has seen action on 1943 of 1997 possible defensive snaps (97.3 percent). 
Bell has been a captain in both of his Bengals seasons. He ranks second on the team in tackles (87) this year, after leading the team in that category (114) last season.