The Bengals and the NFL honor military members and their families all year long, but as the calendar changed over to November, it's once again that time of year for teams' annual Salute to Service games to take center stage. Ahead of Veteran's Day on November 11th, the Bengals joined forces with the Hillman Group and Operation Ramp It Up to change one veteran's life.
Bill Allen served in the Army during the Korean War. Last year Allen experienced complications that took away his mobility after being diagnosed with the coronavirus. Allen now relies on a wheelchair and has been living in a nursing home until a ramp was installed at his residence. Allen will now get to come home thanks to the Bengals, Hillman Group and Operation Ramp It Up.
"The Bengals have a lot of gratitude for people who have served or are currently serving our country, and this partnership with Operation Ramp It Up gives us just a small opportunity to show our gratitude to service members and their families." Remarks a vibrant Alex Simons, Bengals Director of Community Engagement. "To be able to get Bill home so he can spend the holidays with his family because otherwise he wouldn't have been able to, that means a great deal to us that we're able to have such a positive impact on a family."
After Simons and the Bengals learned about Greg Schneider and Operation Ramp It Up, they knew they wanted to partner with the nonprofit for Salute to Service. "When we learned about Greg's story and how he and his family founded Operation Ramp It Up seven years ago, there was really no other partner we wanted to partner with for Salute to Service," Simons says. "The mission and vision of Operation Ramp It Up aligns nicely with what the Bengals look to do when we're out in the community, and that's to give back to the people who have supported us and our history here in Cincinnati."
Operation Ramp It Up provides mobility to military veterans and their families by installing aluminum wheelchair ramps at their place of residence, when other traditional resources have been exhausted. Founder and CEO Greg Schneider and his team have installed over 100 ramps in 34 different states. One of their goals is to install a ramp in every single state as they continue to help veterans across the country.
"When our friends at Hillman, who are longtime partners with the club, reached out and asked about ways that they could get more involved, we thought this aligned nicely with their business, so we invited them to join us and they were thrilled." Simons, volunteers from Hillman, and a few Ben-Gals were on-site to assemble the ramp for Allen, thanks to a Bengals donation that helped bring this project to life.
From the time Schneider receives the application that a veteran is in need of a ramp, it takes approximately 3-5 weeks for the process to be completed. That includes talking with the family to discuss their needs, building and assembling the pieces of the ramp, and rounding up enough volunteers to make the build happen.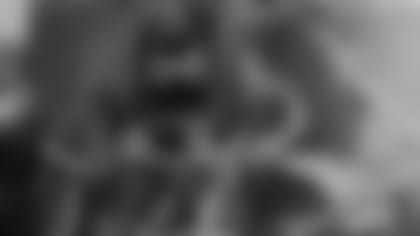 Operation Ramp It Up prefers to use aluminum ramps for many reasons since they can be recycled. Schneider tells us that the ramp being installed at Allen's home has been used before. "This ramp has been in three different places, as we installed it originally in Hamilton for a Vietnam Veteran. Now it's here to help another veteran."
"It's very rewarding and emotional," Schneider says as he instructs the volunteers with which piece will be assembled next. "You have people that lost their mobility, they can't get in and out of their house. I wanted to make an impact because you're changing their life. You're giving them their mobility back, you're giving them freedom, independence and accessibility."
The Bengals will recognize Schneider during the team's Salute to Service game Sunday against the Cleveland Browns. To donate or learn more about Operation Ramp It Up, you can visit their website; operationrampitup.com.