As Women's History Month comes to a close, it's a signal that we shouldn't stop recognizing and highlighting women and their achievements as we turn the calendar to April. Over the last month, the Bengals have shown their appreciation for women inside and outside of the organization.
For International Women's Day, held Tuesday, March 8th, the team hosted members of the Who Dey Ladies Club for an exclusive panel event featuring women leaders in the front office. The panel was hosted by Team Reporter Marisa Contipelli and included Caroline Blackburn, Senior Manager of Digital Strategy, Johanna Kappner, Chief Financial Officer, Emily Parker, Director of Communications, and Alex Simons, Director of Community Engagement. Over 90 women were in attendance that evening.
The panel discussion lasted just under 45 minutes, as fully engaged Who Dey Ladies members listened closely to hear their pre-submitted questions ahead of the event. The conversation began with each panelist detailing their day-to-day responsibilities with the team and what a typical day looks like for them.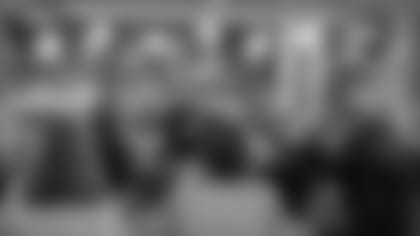 Contipelli, entering season five, and Parker, set to begin season seven, both spoke about overcoming obstacles in a male-dominated field. "One of the best pieces of advice I received early on in my career was to always be the most prepared person in the room, and that's something I think about every day" shared Contipelli. "I'm not a former player or coach, so I have always felt the added pressure in proving myself and my knowledge about the sport. So others in the room have zero doubts that I belong. The acceptance of women in the sports industry has grown leaps and bounds and continues to every year. As more women hold leadership positions within sports, the closer we become to bridging the gap."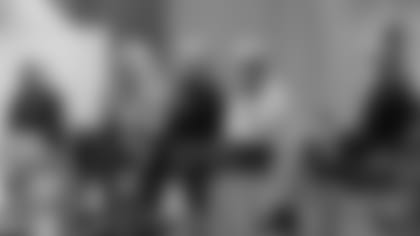 The conversation naturally shifted to (Katie) Blackburn. (Caroline) Blackburn was asked, "your mom (Katie) is someone who has set a great example and has shown why it's valuable to have women in leadership positions in sports. What have you learned from her over the years?" To which Blackburn replied, "So much, truly so much. She has been an incredible role model for both my sister and me throughout our lives. What has stuck with me the most and what I've always tried to replicate is how she is completely true to herself – and she's been so successful this way. In a male-dominated sports world, she has found a way to be an absolute powerhouse who is so highly regarded and respected without changing any part of who she is every day."
As the topic of family and work-life balance began, Kappner who is entering her 26th season with the team, choked up when sharing her experience raising a family while building her career: "I'm most proud of having a family and a career. Sometimes that takes tough decisions in both areas. You need to prioritize what is most important to you and be upfront with your employer. If they don't understand what your priorities are or if they are not willing to work with those priorities, then maybe that's not the right place to be. One of my priorities was to be home and have dinner as a family. Mealtime together is very important."
Blackburn may only be entering her second season full-time with the club, but she has witnessed firsthand how the NFL has changed since having more women in positions of leadership, media, coaching, and refereeing. Her response when asked how women in those positions have brought positive change; "I am a big believer that diversity of background and ideas makes anything better, so including more women in every part of the game is a great thing. I joke that when I was in kindergarten, I wrote a book 'The First Female Coach in the NFL' and while I don't think that will quite come true for me, I'm proud to see that there are female coaches out there. I'm lucky to have always had the example set by my mom & by all the incredible women in the Bengals organization that women belong in the NFL, but I am happy to see that spread across all the teams & the NFL League Office."
Giving back to the community has always been an important area for the organization, and the team has increased community support set for 2022. Simons was asked what some of those initiatives may include this year, "We are most looking forward to getting back into the community in-person in 2022! We have a lot of great community partnerships in place this year. Among many other planned initiatives, we will look to expand some of our most successful programs such as our Flag Football In-Schools program, and continue our long-time programming around Play 60, High School Coach of the Week, and Friday Night Stripes."  
Those were just a few of numerous questions and topics related to football, women in sports, and life in the NFL discussed throughout the evening. Women's History Month is a small reminder that these discussions and conversations shouldn't be confined to the month of March. We should encourage, support, and highlight women and their achievements 365 days a year.
The Who Dey Ladies were invited to Paul Brown Stadium to hear from and ask questions to our all female panel of Bengals employees in celebration of International Women's Day.