It is getting toward 6 o'clock on a Friday night and Katie Blackburn, the Bengals pioneering executive vice president who oversees everything at Paul Brown Stadium from contracts to content, absolutely detests this story.
"I hate talking about myself," says Blackburn, who is becoming one of the most talked about owners of one of the most talked about teams in the NFL.
Still, she has kindly submerged herself in a filing cabinet looking up the first deal she ever did. She could zap this story, headline, her photos and any trace of it all in one phone call to her youngest daughter Caroline, in her first year as the team's senior manager for digital strategy.
Katie Blackburn's office door is always open so she can hear everyone's story. And her notorious sweet tooth makes sure people come in since she places her favorite candies in easy-to-reach spots. If Joe Burrow likes crackers and cupcakes, his boss likes peanut M&Ms and bright red licorice.
"Communication can always be challenging and hard," Blackburn says. "When you're working with a lot of people, you need it to keep things running in a way everybody stays on the same page and hopefully that helps us get better results."
She thinks she negotiated her first player contract in her own first full season with the Bengals after making the move from the downtown law firm of Taft, Stettinius & Hollister just a few years out of the University of Cincinnati law school. She's pretty sure it was a defensive end taken in the last round of the draft.
"Hey Mom," says Elizabeth Blackburn, her oldest daughter heading into her third season as the Bengals director of strategy and engagement. "When you get done with that, can you swing by my office?"
This could be it. A manilla folder from the 1992 draft labelled "Eric Shaw," a 12th-round pick out of Louisiana Tech. She was 26.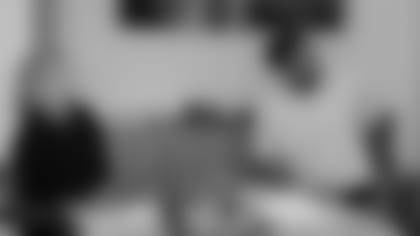 By then, she had already spent a decade around the team. Listening to her father during training camp conduct negotiations over the phone in his Wilmington College dorm, mesmerized by the numbers on his negotiating charts. Spending high school summers working in the Bengals ticket office before heading to Dartmouth College at age 16. Then law school summers helping with the numbers.
"This is it," Blackburn says. "There's my signature."
Thirty years later her signature, like her grandfather's, is flowing into history. Last offseason Elizabeth Blackburn made Paul Brown's autograph a piece of the team's new uniforms and branding. Now this offseason her mother makes a signature statement at the NFL owners' annual meeting that begins Sunday in Palm Beach, Fla., the first where a woman sits on the league's powerful competition committee.
"She's spent her entire life proving she's a football person. I don't think of her as a man or a woman. She's a football person. That's the biggest compliment I can give her," says Peter Schaffer, the Colorado-based heavyweight agent who has slugged out many 15-round decisions with Blackburn, ranging from Rudi Johnson's 2005 extension to last weekend's quick-strike singing of La'el Collins.
"What's impressive is the type of reverence she has around the league. When you talk to general managers or other owners and who people are listening to at the owners' meetings, at the competition committee meetings, all that stuff, when she talks people listen. That comes from respect. It's not how much you talk, it's what you say."
Blackburn has said enough that Troy Vincent, the Pro Bowl cornerback turned NFL's executive vice president of football operations, senses a new voice emerging in the league's hallways of power.
"I love people that have grinded their way to the top, worked their way to the top," says Vincent, the seventh pick in that 1992 draft.
"You have an appreciation for Katie and the body of work. Sometimes with legacy, family, you don't have to go through that path. But she worked and earned it and, frankly, the competition committee is The Committee of the National Football League. You get to that level and you are driving the game and she's earned that right."
Larry Ferazani, the NFL's deputy general counsel of labor, cut his teeth in the league a decade and a half ago on player fines and grievances and even then he was struck how rare it was for an owner like Blackburn spending time on perhaps the most obscure and tedious part of the business. Now, he agrees, she's on the game's blue-ribbon commission known as the competition committee
"Of the next generation of ownership starting to assume leadership in this league," Ferazani says, "she has a foundation that is really unparalleled."
Blackburn has no time for history, although clearly she is making it. Buoyed by her daughters at her side in key business areas and a talented young roster coming within 39 seconds of Super Bowl championship, she has the Bengals on a roll. They're one of the NFL's most engaged teams on social media and another raft of free agent signings has the pundits raving about the potential of back-to-back AFC North titles and another deep run.
"There are a lot of people here doing the job," Blackburn says. "I like to check in on everything, but we really do work together and it all ties in together."
Like most days in the office, it starts between 6:30 and 7 and she'll head to the corner office and update her father, Bengals president Mike Brown, on the daily business.
Like all days at a stadium named after Paul Brown, the agenda is dictated by football. You can tell what phase of the moon it is by her meetings. This sliver must be free agency.
Every football confab involves the family, which on this day is Brown, Blackburn and her vice president husband Troy Blackburn, her golfing partner, negotiating sounding board and confidant in all things life. They're going over the next free-agent moves with head coach Zac Taylor, director of players personnel Duke Tobin and director of pro scouting Steven Radicevic.
Also before lunch she'll have a meeting with the Bengals I.T. staff, with one of the items the new partnership with altafiber and the plan to double the access points in the stadium.
"All good," she says as she wedges in a half-hour of free time. "I like having a lot going on. I like the variety. Hold on, I'm just triple checking I don't have anything committed. OK, we're good."
Not only did she start her competition committee duties last month at the NFL scouting combine, but she also serves on the player benefits committee and the NFL scouting combine committee. Not only that, the fan engagement committee and the future of football committee. An economics and math major who made her name as the Bengals' nimble salary capologist, she's a confessed numbers person. But that's a fraction of her interests.
Not only that, she's been on the board of the Cincinnati Boys and Girls Club for 28 years and is also a board member at Fifth, Third Bank.
"I'm most fascinated by how many areas she covers and is responsible for," says Dave Gardi, the NFL senior vice president of football operations who got a taste of it last month.
The league recently took over the combine and that raised a few hackles because the sense out there is the New York crowd in the league office has no idea what goes on at the scouting combine. A few weeks ago, Gardi sat in on one of the combine weigh-ins with Blackburn, one of the only owners who does it annually.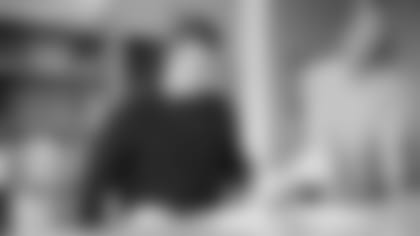 "She actually sits in draft evaluations and I'm sitting next to her learning from her and I value her opinion," Gardi says. "When it comes to the competition committee, coaches tend to dig more into officiating, ownership has the perspective of how it impacts football and business. General managers know the roster rules. Katie weaves in and out of all those areas. It's pretty cool to have someone who can do that."
She's encouraged that the competition committee has only three proposals in front of it this week with the big headline overtime. If the owners don't pass any of the three, it's the first time since the year Blackburn was born in the mid-1960s that the rule book stays the same for two straight years. "That shows we're in a good place."
But she also knows that she's a steward of the game on the committee her grandfather was a founding member. Her hopes for the game mirror her upbringing under old school warriors Paul and Mike Brown waging the pitched battle for the small markets like Cincinnati.
"The biggest challenge in the future is to keep the fans engaged with the game," Blackburn says. "With the changes in broadcasting and the way people watch the game, the most important thing is to keep making sure the game is fun to watch.
"In my mind, our playoff run is what it's all about. Seeing what you can do in a community and how much fun it can be. How it can bring out such happiness to the town when you do well. It brings everybody together in a way that not many things these days can. You just want to keep trying to give every team the ability to do that."
Troy Blackburn says it's the love of Cincinnati and football that keeps her going non-stop "three to four thousand hours a year focused strictly to make the Bengals better. She works 50-plus weeks a year, 60 hours a week with one goal in mind. How this organization can operate at the highest level possible."
That's not counting the after-hour rounds of golf they play together, usually at Terrace Park County Club. Or the weekend pizza get togethers with friends such as Cindy and Mike Barton.
"She'll watch any kind of college football game. Is there Division IV?" Cindy Barton says. "We'll be in one room and then she'll be off by herself watching the game."
A round of golf with her husband usually means three hours of non-stop Bengals talk with no one able to barge into their offices. They're always talking about the team, the two young lawyers who met at Taft talking smart shorthand that only they can understand.
They met through athletics, tennis and running mostly, and their competitive fire was clearly a draw. Both take a good bit of time to down-play their own athletic achievements but pump up those of their spouse.
Troy Blackburn racked up wins for Cincinnati powerhouses St. Xavier and Midland before pitching collegiately at Duke.
"I didn't know him then, but I've heard and I can imagine that he was a smart player," Katie Blackburn says.
She barely played any hockey before she went to Dartmouth and definitely never played goalie, but she played where ever they needed her and was a good enough to athlete to play in 46 games for four teams that never had a losing record. When they needed her to play goalie her senior year, she went 4-4.
"You know how competitive you have to be to play college hockey?" Troy Blackburn asks.
Mike Brown, the former Dartmouth quarterback, has an idea.
"I thought she was good," Brown says. "They were some of my fondest memories."
She calls herself a social golfer, but Cindy Barton isn't so sure. Barton has watched her friend become a favorite in spring charity scrambles with her lethal long drives that never seem to stray from the fairway. Barton puts her at a 13 handicap.
"We play for fun, but you can tell when she's competing," Barton says. "She quietly buckles down."
Last weekend was kind of like that. The Blackburns spent half of it looking at computer screens trying to get a deal for not only Collins, but looking at other possible deals and how a Collins contract would impact the Bengals' future cap.
"We were able to make a decision with a great deal of flexibility and that's one of the things she does that is under appreciated," Troy Blackburn says. "We never make a decision we're forced into. She affords the team the broadest possible alternatives. It never gets noted, but we're not forced to make a decision that hurts the team based on finances. Instead, she makes sure we spend at the top of the league, but make discretionary decisions about getting better and it's nice to be able to go into the offseason trying to make the team better."
With Duke Tobin the point man in the Collins deal, Katie Blackburn crafted the quintessential Bengals contract.
According to overthecap.com, they front-loaded the three-year deal so that Collins essentially gets $20 million in the first two years. But with deals for 2020 rookies Burrow, Tee Higgins and Logan Wilson looming, they structured it so the cap hits go incrementally, from $4.16 million this year to $7.6 million next year to $8.6 in 2024. Mindful of Collins' injury history, they tied about $4 million of the $20 million to a per game roster bonus.
"Everybody made great points and we found a way to compromise," Schaffer says. "There were not one, but four teams involved in that negotiation. It involved a lot more dynamics. It becomes more of a three-dimensional chess game and she was able to handle every part of it."
Blackburn celebrated by playing nine holes by herself for the first time this year. As daylight dwindled, she played two balls, got back home to watch March Madness and then prepped for the next day's virtual competition committee meetings.
"She's as prepared as anyone that comes down the pike," Schaffer says. "You make four salient points about football, she comes back with eight. You make six, she comes back with 12. They always take a team approach to negotiations."
If it sounds like there is no end to work and the Bengals and family and the city, you're right. Told about her husband's 4,000-hour figure for the year, she says, "If that's 24-7, yeah."
On this Friday, she also takes a call from the Boys and Girls Club.
"People just don't know how much she does for us and for how long she's been doing it," says Barton, who works with her. "Before COVID, she was going once a week to mentor teens at our Price Hill location. If she was in town, she never missed a week. There are times she'll just show up with something like Bengals hats and you know she always pays for them. I don't have a friend who's more loyal and honest."
The Cincinnati Boys and Girls Club contacts Blackburn about its idea of trying to get a virtual reunion between the recently retired Andrew Whitworth and Lions linebacker Derrick Barnes, who met Whitworth at one of his visits to the clubs when he was playing for the Bengals. The story became a central part of Whitworth's acceptance speech last month when he received the Walter Payton NFL Man of the Year a few days before his Rams beat the Bengals in Super Bowl LVI.
Barton has heard Blackburn often say, "What can we do for the kids?" And so wins and losses aside, Blackburn texted Whitworth for the Boys & Girls and got back a very nice text from him. It sounds like it's going to be a nice day for the kids.
"This is what I love about the variety of the day," Blackburn says. "Really, it's never the same thing."
For much of the afternoon, there is a meeting with Troy Blackburn and the girls about staffing and structure issues. Then, as they fight off the weekend, chief marketing officer Brian Sells pops upstairs to huddle about sponsorship issues. In between, she laughs when asked if Paul Brown ever came to watch her play sports in high school.
"I wasn't good enough for people to come watch me play," Katie Blackburn says.
But plenty are watching now.