FOR IMMEDIATE RELEASE; MON., NOV. 2, 2015
FROM CINCINNATI BENGALS PUBLIC RELATIONS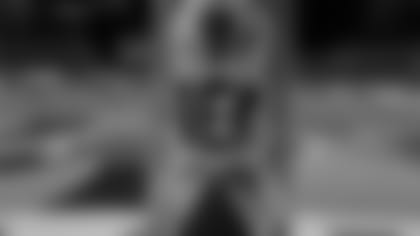 BENGALS AND USAA TO TEAM UP FOR "SALUTE TO SERVICE" ACTIVITIES AT THURSDAY'S BENGALS-BROWNS GAME
*           This Thursday's Bengals home game vs. Cleveland will be the Bengals' "Salute to Service" game presented by USAA, " the Official Military Appreciation Sponsor and Insurance Partner of the Cincinnati Bengals.*
*           Facets of the game night program will include:*
A giant flag will be unfurled prior to the game by members of various branches of the armed forces
The Marine Corps Silent Drill Platoon will travel from Washington, D.C. to perform their unique precision drill exhibition at halftime
A "Military Challenge Coin" will be used by the referee for the coin toss. Use of military challenge coins has long been a tradition for military personnel to identify themselves as a member of a particular unit
The Bengals and USAA will present a special scoreboard feature to honor both active military and veterans.
USAA will be the presenting sponsor for the national anthem and honor guard.
*           In conjunction with the Salute to Service game, USAA hosted Bengals players and 200 troops  last Tuesday (10/27) at Wright-Patterson Air Force Base in Dayton. OT Andrew Whitworth, S Reggie Nelson and player relations director Eric Ball were joined by Bengals mascot Who Dey and the Ben-Gals cheerleaders to interact with the airmen.*
*           Additionally, the NFL and USAA, the Official Military Appreciation Sponsor of the NFL, are working together to enhance military recognition through their helmet decal initiative to represent branches of the military while on the field. Each Bengals player will have a military decal on his helmet for the Browns game.*
*           Finally, the NFL continues with the "Salute to Service Award presented by USAA," recognizing league personnel who are committed to honoring the veterans and active duty members in their community. WR A.J. Green is the Bengals nominee for the 2015 award. Finalists for the "Salute to Service Award presented by USAA" will be announced in January, and the winner will be recognized at the "5th Annual NFL Honors" awards show in San Francisco on CBS on Saturday, Feb. 6, the night before Super Bowl 50.*