FOR IMMEDIATE RELEASE; WED., DEC. 2, 2015
FROM CINCINNATI BENGALS PUBLIC RELATIONS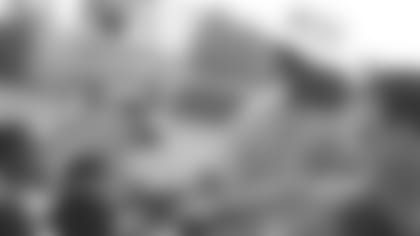 BENGALS AND NATIONWIDE HONOR DE CARLOS DUNLAP
AS TEAM'S 2015 WALTER PAYTON NFL MAN OF THE YEAR WINNER
DE Carlos Dunlap is the Bengals' nominee for the 2015 Walter Payton NFL Man of the Year Award. The sixth-year pro from the University of Florida is among 32 team winners in contention for the league WPMOY Award, the only NFL award recognizing a player's off-field community service and playing excellence combined.
Nationwide, the presenting sponsor for both the Bengals' and the NFL's Man of the Year awards, will make a donation of $10,000 to the Carlos Dunlap Foundation, with an on-field check presentation scheduled for the team's Jan. 3 game vs. Baltimore.
Dunlap leads the Bengals this season with 8.5 sacks, ranked fourth in the NFL. He is the current roster leader in career sacks (44.0), ranked fourth in franchise history. He also leads the 2015 team in total QB hits (22), leads the defensive line in tackles (35) and ranks second in tackles-for-loss (11).
Dunlap's work in the community, through his foundation, includes:
*           * Providing underprivileged high school students with ACT and SAT prep and other college readiness tools.*
*           * Providing full-day spa experiences for women battling breast cancer.*
*           * Partnering with other organizations to take children on area sports and entertainment outings, and also to provide birthday parties for homeless children.*
In January, three team nominees will be selected as finalists for the league WPMOY Award. The winner will be announced on Feb. 6 in San Francisco, during the NFL Honors awards show from 9-11 p.m. on CBS.
The Man of the Year Award has been given annually by the NFL since 1970. It was renamed in 1999 for Payton, the Chicago Bears' Pro Football Hall of Fame running back. Two Bengals are past winners of the league award, QB Ken Anderson in 1975 and OT Anthony Munoz in 1991.
For more information on the Carlos Dunlap Foundation, visit carlosdunlapfoundation.com. For more information on the Walter Payton NFL Man of the Year Award, visit**www.nfl.com/manoftheyear**.
NATIONWIDE'S 'CHARITY CHALLENGE' OFFERS FANS
THE CHANCE TO SUPPORT DUNLAP'S CANDIDACY
This year, in further support of the Walter Payton NFL Man of the Year Award, Nationwide has launched the Charity Challenge, a social media contest giving fans the opportunity to back their favorites among the 32 nominees.
Fans may vote for the nominee of their choice by using that player's hashtag on any social media platform. The player whose unique hashtag is used the most by Dec. 31 will receive a $20,000 donation to his charity of choice, courtesy of Nationwide. Fans can vote for Bengals nominee Carlos Dunlap by using the hashtag #DunlapWPMOYChallenge.