Bob Johnson, who wore No. 54 when he started the first Bengals drive in history with a simple snap of the ball, is the unofficial starter of the club's 54th season when he takes the throne Sunday at Paul Brown Stadium (1 p.m.-Cincinnati's Channel 19) as "The Ruler of the Jungle," during Opening Day against the Vikings.
"I'm assuming it's strictly ceremonial," says Johnson, who remains the most self-effacing first-round pick in the Bengals archives. "I'm an offensive lineman. I'm never in charge."
"The Ruler," is not only ceremonial, the Bengals are making it traditional and they believe there is no better way to start it than the way Paul Brown christened their first draft in history on Jan. 30, 1968 at their temporary offices on the 18th floor of the Carew Tower when he chose Johnson, a center from Tennessee.
"My father felt since it was the first pick it had to be someone with character," Bengals president Mike Brown told Bengals.com in a 2016 story. "Bob was a very solid player. During his time here he was always one of the leaders of the team.
"The other players listened to him because they respected his intelligence, the way he lived his life, the way he practiced and comported himself around the team."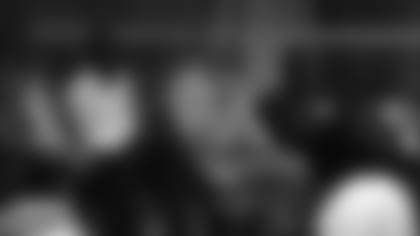 A jaunty Paul Brown emerged from his office (there were no war rooms back then, not even NFL Network) with news of the pick. It came on a Tuesday morning and was just the second selection of the day.
"This is the fellow we planned to take all the way," Paul Brown told the press. "Johnson seals up our snap problem. To me a center is like a catcher in baseball. It's the heart of your ball club. Pitching and catching. We now have both."
The Vikings picked first that day and chose USC tackle Ron Yary. Johnson harbors no bitterness with Yary's purple descendants in town.
"He was a great player," Johnson says. "He was one of the first really big guys (6-5, 260 pounds) for back then."
Yary is a Hall-of-Famer. So is the pick behind Johnson, Tennessee State defensive end Claude Humphrey of the Falcons. So is Syracuse running back Larry Csonka, taken eighth by the Dolphins.
And Johnson became the only player in Bengals history to have his number retired after 12 seasons, 154 (of course) games, a Pro Bowl, three postseason runs and an untarnished legacy.
Although he's 75 and been one of Cincinnati's more successful businessman for 50 years, he still sounds like the awe-struck guy from Cleveland, Tenn., who also pondered Harvard Business School.
"I never dreamed I'd be the second pick in the draft," Johnson says. "The only team that contacted me before the draft was Chicago and they were picking (16) and they were going to switch me to defense. I wasn't going to talk them out of taking me in the first round, but I hardly ever played defense at Tennessee."
Down through the years when Paul Brown was asked about that first pick, sometimes he'd say you can't start the game until you snap the ball. It never sounded like he was joking. So when Johnson takes the throne Sunday to lead the pregame cheers, he's used to getting things started.
Now Johnson is answering another call from the Bengals. Right after they rang on draft day (actually, wife Jane answered because he was in class), his dad bought four season tickets and he's had them ever since.
"Great seats. About 15 rows behind the Bengals bench at about the 47," Johnson says. "My daughter has absconded with the tickets. She goes religiously."
Johnson goes about once a year and it's usually with an out-of-towner. But as religiously as Anna attends the games, Johnson watches at home and loves re-running it to watch the offensive line.
"I think they're going to be better," says Johnson, a big fan of current center Trey Hopkins as he comes back from ACL surgery. "I thought he was spectacular last year. I hope his knee is OK. I assume it is because they traded Billy Price and I thought he played better this preseason than he's ever played. The tackles are so important in pass protection and I think they're going to be better."
He's also all in on Joe Burrow.
"I think he's class act. He's about everything, right?" Johnson says. "A great sounding kid. Big, strong and as accurate as can be. I just hope he's healthy. We'll find out."
When Johnson took that first home snap (Sunday is just three days shy of the 53rd anniversary and that storybook win over Denver), Nippert Stadium was filled to capacity with 25,049 fans. Johnson remembers the coats and ties and how there seemed to be the same number of women and children as there were men, a rarity, Johnson thought, in cities across the league.
"I know it was a different era, but it was also Cincinnati," Johnson says.
There'll be a lot more fans than that Sunday and if there is a tie in the house it's going to overtime.
But No. 54 is in the middle again.