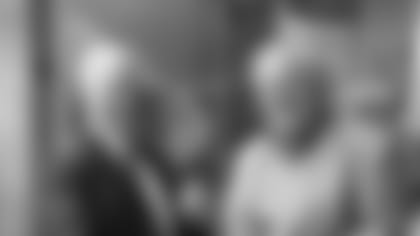 Gold Star Chili CEO Mike Rohrkemper (left) and Freestore Foodbank CEO John Young.
Just in time for the holidays, when the need is the greatest, Gold Star Chili, The Flavor of Cincinnati delivered more than two tons of its famous canned Cincinnati-style chili to the Cincinnati Freestore Foodbank last Friday (12/18/09).The donation was made possible through Gold Star's 3-Way 3-Pointer program in partnership with the Cincinnati Bengals. Throughout the season, every time the Bengals kick a successful field goal, Gold Star donates $300 worth of its canned chili to the Freestore Foodbank.
Mike Rohrkemper, Gold Star Chili CEO was on-hand to make the donation to Freestore Foodbank CEO, John Young. "Gold Star Chili's 3-Way 3-Pointer program has been a great addition to our long term partnership with the Cincinnati Bengals," says Rohrkemper. "It allows us to showcase our relationship with the Bengals in a unique, brand-centric manner, as well as be of service to our community, especially those who can most use a helping hand at this time of year."
The December 18 donation represents only a partial shipment of product. As the Bengals season continues, every field goal will continue to accrue product for the Freestore Foodbank. Gold Star Chili is the official chili of the Cincinnati Bengals.