Willie Anderson: back in the day.
DULUTH, Ga. - Willie Anderson kicks off this training session slipping out of those seemingly weightless size 18 triple Es that put him on the doorstep of Canton and shows the kids what the veteran Joe Walter told him all those years ago in his Bengals rookie season of 1996.
"So I can show them what my feet are doing," Anderson says of this NFL version of Shoeless Joe. "Coaches always tell guys to put their feet a certain way. But I found out its easier when kids look at your feet they can see what your feet are actually doing.  When I say, 'Grab the ground,' they see my toes actually gripping the ground.
"And I learned that from Joe Walter. I was so afraid of speed rushers and Joe would say by putting his (front) foot in the ground and digging that foot in the ground, that's telling me that's my anchor leg."
So it's fitting that on Wednesday Anderson anchors the next-to-last installment of the vote choosing the Bengals' top 50 players of all-time. Anderson, the franchise's all-time right tackle, comes in at No. 14, just behind his right guard, Max Montoya at No. 13, and, even more fitting, just ahead of Corey Dillon at No. 15. Dillon, the club's all-time rusher, ripped off 8,061 yards in 107 games and Anderson was his right tackle in 106 of them in those days the Bengals were also-rans who could run at will and behind Willie.
"I texted Will two weeks ago and we talked by text and he said, 'Hopefully when it's time for you to go back, let's go back on the same ticket,'" says Dillon of the plans to be honored at a Paul Brown Stadium game this season. "And I was like, 'I'm good with that.' It worked out and hopefully we'll get down there at the same time.'"
Even though Anderson and Dillon are inextricably linked through their success, there was a cool separation after Dillon's self-imposed exile from Cincinnati. It was a brief but ugly moment when Dillon threw his equipment into the PBS stands after the 2003 finale to signify he was done with the Bengals. There had been a filmy, unspoken taste in the mouth until about a year ago when the two had a phone conversation that delighted and relieved both.
"It was cool. Lack of communication keeps a lot of stuff going," Dillon says. "I'm happy we re-connected and had a good talk. Kind of let bygones be bygones. I don't think it was a real big deal between me and him. He wasn't what I was upset about. He knew where I was coming from and I knew where he was coming from.
"We didn't have to get into it. We'll move forward, making sure we come back and get honored and things of that nature. We're older. No one cares about that stuff anymore. I know I don't. He doesn't care about it either. We're looking towards the future. No one cares about 2003 at all."
When Dillon reached out a couple of weeks ago, Anderson couldn't have been more thrilled he joined him on the 50th. Combined they went to eight Pro Bowls. If Dillon is a borderline Pro Football Hall of Fame candidate then Anderson should be in.
During Anderson's 181 games for the Bengals, he faced nine of the NFL's 11 current leading all-time sackers and it's believed he allowed only one sack. The one he gave up was to all-time leader Bruce Smith with 19 seconds left in a game during Anderson's rookie year the Bills led by two touchdowns. But Anderson was also a terrific fox-hole mate and when he got the text from Dillon he encouraged his old comrade to make the TBA trip.
"I was happy about him finding that out. He needed to hear that. That he's appreciated and that he's still loved in Cincinnati," Anderson says. "I think he thinks people are mad at him still. I told him, 'People love you. Time has passed by. Everybody in the history of the NFL has been forgiven for past transgressions. It was just a bad time. You went on to win your Super Bowl (with the 2004 Patriots) and the Bengals kept on going and now they want to honor you.'
"He understands that," Anderson says. "That's the reason he played so damn hard. He felt he was an underdog and the guy was a superstar, but he didn't really know it and he ran like he was damn underdog."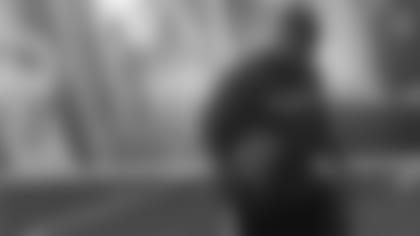 Anderson is impacting the younger generation by showing the kids the finer line points.
At 42, Dillon is appreciative to the club reaching out to invite him back. "It's time. It's good for both sides," he says. And to the fans that voted for him to come back.
"I can kind of understand the way I left (if they didn't)," Dillon says. "Maybe I ruffled some feathers. Time heals everything. I think people can look past that one year for my outburst."
Dillon knows what he had at right tackle. Even though he ran with the ball in his left hand, he loved running to the right. "I made my living running to the right," in the direction of his light-on-his-feet-340-pound monster Anderson. "One cut and go. I knew Will would always give me a crease. There was always room, always space."
Even in that surreal, 10-in-the-box year of 2000. Has there ever been a better year for a running back in NFL history? Has anyone ever done what Dillon did that year? How about averaging 4.6 yards per carry while starting quarterback Akili Smith averaged 4.7 yards per attempt?
"There were a lot of eight and sometimes nine in the box," Dillon says of the defensive lines. "That says a lot about the offensive line. It says a lot about the guy carrying the ball."
It says a lot that the best lineman from that group still wants to make an impact upfront. At 42 Anderson is toying with franchising the Willie Anderson Offensive Linemen Academy, currently based here at Goldin Athletic Training Association in an Atlanta office park as anonymous as the position.
Limitations imposed by the 2011 collective bargaining agreement have made personal training and development away from the team facility a staple in a decade that has turned the league from the Oklahoma Drill into Texas' seven-on-sevens.  With George Whitfield "The Quarterback Whisperer," (with apologies to Bruce Arians), Robert Redford "The Horse Whisperer," (with apologies to movie fans) and Chuck Smith "The Pass Rush Whisperer," then Anderson is emerging as "The Pass Protector Whisperer."
"There's no one having as big an impact on the offensive line," says Smith, whose pass rushers share the facility with Anderson's guys.  "LeCharles Bentley and Willie are at the forefront as experts on the offensive line. A trainer is different than a coach. A trainer is different than a former player.  He's more like a boxing trainer in the ring mixing it up.   He actually demonstrates. This is the next generation. This is the millennials. Everything is virtual with them."
Anderson has worked with about 20 linemen this offseason, ranging from a No. 1 pick in D.J. Fluker to, on this day, a high school backup. Also on this late June day are four starters from one high school as well as an elite senior with 40 or so college offers. He still visits Bengals offensive line coach Paul Alexander, old friend Hue Jackson has invited him to Cleveland, he's working with college players at Tennessee and the University of Alabama at Birmingham, and he's a coach/trainer for Nike. Combine prep, offering a regimen for offensive linemen participating in the NFL scouting combine, may be next.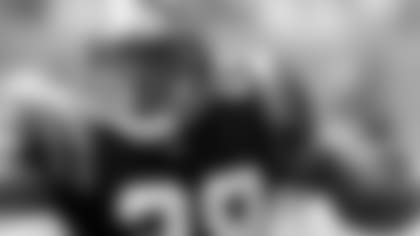 Corey Dillon: the superstar who ran like an underdog.
Anderson isn't looking to be an NFL offensive line coach. Like he helped shift the perception of right tackles when he played, he's trying to pave the way for a new position that would marry training and consulting to give more time to technique and fundamentals.
"I just want 32 (NFL) line coaches to trust me that I can teach their guys and at the same time I want high school kids to learn life through me," Anderson says. "To learn everybody is a little different, but we can all get to the same goals."
We are here today in this gym with an ear to "The Pass Protector Whisperer," because of one Jair Anderson. For those best of Bengalogists they'll recall that Jair was the two-year-old son Anderson hefted like a beanie baby that day he became the richest tackle in the game at old Spinney Field in 2000.
Well, that kid is now a red-shirt freshman, a tenacious and sleek 6-2, 190-pound wide receiver for Georgia Tech who overcame the odds to get a full ride. He didn't fall in love with football until he was 12, a year after his dad retired.
"If you don't want your son to play football, don't take him to games," says Anderson, who did exactly that when he needed a football fix early in retirement. "They're so much more exciting than baseball and basketball."
Willie Anderson jokes now. He couldn't believe how little his son knew about football once he told his father he wanted to play. The father went through the roof when he saw Jair unable to even get into a stance. When he asked Jair's friends what positon he should play, he was stunned when they said quarterback or wide receiver.
"They said he was the fastest kid in school," Anderson says. "I had no idea. I'm thinking that he must go to the most un-athletic school in Atlanta. That's the way I was looking at it, but I was just too hard on him. He could fly and he could jump.
"But he was behind. I had to get him trained."
So once Jair said he wanted to get a football scholarship (which is fine with dad since he has paid for three other family members), Anderson scoured Atlanta, Georgia, and the country for training and a shot. He shut down his businesses, such as Fat Burger, and learned what he could in what he felt could only be a full-time effort.
"I had to learn about how receivers run routes, cornerbacks play cornerback," Anderson says. "At the same time I was watching the linemen and I saw the need for at a young age for skill development for linemen. You talk to NFL coaches and they're frustrated by the lack of fundamentals of the players coming from college. You talk to college coaches and they're frustrated by the lack of fundamentals from the kids coming in from high school."
Anderson works with the same ease he captained the Bengals offensive line for so long. "Look at the inside number, don't look at anything else," he directs. The fundamentals to protect the passer are the same he learned from Walter and Alexander, the coach that taught him "to find a point."
"To me what only matters when he gets on me, am I in good position to block him?" Anderson says. "It doesn't matter how I got there. Am I in a good fighting position? Most guys are not. They get ran by or knocked backwards. They're not set to fight. Paul taught me to find a point. I see NFL tackles left and right get to their point and they're floating and not in a good fighting football position.  I teach that body movement, especially with young kids."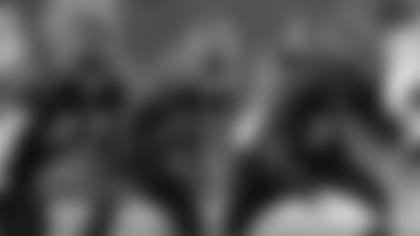 Anderson's feet and hands were always moving.
After he shows them how to use their feet to get set and find a balance, the Hall of Fame candidate takes out his phone to set up the next class. Will Edwards, a junior-to-be at Centennial High School, has hopes of playing at a Division I-AA school. Anderson, a former first-round pick who was the second-rated tackle in the country coming out of Mobile, Ala., knows how to get a kid like Edwards in the mix because he lived it with Jair.
"I need your GPA. Send me your GPA," Anderson tells Edwards and Edwards tells him that Wofford College talked to him at spring practice. "Y'all have time. The thing is we've got to get guys to come to your games. They don't come up here. I talk to a recruiter who says he's gone to only three schools in Atlanta in the last 30 years."
This is what Anderson does now. Trying to get kids on the map. Just like he did with Jair. Just like he did when he helped transform the '90s Bengals into the Marvin Lewis Bengals. "I'd love to hear in a few years, 'Will Edwards is doing what?'"
"He's always on fundamentals, always about technique," Edwards says. "Keep your feet on the ground, always keep the hands and feet moving. Making sure your hands come through the second step."
Edwards was born that year Anderson got the big deal and Jair was two. 2000. He can't quite remember Anderson in the league.
But the top 50 vote emboldens Anderson . His Bengals of the '90s were famous for being bad and yet there were some big-time players he has always felt got lost in it all. Not just himself and Dillon, but guys like Carl Pickens and Takeo Spikes and Rich Braham. Now this helps put them on the map.
"It's a big honor and it's a big step for the older guys for getting recognition," Anderson says. "The younger guys are going to be OK. If A.J. (Green) keeps going at the level he's going, he's going to be a shoo-in for the Hall. Same with Geno (Atkins). If he keeps doing what he keeps doing, he'll have a big chance. But it's big for the old-timers."
Dillon agrees. His oldest of three daughters, Cameron, is headed this year to, of all places, Washington State on a volleyball scholarship and the University of Washington's Dillon is vowing he'll go undercover. But he hopes the '90s Bengals start to come out of the woodwork
"Someone wrote that how we were viewed as a bad team means that a lot of us are being overlooked," Dillon says. "If that's the case, that's pretty sad. We had a lot of great players. Guys shouldn't have to politic their way in. I don't believe in that."
Dillon comes back to Cincy the same way he went into its record book. Following Anderson and right behind him.
"I'm delighted," Dillon says, "I'm going in with him."
As part of the Bengals 50th Season celebration, three-dimensional sculptures featuring the 50th Season logo will be placed throughout the Cincinnati. For locations and more details visit Bengals.com/50thsculptures