Bengals.com writers Geoff Hobson and Michael LaPlaca, along with broadcasters Dan Hoard and Dave Lapham, offer their insights to a series of questions regarding the Bengals.
The group offers their answers to the following question: who could be the team's breakout star in 2020?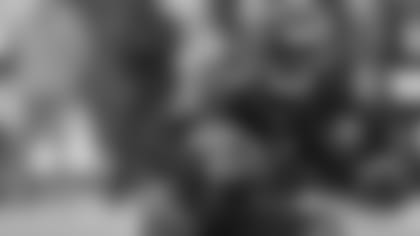 WR John Ross
Hoard: Would 56 catches for 1,012 yards and 6 TDs make John Ross a breakout star?
The fourth-year wide receiver only played in eight of 16 games last year due to a serious chest injury. If you double his 2019 statistics you get the numbers listed above.
Admittedly, it could be difficult for Ross to approach those stats in 2020. A healthy A.J. Green will likely be Joe Burrow's primary receiving target and the addition of Tee Higgins could cut into Ross' playing time.
But there are still several reasons to think that the ninth-overall pick in the 2017 draft could be in line for a breakout season.
For starters, Zac Taylor and his staff showed their ability to showcase Ross in the Bengals' offense early last season. The former Washington star ranked third in the NFL with 292 receiving yards through three weeks before suffering a sternoclavicular injury in week four. After spending eight weeks on the injured list, it took a couple of games for Ross to return to full speed before he had six catches for 84 yards in Game 15 at Miami.
Additionally, Burrow should improve the Bengals' capacity for taking advantage of Ross' game-changing speed. According to Pro Football Focus, the Heisman Trophy-winning quarterback "was the best-graded deep passer in the nation in 2019, posting the best adjusted completion rate (the percentage of passes thrown on target) as well as the most completions, yards and touchdowns." Deep passing was not Andy Dalton's strength. According to PFF, Dalton only completed 17 of 53 passes that were thrown 20-or-more yards downfield last season.
And Burrow also displayed the ability to distribute the ball to a wide variety of targets last year. His top two receivers – Ja'Marr Chase and Justin Jefferson – each finished with more than 1,500 receiving yards. His third leading receiver – Terrace Marshall Jr. – wound up with 46 catches, for 671 yards and 13 touchdowns. If opposing defenses gear their coverages toward stopping Green and/or Tyler Boyd, Ross and Higgins should benefit.
But regardless of the offensive system or the quarterback, the key for Ross will be staying healthy. 
"Sixteen games and more," he told Sports Illustrated's James Rapien when asked about goals for the upcoming season. "January 1, 2020 that's the first thing I said. 'Make sure you are ready to play 16 games and more this year,' because that has obviously been my biggest problem."
Ross only played 17 offensive snaps as a rookie due to shoulder and knee injuries. The following year, he led the team with seven touchdown catches despite a groin injury that limited him for much of the season. Last year after a promising start, he missed half of the games.
Since Ross has only appeared in 24 of 48 possible games through three seasons, the Bengals elected not to pick up the fifth-year option in his rookie contract. That makes 2020 a contract year.
One more reason why Ross could be the Bengals' breakout star in 2020.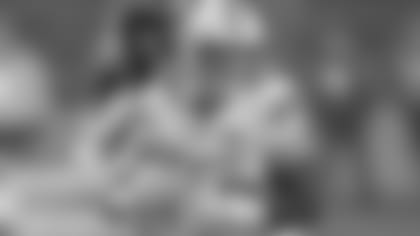 LB Logan Wilson and Akeem Davis-Gaither
Lapham: The Bengals defense hopes multiple players have a breakout 2020 season. To say the 2019 Bengals defense struggled is an understatement. Defensive players and coaches at every level recite the same refrain, "Got to stop the run first." In 2019 the Bengals defense failed to stop the run. 2,382 rushing yards allowed, 148.9 per game, was dead last in the NFL. 22 rushes allowed of 20 plus yards were second-most in the NFL. A staggering 141 tackles were missed, almost nine per game. It becomes more difficult to defend the pass when the opponent can run the ball effectively. The Bengals allowed 7.4 net yards per pass attempt also worst in the NFL.
In 2020 the Bengals face seven different 1,000-yard rushers. Leonard Fournette, Saquon Barkley, Derrick Henry, and Ezekiel Elliott will present big challenges. AFC North talent Nick Chubb, Mark Ingram, and QB Lamar Jackson will have to be contained twice. The Bengals have fortified their defense through both free agency and the draft. The linebacker position was given a major face lift.
Veterans are scheduled to report for training camp on July 28; Rookies on July 20. Talented linebacker coach Al Golden has vast experience and success at both the college and NFL levels. He relishes the opportunity to mold and develop the linebacker position much like Coach Mark Duffner did in 1998. Takeo Spikes and Brian Simmons were back-to-back first round picks in the 1998 draft. Not only were they great players that had an immediate impact on the field, they were great people that had an impact off the field and in the locker room. The Bengals hope selecting Logan Wilson in the third round, and Akeem Davis-Gaither in the fourth round will provide a similar lift and jolt to the defensive performance and attitude. Both could prove to be plug-and-play linebackers: Wilson, inside, and Davis Gaither, outside. Both are three-down candidates with complete skill sets that translate to nickel and other sub package responsibilities. Assistant Head Coach/Special Teams Coordinator, Darrin Simmons, will expand their talents to four-down players for sure.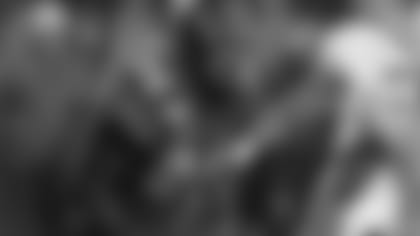 When you watch tape of sound defensive play, you should feel linebacker impact against both the run and pass. You feel both linebackers when you watch tape of their college games. Wilson was a 195-pound high school wide receiver/defensive back that has matured into a square-jawed, 6'2" 240 pound Norman Rockwell portrait of a linebacker. He can stack and shed in the run game, accumulating 400 plus total tackles while at Wyoming. He shows a keen understanding of route concepts, when defending the pass (10 interceptions, two pick-sixes). His approach is all business, no frills, no nonsense. Davis-Gaither is an active run and hit linebacker with outstanding change of direction. He is a sure tackler in space and can blitz and cover.
Sons of coaches, both players are total gym rats with an unbridled joy and passion for the game. They are hungry to learn and understand the grind. Football is important to them and their families. They want to be coached hard, maximize their potential, and be the best version of themselves possible. Both players are products of Senior Bowl evaluation by the Bengals organization. They lived and worked together for a week in Mobile. Practice performance was observed. Study habits were closely monitored. Interaction with teammates and leadership was seen. Wilson is a three-time Captain at Wyoming. Davis-Gaither was a captain at Appalachian State. The South team elected him captain at the Senior Bowl.
Golden would love to see Wilson and Davis-Gaither have breakout years. Also at the linebacker position: seventh-round pick Marcus Bailey is intelligent and competitive. College free agent Marca! Spears, Jr. is anxious to prove himself a steady, productive player. Josh Bynes is a focused Pro, entering his 10th year with a Super Bowl on his resume.
Linebacker being the Break Out position of the 2020 Season bodes well for all over defensive improvement.
CB Darius Phillips
LaPlaca: There's something about a cornerback who has ball tracking skills like Phillips that makes him an ideal candidate to breakout in 2020. In eight games last season, Phillips led the Bengals with four interceptions. Opponents also completed a minuscule 37.5 percent of their passes against him last year, a noticeable improvement from allowing 69.2 percent of completed passes allowed his rookie season.
One of the interesting storlines early in the offseason was defensive coordinator Lou Anarumo talking about Phillips getting more snaps.
"Teaching ball skills, that's a God-given ability," Anarumo said back in February. "You can get (players) to knock it down, which is a good thing, but there are two parts. Tracking it and catching it. Some guys can catch it, but they get lost when it's in the air. To say you have a guy with hands like feet and turn him into an interceptor, it's not happening. The best guys, you can see them throwing and catching. It's not hard to see."
What will be interesting is to see how and where Phillips fits in after the team overhauled the cornerback room in March signing veterans Trae Waynes, Mackensie Alexander and LeShaun Sims. On one hand pairing the signees with veteran William Jackson could allow Phillips to receive better matchups and make more plays. No matter what, the best players will play and after a solid first two seasons, Phillips could be on the verge of becoming a star in Anarumo's scheme.
One other area where Phillips fits in nicely is on special teams. In 2019, Phillips took over the kick return responsibilities and put together decent numbers. He averaged 21.9 yards per return with a long of 37 yards. In a full season that 21.9 yard per average would have ranked Phillips 12th in the league.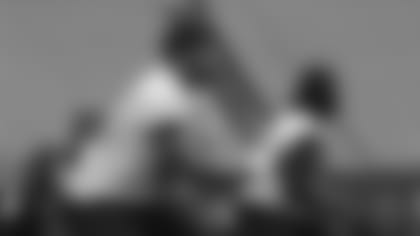 LG Michael Jordan
Hobson: "Here Comes Mr. Jordan." That's the name of a 1941 movie not as well known as its 1978 football re-make "Heaven Can Wait." And it could also be on the marquee for the Bengals' break-out season.
Remember, he just turned 22 and is still younger than two of the Bengals rookie offensive linemen and younger than all but two of the Bengals' seven draft picks. After a rookie season that started so well, hit that very public Monday night wall in Pittsburgh and rebounded so effectively to help muscle the Bengals running game into the top ten, Jordan is on the verge of emerging in his big way on the field and in the locker room.
Bengals offensive line coach Jim Turner can't get enough of Jordan. Not of his size (6-6, 315 pounds), nor his brains ("Really bright kid"), nor his strength ("His punch is so strong, so hard"), nor his athleticism ("He could play tackle if you needed him"), nor his toughness.
"No question about his toughness. There's no question about his talent," says Turner, riffing on that historic draft day trade the Bengals went back up into a round for the first time ever to grab Jordan in the fourth.
"We made the right choice getting him where we got him. He was a steal. He's going to be a big part of what we do for a long time," Turner says. "If he stayed in school one more year, it makes you wonder just how high he would have gone in this draft."
The bright, earnest Jordan came out of Ohio State polished enough to earn an Opening Day start. But the first month was tough. He got hurt and then struggled in back-to-back games in Pittsburgh and against the Cardinals. Turner thought it best to give Jordan a break mentally and physically so could heal up while stepping back to see the big picture and re-group.
If Jordan was the right pick at the right time, then Turner made the right move at the right time. By the time Jordan returned to the starting lineup for the last five games, he didn't miss a snap and is one of the reasons that during the second half of the season the Bengals were the sixth best running team in the league.
"How strong he finished the season, very impressive," Turner says.
Two of Jordan's video clips have stuck with Turner this offseason, both, he believes from the finale, a 33-23 victory over Cleveland.
One was a screen pass where Jordan provided a horrifying sight for the Browns secondary as he roared around the corner. The other was an absolutely must third-and-goal play from the Browns 3 in a 7-7 game, when Taylor went to a tight zone run to running back Joe Mixon. Mixon exploded into the hole and then into the end zone behind Jordan churning and eliminating defensive tackle Larry Ogunjobi with sheer force. Then Turner remembers Jordan jumping up and down with joy as Mixon danced.
"When they have that much pride in the job and they play with that passion and talent, you know they're going to be a good one," Turner says.
And then there was this offseason during an emotional Zoom meeting the team addressed social justice. Despite his age, Jordan had no problem talking in the meeting or talking about it later publicly.
"No question that this guy wants to be a leader and is going to be a great leader," Turner says.