Christian Westerman can't wait to get started.
Westerman said he enjoyed his summer break, which included a trip to the Bahamas with his wife and spending time at his home in Arizona. While everyone needs to get a little break before starting the grind of an NFL season, Westerman is thrilled to be back in Cincinnati.
"I feel awesome," said Westerman. "I feel really great and it's good to be around here with the guys and get around the team again. It's a good feeling."
It is a good feeling that football is here, and it gets real on Saturday as the Bengals hold their first full-team practice at Welcome Stadium in Dayton. It's the start of a six-week journey as the Bengals get ready for their first preseason game at Kansas City on Aug. 10.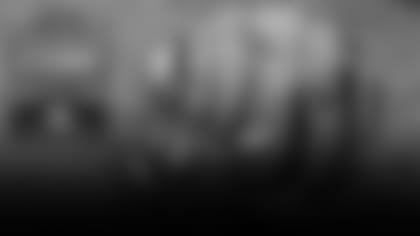 Follow along with all our coverage from camp and find important details about attending open practices on our training camp central page.
This is a big year for Westerman, a fifth-round pick of the Bengals in 2016. It is his chance to prove to head coach Zac Taylor that he is a consistent starter on the offensive line.
"The opportunity is there and it's just time to take advantage of it, play football and do what I need to do," Westerman said. "Camp is a grind and it's all about grinding with the guys and building together, building that team atmosphere."
Westerman played in 14 games last year, but only took 96 snaps on offense. He is in the mix for the starting left guard spot after the retirement of Clint Boling earlier in the month.
For Westerman to lock down a starting spot, he will have to improve upon his play from last year. Everyone along the offensive line should benefit from Taylor's new offensive scheme. Westerman must show he can open up some lanes for running backs Joe Mixon and Giovani Bernard and protect Andy Dalton if he wants to land a starting spot.
"I absolutely love the system," Westerman said. "I love what we have got. I am very excited with what we are going to be doing the next couple of months. It will be very cool."
Bengals fans will have numerous opportunities to watch the first public practices as Bengals Training Camp, presented by Fifth Third Bank, kicks off on Saturday, July 27 at Welcome Stadium in Dayton. The team will hold a series of open practices in Cincinnati from July 28-Aug. 12.