Anthony Munoz (78) and Max Montoya (65) lead the way into history.
You knew the merchants of Munoz would come through. You knew the lords of Lemar and LeClair would make the right call. You knew the counts of Collinsworth and Casanova had the vibe. That the knights of the Kennys were in the know. That the dukes of Dillon had the draw and the barons of Boomer had the bead.
The votes of the fans and media are in for the top 50 retired Bengals players in history and there won't be a lot of pitchforks and ladders on Central and Elm looking to storm the Paul Brown Stadium gates.
After all, Paul Brown himself, a cutting-edge offensive mind, built his franchise on points and eight of the top ten vote-getters produced them. The one Bengal who joins him in the Pro Football Hall of Fame, Anthony Munoz, considered the greatest left tackle of all-time, should lead the list and does.
Of the 20 multiple Pro Bowlers eligible for selection, 19 made it with original Baby Bengals running back Paul Robinson the lone miss. All the all-time leaders made it, ranging from all-time scorer Jim Breech, to all-time punter Lee Johnson, to all-time sacker Eddie Edwards.
And the greatest one-hit wonders in club history, Greg Cook, Ickey Woods, and Eric Thomas, made it because they should have.
Take a bow, Bengaldom. You showed why you're among the most knowledgeable fans in the NFL.
(And the media's not too bad, either.)
Now, we can debate the ratings from here until the Freezer Bowl breaks away from the continental shelf of memory.  Certainly Breech, the MVP of Super Bowl XXXIII 3/4, deserves plenty of votes and a front-row spot in the First 50 team photo. But when guys like cornerback Ken Riley (11), linebacker Reggie Williams (12), and defensive tackle Mike Reid (39) aren't in the top ten while Breech has the lofty spot of No. 5, well, voters weren't ranking they were just voting.
But, still, they got it right.
No. 8 too low for Boomer Esiason? Yep. But there's no debate that he's Ken Anderson's backup and with Anderson at No. 2 that's the way they have it.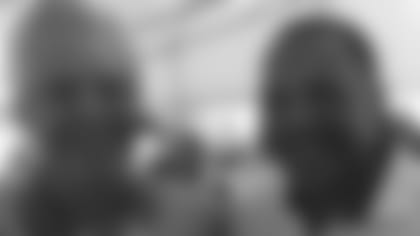 Isaac Curtis (right, No. 9) and Ken Anderson (No. 2). Still the most prolific passing combo in Bengals history.
Maybe you think No. 6 is too high for David Fulcher (it's not with those quiet 31 career interceptions) and No. 30 is too low for Tommy Casanova (probably because of his return skills), but there's no question they are the franchise's two best safeties. Same thing at cornerback where Riley and Lemar Parrish (16) finished one-two. Tight end is the perfect call. The versatility and pioneer play of Bob Trumpy (17) make him the all-time starter and it is has always been a tough call for his backup. So Dan Ross (22) and Rodney Holman (23) are just about right.
And they killed it on the offensive line, where the top five players are Munoz (1), right guard Max Montoya (13), right tackle Willie Anderson (14), left guard Dave Lapham (18), and center Bob Johnson (20). Isn't that the way we always lined them across when it came to an all-time team?
The voters also nailed just how important 1988 is in Bengals history. The 1981 AFC champs were the better team, but the swashbuckling style, outsized personalities, and no-huddle-zone-blitz innovation of that '88 Super Bowl club have kept a grip on the striped soul for three decades. Seven of the top 10 played for them in Super Bowl XXIII.
Sure, we can all quibble.
We'd like to see Isaac Curtis (9) and Chad Johnson (4) flipped at wide receiver. Cris Collinsworth (7) belongs, but not in the top ten, where we'd like to see Riley, Williams, Reid, or maybe even Parrish or Dillon. And Paul Robinson, the only Bengal to ever lead the league in rushing when his 1,023 yards in that first year led the American Football League, should really be on the team.
But there are understandable reasons. Curtis' last touchdown came the year the oldest current Bengals were born (1983) while Chad Johnson became one of the first reality TV stars in history and Collinsworth continues to straddle both generations as one of the best and most high-profile analysts in the game. And Paul Robinson never gained more than 622 yards in a season again while his last year in Cincy was all the way back in 1972, when Essex Johnson was their leading rusher.
Cobwebs are also the reason Reid (39) and middle linebacker Bill Bergey (32) are probably the biggest misses. Bergey was not only big but he could run and Reid was an absolute monster who was unstoppable as the best defensive tackle in football with sack totals that would be outrageous even now as an official statistic.
But who can blame those vote totals? Both cut their Bengals' careers short in the early 1970s, when Paul Brown was coach, Nixon was president, and Donna Summer was queen. That's a long time ago. Bergey is known as a Philadelphia Eagle and Reid is more of a country music star than a Bengals legend. Like Bergey said last week, two-thirds of the fans who saw him play in Cincinnati are probably dead.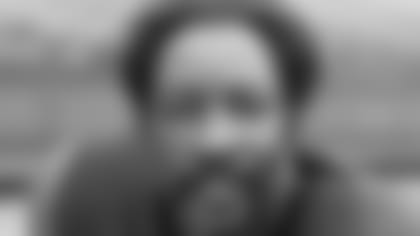 Ken Riley: when does Canton call?
But thanks to this vote what's not dead is the legacy of the forgotten. That's the best thing about it. It again fires up the Pro Football Hall-of-Fame debates for the old standbys and recent greats who have been overlooked in a small market lodged in the middle of a country without a Super Bowl title they shouldn't need to validate their careers.
For guys like Ken Anderson, who retired as the NFL's all-time leader in completion percentage for a game, season, and post-season career. Or Riley, whose 65 career interceptions are the fifth most all-time and the most of anyone not in the Hall. Or Curtis, who has more career yards per catch than John Stallworth and more career TDs and catches than Lynn Swann, the Steelers Hall-of-Fame receivers who were his opposite numbers in the emerging passing game of the rollicking '70s.
And the First 50 vote is even better for the guys who came along later and got buried by the losing and other issues.
Like Willie Anderson, who faced nine of the NFL's 11 current leading all-time sackers and it's believed he allowed only one sack.  Or Dillon, who owns two of the top 16 rushing games in NFL history on a list only he and O.J. Simpson appear twice on his way to a Super Bowl ring as the all-time rusher for one team (the Bengals) and the all-time single-season rusher for another (the Patriots). Or Chad Johnson, the only man in AFC history to lead the conference in receiving yards four straight years.
"I just wish someone would look at stats and numbers and say, 'This guy was legit.' To tell you the truth, there are guys that are in there and you say, 'No way,' and nobody gets mentioned," Dillon says. "Hopefully in the near future that will change and Bengals players will get recognized for the work they did. We'll see."
As usual, Bengaldom has shown the way.