The Bengals arrive on Sept. 26, 1967 in a birth announcement at a packed house in the Sheraton Gibson Hotel as the newest member of the American Football League.
But the labor pains begin long before on the back porch of Paul Brown's home in exile in La Jolla, Calif., where one of his former Ohio State players, Bill Hackett, a London, Ohio veterinarian, urges him to be NFL commissioner when the job opens up again.
Brown tells Hackett what he really wants to do is own a team and the comments spark a Dec. 14, 1965 meeting of 125 Cincinnati businessmen listening to Brown make the irresistible pitch to bring an American Football League franchise to Cincinnati with local entrepreneur John Sawyer as a critical go-between.
The city and the sport are meeting in just that right intersection of opportunity and luck. Professional football is about to explode on the American scene and overtake baseball as the national pastime, and even though Brown has been out of the game more than two years he remains one of its most recognizable faces and names.
Mike Brown, Paul's son and a Cleveland attorney, has surveyed potential cities for pro football expansion and recommends Cincinnati because of its market size and his father's Ohio ties.
The road is arduous. There must be a stadium built and there must be an accommodation with baseball's Reds, one of the country's most treasured civic prizes.
Plus, amid the NFL and AFL's trench warfare, there are peace talks about a merger, and Brown's group has to negotiate through the political minefields of not one, but two leagues.
Ohio governor James Rhodes takes a break this night from the introductory news conference outside the hotel and recalls how he made "22 trips outside of Ohio just on this." NFL commissioner Pete Rozelle, who owes his position in some measure to the day in 1960 Brown turned down the job, is a key ally. Cincinnati city officials like Mayor Gene Ruehlmann roll up their sleeves in brokering a deal with the Reds and Bengals for one multipurpose stadium on the riverfront.
"When I assured (Rhodes) that I was serious enough to invest a sizable amount of my own money, he began setting up a series of meetings that really started the franchise on its way," Brown later writes in his autobiography with Jack Clary.
"It wasn't too long before I was commuting often between California and Cincinnati in 1966, meeting prospective members of our ownership group and working on the details that attach themselves to such a massive venture. When I wasn't in Ohio, I was being awakened nearly every morning in La Jolla by Bill Hackett's phone calls giving me the latest news."
But it is the sheer force of Brown's personality and accomplishments that drive it. A legendary high school coach in Massillon, Ohio. Coach of a national champion at Ohio State. One of the founders and coach of a Cleveland Browns franchise that became the NFL's first dynasty.
Since Brown's firing at the end of the 1962 season by Browns owner Art Modell, all eyes have been on his return to pro football and five years later the microphones and cameras find him in Cincinnati as owner, general manager and, everyone assumes, head coach.
"This is like coming home," Brown says, barely a month removed from his Pro Football Hall of Fame induction. "I'm living again. It's a happy day for me and I hope it turns out to be a happy day for Cincinnati and its environs."
There are plenty of details still dangling.
Two of the sites mentioned as possible venues for the two seasons before the stadium is finished are the University of Cincinnati's Nippert Stadium and the Reds' Crosley Field.
And there is the matter of a name, although no doubt the name of Cincinnati's pro team in the late '30s, the Bengals, will resonate with Brown.
Even the coaching job has yet to be hammered down definitely. Brown, who'll turn 60 the day after his team's first game in September of 1968, admits he'll probably coach at least that first season and "take the bumps."
But two things are certain.
Cincinnati is a two-sport town on the pro scene and Paul Brown is back.
"I'm breathing again," he says on a September night the Bengals take their first breath.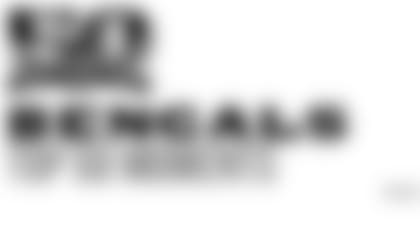 ](http://www.bengals.com/50moments.html)