There is Madden 18, but call this one PB 70 as the Bengals stun John Madden's Super Bowl favorite Raiders in the season opener. The Raiders have lost only two games since Joe Willie's Cinderella Jets beat them in the 1968 AFL title game and both losses have been to the three-year-old Bengals.
But this Sept. 20, 1970 game marks more than that. It's the first regular-season football game in Riverfront Stadium, coming just a few months after baseball's All-Star Game and in the middle of the Reds run to the National League pennant that gives the structure quite a christening and a foreshadowing of its rich history.
The Bengals add their own special baptism by outplaying a Raiders team for the second time in less than a year. The previous year at Nippert Stadium the Bengals gave Madden's team its only loss of '69 in the regular season. This time unheralded quarterback Sam Wyche bests Daryle Lamonica when the future Bengals head coach scores the first Riverfront touchdown on a five-yard run, throws a 51-yard touchdown pass to running back Essex Johnson and oversees a running game that runs for a then-club record 247 yards.
On the other side of the ball the Bengals' two top draft picks, defensive tackles Mike Reid and Ron Carpenter, help hold the Raiders to just 48 yards rushing as The Mad Bomber is forced to go up top.
The big play comes with the game tied at 21 with two-and-a-half minutes left in the third quarter and Wyche facing a third-and-28 from the Bengals 24. Brown always took heat for calling the plays from the sidelines, but this is why he did. With Oakland in a prevent defense, Wyche carried out a pass fake before handing off to running back Jess Phillips.
"We all flinched when the call came in," Phillips says of the huddle.
But Phillips goes 76 yards for a touchdown that breaks it open and Madden tips his hat to the old master after it's over.
"We were expecting a pass," Madden says, "and they hit us with a draw."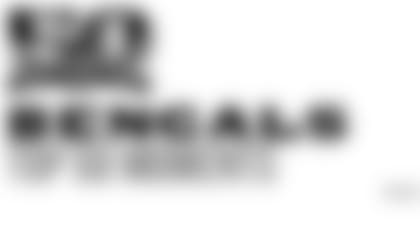 ](http://www.bengals.com/50moments.html)