If gods do not answer letters, as John Updike famously wrote, then guards do not hear from the rank and file.
And neither do tackles, for that matter.
As quarterback Andy Dalton's face flashes on the New Era Field scoreboard for a thank you during Sunday's pre-season game (4 p.m.-Cincinnati's Channel 19) in Buffalo and wide receiver Tyler Boyd's youth football league in Western Pennsylvania enjoys a gift season, the Bengals offensive line that made all the wonderful largesse possible has been swiftly re-made while continuing to grind in thankless obscurity.
Left guard Clint Boling, forced to play left tackle that day and blocking a future Hall-of-Famer on that last snap of last season, had to smile Wednesday when asked if Bills fans had twittered him their dollars like they had Dalton's foundation and Boyd's organization.
"That's for quarterbacks and wide receivers," Boling said.
"Hey," said Trey Hopkins, the right guard then and now. "Clint was the hero that day for what he did."
If you thought the Bengals are overhauling their offensive line this season, how about the one that pulled off the M&T Miracle to give Boyd and Dalton just enough time to beat the Ravens on fourth-and-12 from 49 yards away with 49 seconds left and send the Bills to the postseason to break a 17-year drought?
That line wasn't rehabbed. It was stitched together with blood and guts. Boling was making just his second NFL start at left tackle because of injury. The other tackle, 34-year-old back-up Eric Winston, best known in his twilight as the NFL Player Association president in the Age of Trump, had also been pressed into service the last two games because of injury. Then on the second snap of the game in Baltimore he suffered his own injury with a severely sprained ankle. But he was in there at the bitter end standing on one leg like some glorious, proud antique.
And then there was left guard Christian Westerman, in just his second NFL start and in a rotation with Alex Redmond, back on the field for that last series. Hopkins and center Russell Bodine were the only regular starters in quite the unlikely lineup to beat back a Baltimore pass rush that needed just one more pressure to go the playoffs and deny Buffalo on the last play of a season the Ravens had finished 11th in the league with 41 sacks against a line that had allowed 40. Nearly half of them came from Suggs, the Hall-of-Famer with 11 working against a transplanted guard, and Matt Judon with eight working against Winston, a guy that needed a transplant.
"I wasn't coming out," said Winston, who left the stadium in a walking boot that he wore for the next month or so. "It was just a bunch of guys playing for each other and it's pretty special when it works out like that. I'll always remember it."
The Bengals have yet to take another regular-season snap, but the winds of change from the off-season gale have swept unceremoniously over the line and made it unrecognizable. This is all the thanks they get. It is probably the last snap of the unemployed Winston's 12 seasons. Hopkins is fending off Westerman and Redmond for his job. Boling has moved back to the anonymous bowels of left guard. Bodine is fighting for his life in, of all places, Buffalo. The offensive line world is microscopic compared to the dimensions of the folks that inhabit it. The left tackle is new, but a familiar face to Western New York fans in the person of the Bills' old massive anchor, Cordy Glenn.
"They did just enough. They did what they had to do," Boyd said of the blocking for "Trips Right, Four Verticals."
"They did great. They let me step up in the pocket and I was able to get rid of it," Dalton said.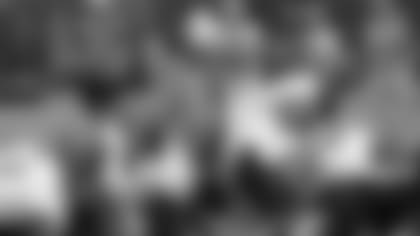 If that O-line is no more, that's OK. Neither is the protection Dalton called on fourth-and-forever. With a new offensive line coach and new coordinator, "3 Jet," has been mothballed. But its swan song was a winner with everyone in the house expecting a blitz.
It was a six-man protection that allowed Dalton to cover the five most destructive rushers with the line and called for running back Giovani Bernard to pick up a blitz in the middle before leaking out for a pass himself. When the Ravens gave the Bengals a taste of their own medicine with Mike Zimmer's Double A Gap Blitz look crowding two backers in the pre-snap center of the line of scrimmage, that looked to be the right call
But to the Bengals' surprise, not only did the Ravens not blitz, the four they did rush went straight ahead instead of stunting or looping. Bodine and Bernard saw no one up the middle.
"The two backers dropped out and we just went ahead with the straight blocking," Dalton said.
"I remember talking to Winston and we were saying to expect something crazy," said Hopkins, lined up against Willie Henry. "The whole thing was on the line on one play, so we were ready for something. It turned into a bull rush. Play the twist and surprisingly there was none."
Winston enjoyed playing next to the bright, personable Hopkins, a pre-med major at Texas that knew the game and made it fun. Stunt or no stunt, Winston knew he had his hands full with the young Judon.
"I thought we did a good job keeping them off of Andy for the most part," Winston said. "I didn't think they were going to bring it, but they were going to try to get some pressure through something like that. I'm glad we scored on that play because I don't know if I would have been able to keep going. I used the last of it in my ankle to get that guy by the quarterback. That was about it."
It wasn't pretty as Winston struggled to stay in front of Judon. But he got a big enough piece of him on the corner to slow down Judon's path and when Winston kept battling him to the ground, it allowed Dalton to step up. Meanwhile, Boling was doing the same with T. Sizzle on the other side. Suggs and Judon seemed to brush each other as they met in the backfield, but by that time Dalton had thrown his rope and Boyd was splitting three defenders down a seam vacated by a safety that was too infatuated with outside wide receiver Brandon LaFell.
"That's what you really do as a tackle," Winston said. "You've got to make them go the long way and you have to make them get there and let the quarterback step up, don't get beat inside. But at the same time you don't want to give a short corner. At the end of the day we pushed him as high in the pocket as we could. Andy stepped up, threw a great pass and Tyler Boyd made a great catch, great run and it was kind of a shocking thing. You're thinking, 'Let's get on the ball for a field goal (to tie it) and there he is running into the end zone and you're thinking, 'Did that just happen?' … It was a magical play."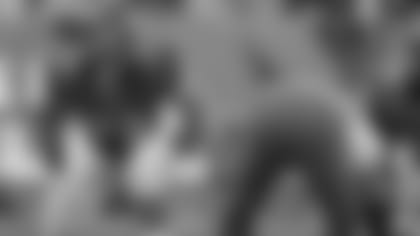 Boling, brilliant all day, was determined to pull one last rabbit out of his hat against the ageless Suggs, 35. He didn't want Suggs getting that 126.5th career sack, second on the active list behind only Julius Peppers. But Boling wasn't going to guess and play chess with him to do it.
"All the great pass rushers, they can kind of do everything. They don't have a signature move. You have to take your set, get to your spot and you kind of read it out from there," Boling said. "You can't ever really guess what someone is going to do because once you start guessing, that's how you get beat."
Suggs almost seemed to try to lull Boling with a changeup. But he made sure to steer Suggs wide past Dalton.
"He ended up kind of rushing up the field late and I tried to run him past the quarterback," Boling said. "Andy stepped up and kind of worked past the two defenders running up. There was a nice pocket up the middle and he was able to step up. Just go out there and trust what I'm coached to do."
That's the kind of selfless, anonymous day it was in the trenches, just like all the rest of them.
"That's how you win games," Boling said. "You play your ass off every snap, whether it's a two-minute drill or early in the game."
Updike's one-liner to the gods appeared in his classic essay chronicling Ted Williams' farewell when the last of the .400 hitters homered in his final at-bat. It turns out Winston helped hit a homer on what may have been his last turn.
"If it is, that OK by me," he said. "It's a heck of a way to go out."
That's the way it is up front. No re-tweets. Just reviews.