The first time wide receiver Tee Higgins plays in front of his girls as a pro on Sunday (1 p.m.-Cincinnati's Local 12), Paul Brown Stadium's 6,000 fans won't reach the capacity of Joe Burrow Stadium that sits a couple of hours to the east.
So when Burrow, the Bengals quarterback who is turning more and more to his fellow rookie, connects with Higgins that means there's a very good chance you'll hear "Lady," Camilla Stewart's unmistakable "Tee!" at some point during the afternoon. After all, her son swears he could hear her cheers while on the sidelines in the vaunted Death Valley din of 70,000 strong at Clemson.
"I've been to just one NFL game," Camilla says of that day in Atlanta she took Tee when he was 10 to watch a Saints team she liked almost as much as the Cowboys. "To go watch one and my baby is playing in that game … man."
But while she is known as a Pro Bowl yeller, she may also spend a lot of time just looking at him. When you see what she's staring at you'll realize how her son got to PBS Sunday with an older man's tenacity at the tender age of 21.
She says he has his dad's magnetic personality that is both silly and laid back. Bengals fans got a glimpse of that last Sunday when he celebrated his first two NFL touchdowns with a couple of dance moves, one planned and one installed 20 minutes before kick.
But mom and son are so close she's known around Oak Ridge, Tenn., as not only "Lady," but "Tee Higgins' Mom." The best days for him as a grade-schooler were getting even a half-hour visit with her at the halfway house.
She's always sneaking looks at Tee. When they FaceTime and he dares to put the phone down and she's staring at the ceiling, she'll ask, "Let me see your face," (and he'll say) "Mom!"
"I want to see how he's grown into a man and he's handsome and I just like to see what God has made."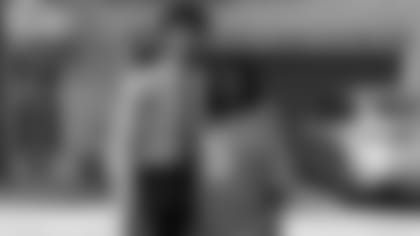 She also looks often at the rest of the Tee Higgins cheering section on Sunday. And it's a slimmed-down version because during the first three games of Tee's NFL career, her home in Knoxville, Tenn., has been a buzz of activity. Especially for his coming-out party in Philly last Sunday. She's used to being there, on site, so the energy became electric.
"We raised the roof. He's got a big family. My side. His father's side," Camilla says. "I get on his nerves. I've been calling him ever since he got back from Philadelphia, trying to find out about watching him play this week."
So on Sunday it will just be her, KeKe and Ze'Yana. She looks at them, too.
Her daughter KeKe, who warned her she wouldn't let her own baby daughter into her life if she let the drugs crawl back in. KeKe, who deferred her college career to help raise Tee. And that grand baby Ze'Yana. Camilla says she's now the same age as the baby she was sober enough to help raise when KeKe went to Middle Tennessee on a basketball scholarship. That's how she figures it. She's really 13 because that's where it all began.
That's because on Aug. 19, 2007 she was in jail reading the Bible when she vowed to become clean because of her kids. Then on Aug. 23, 2007, Ze'Yana was born. Four days later. So the two 13-year-olds get to see their first NFL game together. Tee can see that. She's always acted young. They listen to the same music and he smiles about being in the car vibing while listening to Beyoncé.
"I just like to look at all three of them. Look at what God did," Camilla says. "Everything I had been through and I could have lost them. I wonder what did I do to deserve them. God is a forgiving God."
"I was just tired. I didn't care if I lived or died. I knew something had to give. I was going to die or keep going. I went to jail and made up my mind that day. I was done. My kids deserved so much more. They didn't ask to be brought into the world of what I was doing."
Tee wrote all about it for The Players' Tribune this past spring, just before the Bengals decided to build with him and Burrow 1-2 in the draft. How he got his mom back for good when he was eight and how she never missed a game or the chance to teach or a moment to love him. As a big-time, crunch-time player himself who has routinely played for state titles and won national championships, he knows grace under pressure when he sees it.
"You better believe that she kept me on the straight and narrow all throughout middle school and high school," Higgins wrote. "She made sure I understood the importance of getting a good education and of always trying to do the right thing. I never went anywhere near drugs. Ever. Never really got into any trouble at all. I was that quiet kid who was just always about his business. All I ever wanted to do was whatever I thought would make my mom the most proud."
The Lady's story is as amazing as any catch by her son under the bright lights. She's a big reason he made it. Maybe the most compelling chapter is that day in jail was the lowest moment of her life. Not that day in '05. Not that day two years before. Ensnared in a deadly web of drugs and domestic violence, she was shot in the head. The bullet shattered the right side of her skull and left her with 160 screws in her head.
"In '05, I was still a sick person," she says.
There was just too much to do and too much that hadn't been done. If you want to know where Tee got those hands and the sweet springs, look no further than the cheering section. KeKe broke the scoring and rebounding title at Oak Ridge High School, but they'll tell you around town that the records she broke could very well have been her mother's.
That's where Camilla was headed. She was playing basketball, volleyball and running track. She grew up playing guard but they put her in the post when she got to high school. Two weeks before the 1988 girls basketball state title game she found out she was six months pregnant with KeKe and missed winning the championship.
But she gave the school KeKe, who broke the USA Conference record for three-pointers in a game when she moved on to Middle Tennessee. When Tee went to Oak Ridge, he was runner-up for Tennessee's Mr. Basketball. He'll tell you she tells him he got it all from her. She says Tee is the best athlete of the three.
"KeKe could shoot and she was big in the post. She was awesome," Camilla says.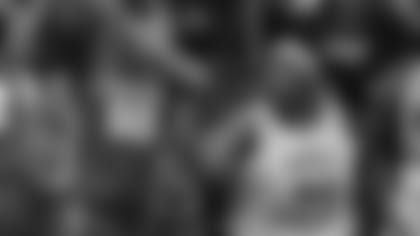 But her dream wasn't the state title. It was to become a nurse. She had been working in a hospital since she was a junior in high school, but the drugs took it all away. KeKe got her nursing license back in the spring and Camilla is working as a home health assistant, but now Camilla has even bigger plans. But she won't go public with them yet.
"I've got something I want to do," she says.
She'll be cheering Sunday, but she knows not everyone can. She has traveled all over the country watching her son play, but her seat in the jail cell has never been far from her seat in the stands.
"Don't give up. Keep fighting," is one fighter's advice. "One day at a time. It's bigger than that individual that's on the drugs. You need that family support as well. The family support is the best in the world."
The trip to PBS gets her thinking back to her own family when she was a kid and watching the NFL with her sisters. One of them loved the Cowboys, so she did, too. She really liked running backs Tony Dorsett and Emmitt Smith. She also enjoyed watching Refrigerator Perry play for the Bears.
Now No. 85 for the Bengals is her baby. She has heard some wondering about him wearing Chad Johnson's number.
"I tell people, 'That's not Ocho, that's Tee.' I tell everybody he's not trying to be Ocho, he's just trying to make his mark," Camilla says. "It's not Tee's fault the number wasn't retired."
And she knows the proudest of them all of a Higgins No. 85 jersey, besides her, is the Ocho himself.
"And I appreciate that," she says.
On Sunday, she'll do what she has always done since she's been clean and watching him in middle school and Oak Ridge and Clemson.
She'll text, "Play hard and have fun. Be you."
He will because so much of him is her.
And you can probably hear it on Sunday from a couple of 13-year-olds.