In his first comments since the end of last season, head coach Zac Taylor sat down this week for a conversation with Bengals.com's Geoff Hobson before his coaching staff leaves Sunday for Mobile, Ala., to work the Jan. 25 Senior Bowl (2:30 p.m.-NFL Network). He's impressed with LSU quarterback Joe Burrow and hopes he at least visits with the team during the week. Plus, he sees a need for defense early in the draft, free-agency is being discussed as an off-season option and he doesn't think Nebraska's Zac Taylor could line up with the South quarterbacks.
You're back at work now not only filling coaching jobs but installing practices for next week's Senior Bowl, where you coach the South.
Normally when we look at guys, we just watch the game tape and maybe get a chance to work them in T-shirt and shorts at their home field. When you get a chance to coach them at an all-star game like the Senior Bowl, you actually get a chance to see them in meeting rooms and how they really act. You get an up close look at what their mentality is on the field and in person and how they respond to coaching and installing. It's a unique experience that only two of the 32 NFL staffs get to do and we're happy to do it.
You're going to use your playbook, right? Watered down, but your playbook?
The regulations are such that you can't do very much. You can only be in two by two formations, you can't shift in motion. It really limits you. You can be in 11, 12 or 21 (formations). It's just the defenses are regulated to what they can play to different personnel groupings. You can only be in certain formations.
Does that affect how you evaluate quarterbacks?
You still see these guys learn and throw in person. It doesn't affect how you do that. Obviously the schemes on defense are going to be very simple. But you get to see all the fundamentals you want to see. You're going to go work these guys out in pro days or see them at the combine. This is just one more opportunity to get a chance to see them live.
Everyone is raving about LSU quarterback Joe Burrow and rightfully so the way he capped off his great season on Monday night with a national title.
We've started the process of evaluating him. We certainly have a long way to go before making decisions on what we're doing with the first pick. That's been exciting. We're not preparing for an opponent, so we have a chance to jump into the actual film work for all the position groups.
As a guy who played the position in college, you're looking at a guy in Burrow that probably had the best season any college quarterback ever had.
It was impressive. There's no doubt. I'd like to make sure we're a little more thorough on our film evaluation with a lot of guys before we start making statements on players. But certainly he had an impressive year.
Did you watch the national championship game?
I did. It was a great game. The only game on TV that night. Our season is finally over, so you get a chance to relax and watch two great teams.
Most impressive thing to me about that game was LSU punted the first three times they had the ball against a Clemson defense that hadn't lost in almost two years and they didn't fold.
I've got a ton of respect for all the coaches that were in that game. It was fun to watch.
Even if Burrow doesn't play in Mobile, would you like to just have him around? Even if players just hang out with you and meet you and your staff, I guess that would still be a plus.
Anything is a bonus for us. Whether you get a chance to meet them, see them in meetings, in practice. How they retain information. It's all good things. What is unique about the two teams that just played for the national championship is they just finished on Monday night. It's amazing to think they played longer than all but four of the pro football teams. So it's very similar to an NFL schedule at this point when you play 15 games, so there are a lot of things that go into that.
I guess you're open to get whatever you can get from anybody that was on one of those two teams.
We'll get plenty of opportunities going forward, but it is good both teams have a lot of talent that is worthy of going in the first couple of rounds. It would be good to get in front of all those players.
 Just to get a chance to meet these guys in person, that's one more added opportunity. Otherwise the next chance is at the combine, which is a little over a month from now. It's a chance to speed up the process with a lot of those guys that are at the game.
LSU is running an NFL-style offense, would it be that much of a change for Burrow to play in yours?
You're looking at traits, you're not necessarily looking at systems. Certain systems, it's a little easier to project how guys will translate, but that's not the end all and be all. There are plenty of guys that played college spread systems that have had great success in the NFL. You're just trying to evaluate the traits. When guys are changing protections and throwing concepts we throw, that's an added bonus because you get a chance to see what you actually do. But in this day and age, particularly evaluating quarterbacks, you're looking at traits. How they carry over. You certainly have to be open minded with how you look at these guys.
Do you find a guy that fits your system or do you get a guy who's got the traits and fit the system around him?
It's certainly a combination of both. We've got things we believe in, but you can't be hard-headed and have too big of an ego where you try to fit guys with what you do. There's a marriage you find in there. You want to make sure great players you have on your team have a chance to showcase their abilities to the fullest. We're certainly open minded enough to do whatever we have to do to make it happen.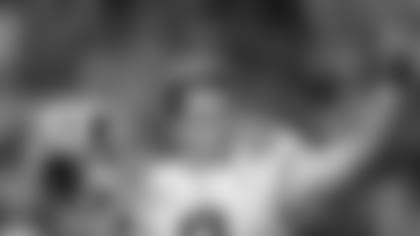 Beyond quarterback, what are your position priorities?
Certainly there are a lot of guys on defense we're going to be evaluating because I think there are going to be a lot of good players available in the spots we're picking. You don't want to nail yourself down to one particular position. I think often times there's a great player at a position that maybe you didn't think you were going to get and you can't pass him up. It's critical for us to evaluate all those defensive players that will be on our team in the Senior Bowl.
I know there are people harping on taking a wide receiver early, but it seems to me you have far more needs on defense.
You're always hesitant to say that because you get into the draft and there's a player in a situation you didn't think you were going to draft in a certain round and all of a sudden the value is there if it's a player you love and it's a guy that can change your team, you have to be open-minded that way.
Linebacker has to be the main focus on defense, right?
Sure. We don't have a lot of guys under contract right now so it's certainly a position we have to a great job evaluating.
And then cornerback, you're suddenly thin there. Darqueze Dennard is a free agent. Dre Kirkpatrick is coming off injury. William Jackson III is in a contract year.
You can really reel off we're open on a lot of positions on this team. There are a lot of ways we can help ourselves and we're in a good position to do that.
Do you think you're better on the offensive line than people think?
I thought there was lot of growth there in the back half of the season. If you look at Jonah Williams, to me we get two first–round picks this year. Jonah got a chance to go through spring ball and got exposed to what NFL life is like, but he didn't play for us. We get a chance to get that talent on the field at left tackle. That's a huge bonus for us. We already know one of the first-round picks is the left tackle.
How do you feel about guard? You must feel good about center because you extended Trey Hopkins.
Those guys certainly got better and created some good chemistry. You look at the way we ran the ball and protected the last half of the season, there are a lot of good things you can find there. It's good to get Trey back in the fold here long-term because he's earned that contract and he did some great things for us. We're starting to feel like we're finding some starters there and some depth at the same time. At the end of the year we felt really good where the offense line is headed.
It doesn't seem like you go into the draft like you did the last two years on the offensive line. First it was OMG we need a center and last year it was OMG we need a left tackle. With some of the moves you made for rookies with either picks or other deals, it's like you had a pre-draft for the O-Line.
We helped ourselves with the waiver wire this year. Two key pick-ups there. One of them (Fred Johnson) started for us at left tackle in the last game of the season and (left tackle) Isaiah (Prince) jumps in there as a young player we think has potential.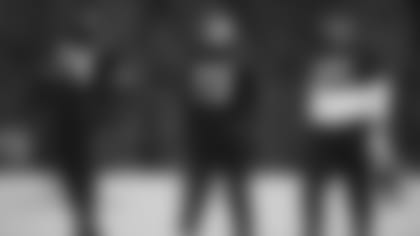 OK, I'll ask the first A.J. Green update question in 2020. He's out of rehab and training normally, right?
It will be good to get him healthy and we'll just go through the offseason and see how it unfolds.
This team in the recent past hasn't been big on going into free agency. Do you sense that shifting this offseason and being more active?
That's something we're starting to go through now that we're back in the building and starting to focus in on who might potentially be out there that can help us immediately. Those are the conversations we're just starting to have. We certainly want to look at every way we can to improve this team in the offseason.
Given you are having free-agent conversations now suggest there is some interest in going on the market.
Yeah. I think we absolutely want to find, however we can improve this team, we want to go out there and do it. That would be a great way to supplement your team.
Would there be any decision on Andy Dalton before you guys report back for off-season workouts in April?
He's under contract and he's a guy that we really like and feel strongly about. That's where we're at right now.
The late, great Pete Brown, the long-time Bengals director of player personnel, was fond of saying, "Never eliminate yourself." Is that a fair way of looking at Andy's situation? He's still your quarterback until something happens?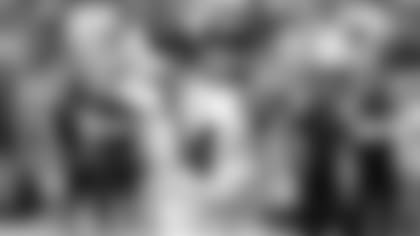 Leave all your options open sort of thing? Would you adhere to the Pete Brown principle on this one?
If that's how you want to phrase it.
Could Zac Taylor, Nebraska quarterback, played on this roster of South quarterbacks? Burrow, Oregon's Justin Herbert, Oklahoma's Jalen Hurts and Colorado's Steven Montez?
No. I think I made it as far as I was going to make it. You can be a little more honest with yourself years down the road. I think I made it as far as I was supposed to make it.
Did you want that Senior Bowl invite?
I never expected it. I went to the East-West Shrine Game, which was a great opportunity for me. Down at Reliant Stadium (in Houston). That's about where I needed to be.
Herbert is a heck of a talent. Hurts can do a lot of things and has against big-time competition and Montez is his school's all-time passer. Even if Joe doesn't play, it's still three pretty good ones.
They are. They had great college careers. It will be exciting to get around these guys and see what they're made of.