NORMAN, Okla. - At some point this season, Zac Taylor knows the text is coming.
After all, Kathryn, his younger sister by 22 months, was known to march through the office of his head coach at Nebraska, Bill Callahan, to insist that he run one of her plays. It could have been Z Streak. Or the Quarterback Sneak. Or Trash Can. This is known in the family as Kathryn being Kathryn.
"She's the social chairman," says her father. 
"She's large and in charge," says her mother.
"There's no such thing as a stranger," says her father.
So Taylor knows she'll think nothing of texting the new head coach and play-caller for the Cincinnati Bengals and tell him exactly what he should be running.  
"Tell Andy to run that Trash Can play," Taylor predicts the text will say. "I think that was in a Disney movie. She's a big TV and movie buff and watches all the sports movies."
But his father, Sherwood Taylor, the former Oklahoma safety back in the Jimmy Carter '70s who along with wife Julie brought the state's Winter Special Olympics home to the University of Oklahoma for that one dream weekend a year that is always highlighted by Kathryn dominating in the pool and on the dance floor, thinks "Trash Can," came from a drill his quarterback sons fashioned. Zac and Press, five years younger, could be seen venting their competitiveness by trying to fire footballs into garbage cans from various distances.
"Philadelphia Eagles. Quarterbacks coach," Kathryn reports. "(Two years ago) they won the Super Bowl."
It was her father who also took that out-of-the-blue call from Gene Stallings two weeks after Kathryn was born in one of the two moments that ended up defining their family. Stallings, a fellow coach as the former head man at Texas A&M then the Cowboys long-time secondary coach under Tom Landry and fellow father of a Down syndrome child then almost 23, offered the advice of a lifetime.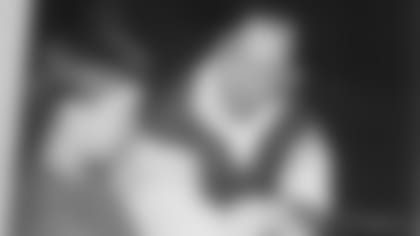 "It made a world of difference," Sherwood says. "Because he said don't read any material that's over a couple of years old. It used to be when your child was Down syndrome, they put them in an institution. He said don't listen to any of those people. He had a son, John Mark (who died in 2008). If you see pictures, he's at every football practice. He was everywhere with Coach Stallings. And he said, 'I just raised him like everybody else and you could tell the difference.'"
That's how Sherwood and Julie raised Kathryn and with the help of three siblings, one older and two younger, that kept it real, too. Still do. Always high functioning, she's known as "K Money," for her work behind the snack bar at a Young Life camp in Florida ("I pre-board," she says of the flight) and she's also a familiar figure on the OU campus as a cafeteria worker. She loves to swim, but she really covets the Winter Olympics dance. "I crush it," she says. She can't do math and struggles with telling time. But she routinely hooks up her amazed mother on conference calls.
"She's the most tech-savvy of anyone in the family," says Zac Taylor, who has more computer screens at his PBS desk than papers. "By far. TVs. Whatever it is. She goes above and beyond."
If you want to know how Zac Taylor is going to raise his Bengals in his first year on the job that begins on the field Saturday at Dayton's Welcome Stadium, you have to start with these two. Kathryn. And one of Barry Switzer's defensive captains who passed on his own coaching career to teach him and Press how to throw a football on time and on rhyme and every other throwing fundamental.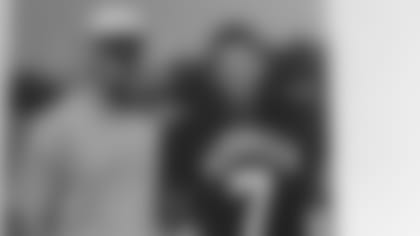 "He never turned me down any time I asked him to go outside and play catch," Zac Taylor says. "He did it every single time I asked over 15 years and that was critical to my development."
Of course, the last thing a Sooners captain wanted to develop was a record-breaking quarterback for Nebraska. But then again, when Kathryn was born the last thing they thought about was a disability. Sherwood ticks off some of the characteristics of Down's as if it is still March 26, 1985.  An extra crease in the back of the neck. Maybe a crease in the hand. A certain slant of the eyes. But only the doctor saw them and ordered the genetic test. It floored her parents even as they held her. Now they can't imagine life without her.
"Our lives would be so different and not for the better," Sherwood says. "She's made a world of difference for all of us."
You must also add Julie into the mix here. "You know who are my inspirations?" Kathryn asks as she points to Julie in front of her in the living room and to Sherwood in back of her in the kitchen.
Julie wonders at what would be a gaping hole.
"If we didn't have Kathryn being Kathryn, we would have just gone on," Julie says. "Special Olympics never would have been on my radar. But it is on our radar. It is part of our lives. I would say our kids are way more empathetic."
"He never turned me down any time I asked him to go outside and play catch. He did it every single time I asked over 15 years and that was critical to my development." Zac Taylor on his father
For Julie's oldest child, Kathryn has become a knowing barometer for gauging people. They'd have to pass a certain unwritten test.
"That had an impact on the way that you saw people treat her and the way that you were expected to treat other people," Zac Taylor says. "It just gives you a different perspective of people's character … Whenever we brought friends over or any group of people, we saw it. And at school how they treated her and how they treated her at different events. So you came to appreciate the people that had great character and treated her the right way and went above and beyond and the people that didn't. That's always been very clear to us."
So clear they can still name the coaches and players who have passed the test. Zac recalls Kelvin Sampson, the long-time OU basketball coach and father of high school friend Kellen. Head football coach Bob Stoops, another OU staple. Julie remembers former Oklahoma receiver Kenny Stills walking out of the Miami locker room when Zac was coaching for the Dolphins and wondering what the heck Kathryn was doing there until they helped him make the connection.
But none bigger than Switzer, still larger than life in Norman as one of the greatest coaches in college history. Sherwood Taylor carries a picture in his phone of his old coach greeting Kathryn, towel and all, after she had just won many of her state swimming Special Olympic 25-yard titles. He looks as animated as if he were greeting Sherwood after his two interceptions in the '78 opener stymied Bill Walsh's high-flying Stanford offense.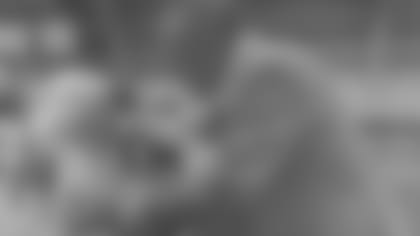 "She thinks Coach Switzer is her personal coach," Sherwood says. "She hasn't lost in swimming for years. We don't want to be around if she does."
What was very clear to Julie on a trip to Paul Brown Stadium this spring is that Kathryn being Kathryn has settled in Cincinnati. Before his first town hall with Bengals' season-ticket holders, Zac Taylor heard that there was a man with Down syndrome at the event with his parents. When Taylor didn't see him immediately in the impromptu meet-and-greet after he was finished, he asked some team employees if they could find him so they could talk. They spent 10 minutes off to the side in an earnest discussion that ended with a hug.
"I rode home with Zac that night and I didn't know about it until I read about it," Julie says.
But then, Sherwood says even less about himself. Julie says her late father-in law, a rancher in Ada, about 60 miles to the southeast, was born a century too late. Her husband, who never saw his father wear anything but boots and long sleeves, has retained some of that cowboy stoicism. At age 62 you would never know he's quietly fighting Parkinson's with an incredible regimen that begins at 5 a.m. in which he runs 20 minutes, as well as lifts, seven days a week. Plus there are pickle ball, hand ball and racquet ball games nearly every day.
You have to stumble on a photo in the house of a coin flip before an Oklahoma game in the late '70s to realize he was a Sooners captain. There is Billy Sims. Paul Tabor. Darrol Rey. George Cumby.
Every one of them had signed the picture but Sims. Up until a couple of months ago when Julie ran into him at the grocery store and mentioned they hoped he could sign it one day. So Sims and his Heisman Trophy followed Julie home to the house on the circle to take it out of the frame and finish it off.
That's the kind of small town Norman is. And maybe one of the reasons Sherwood Taylor didn't follow one of his old Oklahoma coaches to Northern Illinois that spring Kathryn was born. He had started his coaching career in Norman, where he met Julie on a blind date when both were going to OU and that's where three-year-old Zac was born on May 10, 1983. There had been a stint at Kansas State that ended in Jim Dickey's firing and now Jerry Pettibone was on the phone in the middle of the '80s and the middle of life looking for a coach in DeKalb, Ill.
With both families basically living in town while they came to grips with caring for Kathryn and the college game such a grind with its endless recruiting trips and dizzying change of addresses, there was a definite lure of staying home to coach. Maybe even coach his kids. It was an easy win for family. Julie didn't need any swaying. In that other moment that defined their family, Taylor turned him down.
"We knew Kathryn would be well taken care of in a university town no matter where it was, so that wasn't really it, but we knew she would need some extra help," Sherwood Taylor says. "As it turned out, she kind of takes care of herself. It was just different then. Coaching wasn't like it is now."
When he coached at Kansas State, he lived in an apartment in Dallas for much of the year to recruit. In his last year of coaching, there was a $35,000 salary, a car and a country club membership.
"We thought we were doing well," Sherwood says. "They'd laugh at that now … They've made things more favorable for coaches.
"Zac would do the text book thing. Press would make it up on his own as he would go," he says. "Not do what you told him to do, but he'd have success and then say, 'See it worked the way I did it.' Zac would do it the way it was drawn up." Sherwood Taylor
"I don't know … There's only two kinds of coaches. One that's been fired and one that will be fired. In all honesty, if I'd known what coaches get paid today vs. what they got paid then, it makes your time a little more valuable to do it. It's not an easy profession. It's the only profession people every Sunday tell you how stupid you were on Saturday."
Sherwood Taylor has never looked back. Where and who would he be coaching now if he told Pettibone yes? Not on his radar even though many of his friends are coaches. The life in Norman has been too good. Idyllic, you'd almost say. Coaching Zac and Press in football and basketball, as well as coaching their youngest, daughter Quincy, in basketball and track. He made it all the way through middle school with the boys and kept coaching Quincy in track when she went to Norman High School. 
For the last 20 years he has run his own business of supplying letter jackets to high schools in Oklahoma and so what has really changed?
"He talks to coaches every day," Julie says.
Sherwood leads you on a tour of his sub division and no wonder. Step out their back door and there's room to roam down to a golf course. Step out their front door and look to the left past another house on the corner across the street and there's basically a rambling park with room to play everything but the Settlers of Catan, the board game of choice for the ultra-competitive Taylors.
No less than five guys that grew up on their circle and its environs quarterbacked Norman High. The Wonder Years meets Jerry Maguire. Julie always loved it when she'd pull up in the car and there would six or so bikes thrown down on the lawn. She pulls out one of her galaxy of photo albums to show you that Zac's wedding party was made up of the cul-de-sac kids.
"I'm thankful they chose to stay in Norman. I had an unbelievable childhood," Zac Taylor says. "I'd be hard-pressed to think of anybody that had it better than we did. It's just very fortunate the way things turned out."
For Zac Taylor, always the quarterback at any level, No. 13 was far from unlucky. No. 31 reversed. He had so much faith in his father that when Zac told Sherwood he wanted to transfer from Wake Forest with the departure of the old offense and the goal of simply going anywhere to play, Sherwood urged the junior college route. After he researched it with those bottomless network of coaching contacts, it came back Butler Community College in El Dorado, Kan., a horrifying prospect for Julie, since she really didn't want him to leave Wake's academics in the first place
"They played at an elementary school. No dressing room. Halftimes in the end zones. It was a teeny town where all there was to do was play football," Julie says. "He never saw it. He just relied on Sherwood."
The old coach liked what he saw because of, what else?
"I could tell what the coaches were doing that they had a good staff," Sherwood says. "They were young and had a chance to go anywhere and they had a great offense. They could sign 12 out-of-state guys and they made them all skill players and got every linemen in Kansas. It was a perfect recruiting formula. The coaches were unbelievable. Press won back-to-back national titles and Zac lost in the national title game."
And Sherwood could tell them exactly what they were getting.
"Zac would do the text book thing. Press would make it up on his own as he would go," he says. "Not do what you told him to do, but he'd have success and then say, 'See it worked the way I did it.' Zac would do it the way it was drawn up."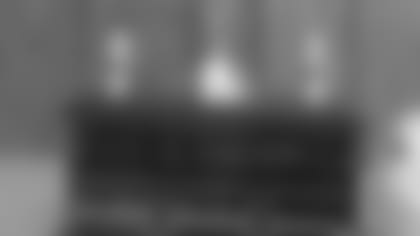 Zac Taylor not only trusted his father's judgment, but also those plays he drew up. No question, he says, he benefited from learning offense from an old safety that grew up watching quarterbacks. His dad brought that perspective of an emerging game that included those two interceptions against Stanford off of Walsh's West Coast offense back when it was merely a curiosity and not yet a trend-setter. Sherwood started off the season for the nation's most prolific passer in the nation when he made a diving interception of a Steve Dils' pass on the goal line and then later ranged back to nab a post pattern while in Cover Two, huge picks in a 35-29 victory.
"He tried his best to teach me the techniques of defensive back play, they just never took," Zac says. "I wasn't the athlete he was. To get his perspective from a defensive guy was always good."
The defensive guy has a busy office on offense, which hides in the back of an insurance company in a strip mall near the OU campus. Sherwood says he couldn't get into his Ada Cougars letter jacket in 100 years, so it hangs on the wall near his desk. On another wall is a slew of photos that includes his 103-old grandmother, as well as a one-in-100 years shot of Julie and Michael Jackson with Michael's mother taken in a hotel hallway when the Sooners played in Los Angeles in the early '80s. On yet another wall hang letter jackets from many of Sherwood's clients flung far and wide across Oklahoma.
But it's the photo wall that draws you in. Mostly family. Blood runs deep up there. About ten years ago Sherwood was listening to a Norman sports radio talk show when the host made what he thought were some unkind remarks about "the boys," and snapped it off. He hasn't listened since.
The photo wall conjures up how Julie and Zac's wife Sarah decorated the head coach's office at Paul Brown Stadium one day for six hours in the spring when he was in meetings. Four enlarged photos of each of his own children dominate the wall to the right when you walk in on him in Cincinnati. But it's hard to find many pictures of him.
"After we got done all day decorating, he came home with a tub of his pictures," Julie says. "He didn't want anything up there about himself."
Which is why Zac Taylor's 2006 Big 12 Offensive Player of the Year trophy is in Sherwood's office and not his. The Taylors have been trying to get rid of the damn thing ever since he won it, but Zac has always lugged it back to the cul-de-sac. This last time he told them to box it up and take it home.
"He just wants the focus to be on the team and his players," Sherwood Taylor says.
Sherwood is gladly in charge of another trophy in his office, the "Taylor Bro Bowl," and he's reminding himself he needs to update it with the Eagles' 30-23 win over the Rams last December. That gives Press a 2-1 edge over Zac since they've been in the league and Sherwood has time. They're not scheduled to play this year.
"Those are hard games to watch," Julie says as Kathryn talks about rooting for both. "Just root for offense, right Kathryn?"
Zac would appreciate that. After he absorbed the most bitter of all losses, to Oklahoma, the glum Nebraska quarterback emerged from the locker room only to be greeted by an excited Kathryn telling him, 'We won."
"But I play for Nebraska," Taylor told her.
Even that didn't spoil it for her. "She just saw Oklahoma. She was at the game, Oklahoma wins, to her that was a win for the day."
Sherwood Taylor can appreciate the bounce of the ball. He caught it in the air and decided not to get on the coaching ladder and stayed home. Not one son but both did the opposite and caught it on the hop. At 36, Zac and Sarah and the kids are already in their fourth town and fifth team. But Sherwood is with them all the way.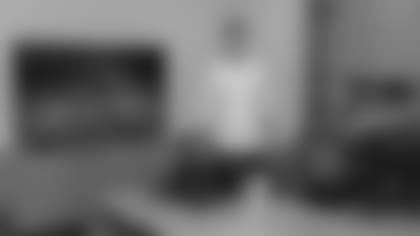 "I was excited that this is what they chose. And they understood what goes into it because they saw my friends," Sherwood says. "I felt like it was something the boys would enjoy. They love coaching and teaching people. After college, all my friends were coaches. They saw it was fun. An opportunity to stay around sports. I have it made. Now I get to travel around and watch somebody else do it. I hope I get better seats in Cincinnati that other places."
Zac gets it. He lived it before this. For one thing, he married into the profession with Sarah Sherman, the daughter of former Packers head coach Mike Sherman. For another, he grew up watching it just as intently. Not only were his dad's friends mostly coaches, but he went to school with kids like Sarah Sherman. Some of his classmates were the daughters of Gary Gibbs, the former Oklahoma head coach who left his kids in school in Norman. Taylor also saw it go the other way. He grew up with Kellen Sampson from elementary school to high school while his father, Kelvin Sampson, stayed Oklahoma's basketball coach for 12 years.
"My kids are going to have it a little bit different," Zac Taylor says. "Hopefully we can be here a really long time. That's the plan. If they can graduate from high school here and enjoy some great things here and kind of have the same kind of life that I had. They just got to it a little bit differently with all the moves I had."
There is one move everyone knows is coming. Kathryn doesn't blink when asked why Zac is such a good coach.
"Because I give him the best plays," Kathryn says.
The son who runs the plays by the book knows her first NFL call is on the way.