ARLINGTON, Texas _ As much as the Bengals must be wondering about how their first offensive line played in Saturday night's 21-13 victory over the Cowboys, they have to be as delighted about not only the first defensive line but each one that head coach Marvin Lewis calls "a wave."
Keyed by a flood of young players, the Bengals stuffed Dallas' vaunted run game, ranked second the past two seasons, on 3.9 yards per 23 carries. Take your pick. Second-year nose tackle Andrew Billings continued to play well with the starters and had a tackle for loss. Second-year second team right end Jordan Willis had two sacks. Rookie Sam Hubbard worked both at end in base and tackle in nickel and had a sack and forced a fumble.
"That second wave of guys is going to play all season," said head coach Marvin Lewis of what is simply known as "The Rotation." (Billings) it's his first preseason he's healthy and ready to go and so it's good for him to show up significantly in the two games now."
Not to be outdone, second-year tackle Ryan Glasgow rotated through the nose and Pro Bowl Geno Atkins' three technique for three tackles, one of them a tackle for loss. It was not lost on him that what is regarded as the NFL's best offensive line was missing only one starter in Pro Bowl center Travis Frederick.
"For guys like myself, Jordan, Sam, the young guys, to play against an offensive line like this, it tests your mettle. You see where you're at and how you stack up. I thought it was a good experience for all of us."
This is why starting left end Carlos Dunlap calls this the best defensive line he's been on in his nine seasons in Cincinnati. Even though they were on the field for a staggering 22 more plays than their counterparts in the first half, the Bengals allowed just 2.4 yards per 17 rushes. And Pro Bowl right guard Zach Martin played much of that first quarter before leaving with a knee injury. No, Cowboys ace running back Zeke Elliott didn't play, but the numbers are numbers.
"I think we played great as a unit," said Hubbard, the hometown third-round pick from Moeller High School who has been so impressive under defensive line coach Jacob Burney. "Staying in our lanes, working technique to get to the quarterback. It wasn't just one guy. It was all of us holding down the pocket. We made some improvements on stuff we did wrong last week fitting the run with technique stuff that Coach Burney preaches."
As he did last week in his NFL debut, Hubbard moved smoothly and well. He and his guys pummeled the backup Cowboys line. Hubbard sped rush to force a fumble late in the first half and starting pass rusher Carl Lawson logged a sack two plays later as he looks to better his 8.5 sacks from last year's rookie season. Hubbard was heavily involved last week, but on Saturday he finished plays.
"I went in there (last week) and my legs were still heavy from camp in that first game and I felt a little more rested going into this game," Hubbard said. "I had my feet underneath me, so I wasn't falling down as much as the first game. I just felt better overall."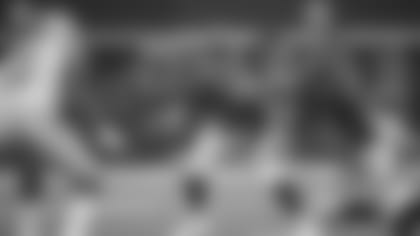 Not many could say that in the first offensive line group after they played so well last week. During Saturday's grimy first half their running backs gained just seven yards on six carries, the Bengals rotated starter Trey Hopkins and Alex Redmond at right guard and teamed tackle Cedric Ogbuehi with Hopkins late in the first half after tackle Bobby Hart got bested a few teams by old NFC East rival Demarcus Lawrence.
"One time I jumped him too fast and he came up under me," said Hart, the former Giant who is trying to hold on to his starting job on the right side. "The guy's a very good player. You just have to battle every play."
Getting pressure from the edges, quarterback Andy Dalton could throw for just 41 yards on five of seven passing with the major problem not being able to get any running lanes. Even when Jeff Driskel replaced Dalton and the No. 1 line followed him out there for the first series of the second half, rookie running back Mark Walton lost three yards running right, Ogbuehi was bulled for a sack by 270-pound Taco Charlton a few plays later and Driskel had a pass batted down at the line when Kony Ealy skied over Hopkins to end the drive for Jonathan Brown's 55-yard field goal.
"We got off to a slow start," said Hopkins after playing 37 snaps and Redmond playing 38. "(The rotation) didn't bother. I don't think it bothered Alex too much. We came in knowing there were moving parts. Handle it. We're still a work in progress. I don't think anyone is saying we've arrived by any means."
Hopkins actually played 14 of those snaps at center on the Bengals' go-ahead TD drive of 92 yards during more than seven minutes in the third quarter, the first look at the line of tackle Jake Fisher and guard Christian Westerman on the left and Ogbuehi and Redmond on the right, respectively. Before they embarked on that hike, the first line had converted just one of seven third-down tries. But that group in that drive only needed to convert one as back-up running back Tra Carson carried six times for 24 yards and the final two-yard shove.
Crazily, that drive stared on Redmond's false start to put the ball at the Bengals 4. The Bengals love Redmond's enormous talent and endless mean streak, but they hesitate playing him with the 1s because of his penchant for penalties like that. For now, it looks like the rotations are going to continue until something consistent is found. When the longest run isn't a 13-yard scramble by the No. 1 quarterback for the only double-digit run of the night.
"The reality is in the NFL you're not going to have the same five guys for all 16 games and guys have to learn spots and move around," said veteran left guard Clint Boling. "It's too early (to evaluate Saturday's game). We'll watch it and evaluate. It's the reality of the NFL. There is mixing and matching."