LOS ANGELES - After 10 seasons, 124 games and 11 more in the postseason, it looks like Bengals defensive tackle Mike Daniels is finally going to get the call for a Super Bowl Sunday against the Rams at SoFi Stadium.
Daniels, along with punt returner Trent Taylor, were elevated from the practice squad Saturday. There was no change in tight end C.J. Uzomah's status, officially listed as questionable with his MCL sprain but with head coach Zac Taylor holding out hope he'll play.
The Trent Taylor move has been a staple since Dec. 19. The Daniels' move comes after he injured his groin in the Wild Card pregame and could only go one snap against the Raiders before leaving with what looked to be a season-ending injury.
Now it looks like Daniels is bouncing off the bench with his energy and experience to give the defensive line a big lift. Three technique B.J. Hill has already been terrific replacing Larry Ogunjobi (foot) in the starting lineup, but when they also lost Daniels they got some good production in the past two games from two tackles they plucked from practice squads in Las Vegas (Damion Square) and Arizona (Zach Kerr).
Daniels, 32, known for his salty practice demeanor and relentless energy, becomes their oldest position player in the Super Bowl and their most experienced. After starting 11 games last season on the Bengals' injury-riddled front, Daniels had been on the practice squad all this year up until Week 17, when he played 16 snaps in the win over Baltimore after nose tackle D.J. Reader went on the COVID list. The next week he played 48 snaps against Cleveland and got the call for the playoffs when nose tackle Josh Tupou (knee) went down.
Outside of long snapper Clark Harris and punter Kevin Huber, that makes Daniels the Bengals' most experienced and oldest player. All of his postseason games, which include eight starts, came with the Packers.
FINAL SNAPSHOT: According to a pool report, the Bengals finished the week's work Saturday morning by busing 15 minutes to Inglewood and SoFi Stadium to take the team photo in their black jerseys and white pants. They sat in the first row of the stands above a digital banner that read "#RULETHEJUNGLE." Head coach Zac Taylor and Bengals president Mike Brown sat at the center of the first row and were flanked by the coordinators, wide receiver Ja'Marr Chase and quarterback Joe Burrow. 
Just like back at Paul Brown Stadium, the walk to UCLA's Drake Stadium practice field during the week was just five minutes and that allowed Taylor to keep virtually the same practice and meeting schedule.  Such was Saturday morning in a 40-minute walk-through in T-shirts and shorts as the team reviewed special teams and held some non-contact team periods.
Taylor left the afternoon free for players and coaches before calling 7:30 p.m. meetings.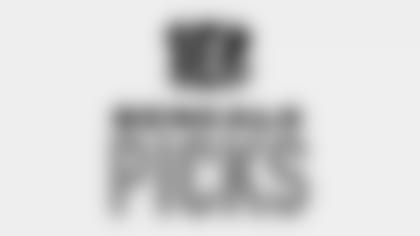 Bengals Picks, presented by OHIO Lottery
Play Bengals Picks every week for a chance to win prizes. Predict individual and team outcomes and compete against other Bengals fans for a chance to take home the prize, and the bragging rights!