BENGALS O-LINE VS. RAMS D-LINE
LOS ANGELES - The analysts are now picking at bones from a Thanksgiving feast after exhausting the matchup between the Bengals embattled offensive line and the Rams Hall of Fame defensive line.
Even old scribes know the numbers. Bengals quarterback Joe Burrow is the first quarterback to reach a Super Bowl getting sacked more than 50 times in a season and nine times in a playoff game and according to Pro Football Focus, Rams end Von Miller and tackle Aaron Donald are the two best postseason pass rushers in the last 15 years. Donald, a three-time Defensive Player of the Year, lines up anywhere these days. Miller, the all-time sack leader, is just now getting acclimated from a mid-season trade from Denver and is starting to kind of look like the guy that was Super Bowl MVP six years ago and is most likely going to be on either side Sunday.
And the Bengals aren't sure if their right guard who played so well two weeks ago in the AFC title game, Jackson Carman (back) can go.
We've seen all the quotes this week.
In the shadow of Pauley Pavilion, Bengals offensive line coach Frank Pollack invoked John Wooden's legendary Pyramid of Success to remind his line how well it played in the key moments of the postseason. Such as the last series against the Titans and the Chiefs in the last two wins.
Here's left guard Quinton Spain talking about that last drive in K.C., in overtime and how they can carry that momentum into L.A. The one with a Super Bowl berth on the line and running back Mixon going for 28 yards on five carries.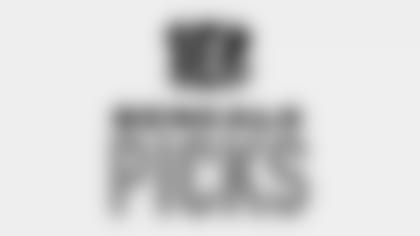 Bengals Picks, presented by OHIO Lottery
Play Bengals Picks every week for a chance to win prizes. Predict individual and team outcomes and compete against other Bengals fans for a chance to take home the prize, and the bragging rights!
"We felt like we cannot give them the ball back," Spain said. "I told the O-linemen before we went out there on the field, 'Bruh, this is a moment. It's once in a lifetime. You don't know the next time you can make it to a Super Bowl. You don't know the next time you get this opportunity to play for each other and that drive happened."
Center Trey Hopkins, the nerve center, talked about taking note of how Bucs center Ryan Jensen played Donald in the NFC Divisional.
"They had a plan that a lot of teams have. Turn the protection to him," Hopkins said. "Is he a guy you want to try and smother? Or do you play off him with your hands? I think he did a combination of both and in that game I was able to see the benefits and drawbacks of both techniques."
But here's the matchup through the eyes of the last Bengals left tackle to play in a Super Bowl, Hall-of-Famer Anthony Munoz, a big supporter of his striped descendants. He's about a half-hour from his hometown of Ontario, Calif., and he's been telling people this offensive line played well enough to get here.
"I've been here since Monday and no one is giving us a chance," Munoz said. "The nine sacks, all that stuff. That becomes an incentive."
Here's a little advice from Canton:
"Your eyes have to be as intense as your body. Make sure after the play is called, you can trust your technique and unleash it. Know exactly what you're doing and play physical. You have to take the right angles, you can't lean.
"Don't watch his head. You have to see the big part. You've got to see things. Those free runners on games … We used to say on the run, double with your hands and look at the second level. You can feel the guy and the guys working with you. Just trust your technique."
The advice to the tackles is to be patient. If something goes wrong, 'Forget about it.'
Munoz likes the length and athleticism of right tackle Isaiah Prince: "Those guys get in trouble when they start leaning and reaching instead of waiting for the contact and then attacking when they get to you. You have to make sure you stay low. (Prince) is a guy that can move."
He admits the matchup conjures up some memories of that last previous AFC title game win in 1988. Munoz was lined up against one of that generation's top sack leaders (Miller is the career active leader) in the Bills' Bruce Smith and until Smith left with an injury, the Bengals ran it at him.
"When you've got a guy who is smaller and quicker, why run it away from him and allow him the opportunity to chase it down? Run right at him. That's what we did. You can't let him chase the plays down. You have to go at him. They're so athletic and so quick, they get down the line and they can fight off the double teams and the single blocks at the point of attack."
Munoz is confident. He's thinking about the big moments when they came through in Tennessee and K.C., too.
"They know they can do it. We've seen them do it," Munoz said. "Just stay patient, get the job done and prove the people wrong."