No one has ever been more reliable in Bengaldom than safety Shawn Williams, but even the steadiest of all Bengals has had trouble finding his footing during this slippery slope offseason.
First came the pandemic and his struggle to find a place to work out. Then came free agency and the signing of Saints star Vonn Bell that gives the Bengals three starting safeties, two of whom are 25 and younger.
Now looking for a change of scenery, the 29-year-old Williams is back in Atlanta for a bit before heading back to Cincinnati and hoping for the call to Paul Brown Stadium and, like all of us, trying to find out the answers.
"It's been a roller coaster with what's been going on," said Williams, speaking for one and all. "I've been trying to take it day-by-day, week-by-week until it's over. But it definitely has been crazy the last four or five months."
Against the backdrop of a virtual draft and a Zoom spring practice, the Bengals roster has undergone its most massive change in a decade. So Williams knows he has plenty of company when it comes to facing a new role for a defense that signed five players in free agency that will be on the field for that first third down on Opening Day. And they may have drafted two more for that first third down in linebackers Logan Wilson and Akeem Davis-Gaither as the Bengals continue to evolve to a more multiple defense with more versatile defenders.
 "I'm not the only one," Williams said of his new and undefined role that may look more like the one he had with safeties Reggie Nelson and George Iloka on the Bengals' last play-off defense five years ago.
 "I'll work with it and try to figure out what's best for the team.
"I don't know how that plays out. I don't even think they know right now because they haven't really seen Vonn do anything and that's no knock on Vonn. I just think they want to see everybody together on the field first. I'm confident they'll figure how to use him and use me and everybody is going to be happy."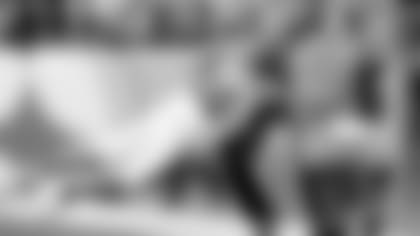 That's No. 36 all the way. Williams is the dean of the back seven as he heads into his eighth season and a two-time defensive captain who plays hurt like birds fly. He logged 93 percent of the snaps last season despite getting led off the field more than pre-game entertainment and wields a ton of respect in the locker room.
"You never stay down," Williams said.
This is the kind of player Williams is. Just ask Robert Livingston, Williams' coach for the past five seasons who saw it even before he got here as an assistant coach for a Vanderbilt team that played Williams' Georgia team.
 "Great teammate. Great team guy and a good leader. Everything you want," Livingston said. "He's probably made me a better coach and done more for me than I've done for him, so I'm forever grateful. He asks good questions. Always prepared."
Livingston loves those kinds of questions. No matter how awkward, Williams asks them and sometimes the questions are good enough the coaches may re-examine it. So you know even though he knows he'll do what what's best for the team, he's had no problems asking about this looming and unknown role.
"But it has to work hand-in-hand if this thing is going to work," Williams said. "It would kind of be hard, having your leader, having your alpha male for your defense, not only on your defense but on your team, not doing anything productive."
That's not the way the Bengals see it. They didn't go into free agency looking for a starting strong safety. They went in looking to get as many good players as they could and when Bell was left bobbing on top of the first wave with a reasonable $18 million deal for three seasons, the Bengals grabbed him in a resourceful find. Here's a guy that turned 25 in the last week of last season who had been starting for one of the best teams in the league the last two seasons.
 A Williams-like alpha male with an ascending career, Bell fit Bengals head coach Zac Taylor's blueprint for stockpiling winners with an edge for a defense seeking to adapt to the multiple offenses of the day.
"Zac has made it known from the time he got here, the more good players you have, the more multiple and better you'll be as a defense," Livingston said. "When you add good players to the good players already here, it gives you more bullets and in 2020 playing defense in the NFL, you have to have a bunch of bullets. You have to be able to stop different attacks. You want to surround yourself with the best players you can. We've added some pieces that will really help and Shawn is a piece of that."
The offenses are a lot more multiple and versatile than they were even in 2015, when Williams was the third safety on the NFL's No. 11 defense for one of two 12-4 Bengals teams in history. Working behind Nelson and Iloka, Williams played 44 percent of the snaps and in maybe the most famous three-safety package in team history on second-and-six with 5:34 left and the Bengals down, 10-6, in Pittsburgh, Williams stretched for an astounding sideline interception at midfield to spark the Bengals to a 16-10 victory that gave them their first 7-0 start and last win over the Steelers.
Williams played just nine snaps that day, but they were huge for a defense that allowed just one touchdown. He also started four games that Iloka missed and when Nelson had to leave the Wild Card Game that year early Williams was in the middle of that comeback with 50 snaps as the Bengals held the Steelers to one touchdown again.
But Williams is confident of his every-down abilities and is going to fight to keep them after the past two seasons he has logged more than 100 tackles spiced with his five interceptions in '18 that is the Bengals most in a season since Nelson's eight in 2015.
"I know what I can do at my position. I'm cool with moving around here and there, but I never wanted to be labelled as just something," Williams said. "I feel like I'm versatile where I can play man, play zone, blitz, play in n the box and play back deep if I'm healthy. I think people forget when your team has a bad record. Two years ago I led the division in interceptions, but it's more like what have you done for me lately."
Williams gets it. That's what happens at 2-14. But he thinks there are plenty of playmakers here.
"We just have to get that turned around. I feel like everybody will get what they deserve," Williams said, pointing to the defensive line. "Sam (Hubbard) is a good ballplayer. Carlos (Dunlap) and Geno (Atkins) are always very good and have had great careers. It's like Jessie. He should be considered one of the elite, but it's not that way when you're not on a winning team and not playing in prime-time games."
"Jessie," is Jessie Bates III, Williams' running mate at free safety. Bates came out of Wake Forest so early that by the time he turned 23 back in February, he had already become the only player in the NFL to log 100 tackles and at least three interceptions in each of the last two seasons.
"He's got a lot of upside. He's just starting to scratch the surface because he's so young," Williams said. "He's doing everything on raw talent. Once he actually learns as he grows he should be really good."
Williams hasn't studied the additions, but he's well aware of Bell and has been impressed with him in the Zooms.
"He's got my respect," Williams said. "He's cool. He seems to be a smart guy. He catches on quickly. He's not one of these guys you have to hold his hand and walk him through it. He's been at Ohio State and been in New Orleans on one of the best teams, so he knows how to win. From what I hear from everybody else they say we've gotten some pretty good football players. From D.J. Reader to Trae Waynes. I saw Mackensie Alexander at Clemson and he's a good football player. I've heard a lot of good things about him from Darqueze (Dennard) and other people."
He's also wondering about last year's Bengals Rookie of the Year at linebacker.
"I'm looking forward to see how Germaine (Pratt) comes back this year," Williams said. "He's got a year under him, he knows what's expected of him. He's got some big shoes to fill. I feel like he's a guy that can get it done."
The offseason had quite a start. Williams had to decide if he would attend the wedding of former Bengals safety Clayton Fejedelem in Chicago, that last weekend before the coronavirus shut everything down.
"I ended up going. It was the right thing to do," said Williams, who's glad he did because he was the only safety that ended up going. "Then when I got back here, I was at Ignition (a Northern Kentucky workout facility) working out for four days when they shut down. Every place had the gates up."
Williams finally found a place when he re-connected with former Bengals wide receiver Brandon Tate, who runs a local gym that was shut down. He let Williams and Bengals safety Trayvon Henderson use it by themselves.
"There was nobody around and we social distanced and Lysoled the equipment each time," Williams said. "It's been tough. I went back to Atlanta just to see something different, talk to different people.
"I feel badly for the college kids, the kids that lost their seasons after training to play in the games. And the free agents who really should be signed, like Darqueze and Dre (Kirkpatrick), but it's just the circumstances."
But Williams is ready for this brave, new world when told it sounds like he's coming back as a 25-year-old.
"Nope," he said. "Twenty-two."