For the first time since they can remember the Bengals are coaching the South in college football's biggest all-star game set for Saturday, Jan. 25 (2:30 p.m.-NFL Network) at Ladd Peebles Stadium in Mobile, Ala. In their three appearances this century the Bengals were assigned the North and took drubbings every time with the MVP always a South quarterback.
So if LSU quarterback Joe Burrow ends up in the Senior Bowl, he would figure to be coached by a Bengals staff projected to take him with the first pick in the April 23-25 NFL Draft.
The onslaught began with North Carolina State's Philip Rivers in 2004 (28-10), then West Virginia's Pat White in 2009 (35-18), followed by Florida State's Christian Ponder (24-10) in 2011.
But the rosters are far from finalized and, first things first, Burrow has the national championship game staring at him. No matter who's there, Bengals director of player personnel Duke Tobin loves the ability to roam backstage at the Senior Bowl, starting with Monday's arrival on Jan. 20 and the weigh-ins on the morning of Jan. 21 and the first practice on the afternoon of Jan. 21. Not only do the Bengals coaches get a week-long look at players, so does Tobin's staff of scouts.
"Every team has a chance to talk to players during the week, but as scouts we'll have extra time with them and more access to what they do. We'll be able to sit in on meetings," Tobin says. "When you can put a personality to a guy, it gives you a little more comfort level for what you're seeing on tape."
Coaching and working the Senior Bowl is the ultimate double-edged sword. If you're doing it, it means you had a bad year. But it's also a gold mine to evaluate prospects. It's a campus workout times ten. It's a week-long series of pre-draft visits to Paul Brown Stadium right in your position drills.
"It's a great opportunity to see their football intellect, how much the game means to them, their ability to transfer information from the classroom to the field," Tobin says. "See their ability to learn new things quickly, or learn a new technique. It's something you can really take advantage of."
The Bengals are going get a good look at the other team, too. One of those nights during the week the Lions and Bengals staffs swap players so they can be interviewed by coaches and scouts. Plus, the Bengals can see how the North guys react to what they had planned in the game.
They've seen enough on the other side that in the last three Senior Bowls they've coached, they've ended up drafting more players from the South.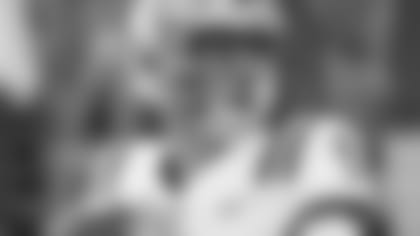 In 2011 they took no players from the North but drafted two players from the South, Texas Christian quarterback Andy Dalton and Georgia guard Clint Boling. That's their best Senior Bowl haul since they were both Opening Day starters as rookies and ended up each playing more than 100 games for them, and that includes two division titles, and Dalton is still their starter.
Although 2009 was pretty good, too. They drafted two guys that played for them, University of Cincinnati punter Kevin Huber in the fifth round and Michigan cornerback Morgan Trent in the sixth round and while injuries plagued Trent in a brief career, Huber is still working for them as the Bengals' all-time leading punter.
And they didn't draft Virginia running back Cedric Peerman after coaching him (the Ravens did in the fifth round), but the Bengals signed him the next spring and he ended up sticking through all the post-season runs as one of their most reliable special-teamers ever and he went to the 2015 Pro Bowl before ending his career with 92 games in a Bengals uniform.
But their major pickup of the '09 game was from the South in USC middle linebacker Rey Maualuga, a force in three top seven Bengals defenses who played in 114 regular-season games and five Wild Card Games for Cincinnati. They also signed from the South an undrafted free agent wide receiver from Texas and while Quan Cosby played just two seasons for them, his average of 9.99 yards per punt return is second only to Adam Jones on the career list.
They selected South center Jonathan Luigs in the fourth round out of Arkansas, but injuries limited his career to eight games in his rookie season.
In 2004, they again went the free-agent route, but this time after the draft they signed a guy they coached, North punter Kyle Larson out of Nebraska. He was solid enough for them until Huber surfaced five years later.
But that year they raided the South for three draft picks: Florida cornerback Keiwan Ratliff and Maryland safety Madieu Williams, both in the second round, and Southern Mississippi cornerback Greg Brooks in the sixth round. A few years later they picked up Louisville tight end Ronnie Ghent, but he never played a game for them and just eight in the league.
Brooks only played 16 games for the Bengals in two seasons. Ratliff, a corner-safety swingman played five seasons and 54 games with eight starts in Cincinnati during seven years in the league and Williams ended up starting 102 games during nine years in an NFL career that began with 43 games in Cincinnati.
Some would argue that figures since the South always has the better players and there can be some creative geographical assignments. But Tobin argues the rosters are always competitive and the South doesn't have that much of an edge at 35-29-3.
"It's the first time we've had the South. It's going to be exciting. It's a southern game," Tobin says. "The South has a little bit more fanfare down there. It will be exciting for our guys to be a part of that and we'll have the rooting interest portion of the stands."
Tobin has always talked up the Senior Bowl for prospects. At least in the Bengals draft room, your grade can only go up and not down in Mobile.
"It's a great chance for a small college player to really elevate their draft stock against the guys from bigger schools," Tobin says. "It's an opportunity for big college players to leave no doubt about how good they are. If you like a guy before the Senior Bowl and he disappoints you a little, you still like him because of what he did on tape for his school.
"That's the No. 1 thing. But maybe he improves his draft stock by working in a different spot on offense or showing good pass rush moves against a higher caliber competition or playing man-to-man well when he maybe comes out of a scheme that doesn't play much man. You look at that and you may say, 'Better than what I saw on the tape.'"
And Tobin thinks they'll be helped by a Bengals coaching staff that lets them do their thing.
"The point is to let the guys show what they can do and not try to re-train them in everything that you're ultimately going to want to re-train them in," Tobin says. They got here with their skills and the idea is for coaches to let them showcase what they've got."