As part of Bengals.com's high school journalism program, this story is written by a member of the journalism club at Cincinnati's Aiken New Tech High School headed by Lakisha Zyyon.
Giving back is not unfamiliar to the Bengals. They have a history of supporting events for charity and the community, especially with the younger generation.
When the team recently held the EverFi Character Playbook Program for students from Winton Woods Middle School and Mason Middle School, five Bengals got a chance to give back at an event emphasizing communication, relationships and character. They decided to attend the event even though it was their only off day of the week. 
Players like linebacker Joe Bachie spoke of a great passion for community service. 
"When I was a kid, this is exactly what I would've wanted to do on a school day," Bachie said.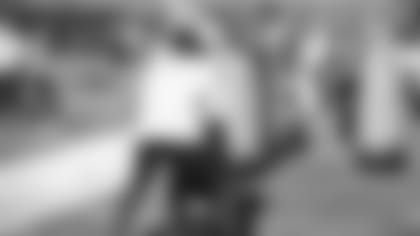 Bachie was very energetic and encouraging while he ran the passing drill. When students struggled he would take the time to show them how to throw the football better.
While safety Mike Thomas played quarterback in the wide receiver drill, he constantly asked them questions about their school lives. Thomas said when he was growing up in Houston, Texas, he didn't have the same opportunity to learn from NFL players.
"I always love to give back," said Thomas, who credits his three small children with his ability to connect with students.
Several Bengals have their own foundations. Safety and kick returner Brandon Wilson, who oversaw the running back drill, has an organization that hosted a football camp earlier this year that was attended by "a couple hundred kids."
Players like wide receiver Trent Taylor plan to keep coming back for more events. 
"Giving back to the kids is a very big thing," Taylor said, "knowing most kids their age don't have the chance for these events."