Rickey Dixon Jr., who took his dad's name, also took his smile. The smile that helped keep the Bengals' last Super Bowl team loose, remained resolute during seven years of sickness and lingers on the faces of those that love him best.
"That he was always smiling," is how the son says he wants the father to be remembered. "Even in the end. It never brought him down. He always had a smile on his face."
Dixon, 25, preparing to remember his father in this Saturday's memorial service in the Dallas suburbs, wasn't born until after senior's six-year career in the NFL. His teammates from those five seasons in Cincinnati can tell the son about that smile that lit up a locker room while he was lighting up anyone with a ball in their hands.
"Tenacious when the game started," says Eric Thomas, a Pro Bowl cornerback who coveted Dixon's athleticism. "He practiced the same way and that's how Rick was in life. Easygoing. Never uptight about anything. I'm heartbroken."
"One of the most physical safeties I ever played with," says Joe Kelly, the old linebacker who saw plenty during 156 NFL games with six teams. "He always had a story. And whatever that story was it was going to make you laugh."
"He was a heat-seeking missile," says Solomon Wilcots, the former safety who describes players for a living as a national analyst of the league. "He had this energy about him. He had us laughing. He kept us smiling. It would just roll off his back in such a wonderful way. He could get away with things nobody else could get away with because he was just Rickey."
Dixon, 53, passed away earlier this month from Amyotrophic Lateral Sclerosis (ALS), the motor neuron disease he fought since 2013. Kelly and his former Bengals teammates, Barney Bussey and Ira Hillary, along with their wives, visited Texas often enough to have their hearts broken by their friend's agonizing decline.
But even during their last trip last year, when Dixon could only move his right thumb, Kelly could still see the smile and the soul-mate love between him and his wife Lorraine. They met at Oklahoma, where the All-American safety would first greet her with, "Hey, Miss Lady," on her way to zoology class. Later, Rickey vowed to put her through law school.
"I'm going to get us out of the gate," Rickey told Eric Thomas, "and she's going to bring us home."
Lorraine Dixon, a lawyer for the Environmental Protection Agency in Dallas, is doing exactly that. They had such a good thing going. Four kids. Rickey had a successful landscaping business. They were home.
One day he stumbled off his treadmill and the awful diagnosis came not long after.
"He was an unbelievable athlete. I could run faster, but he was a better athlete," says Thomas, a starting cornerback in that crazy deep Bengals secondary.
Even then during that last visit, Dixon had a story. By then he couldn't talk but it didn't matter because Lorraine knew exactly what he was thinking and they were laughing and crying because Lorraine was such an amazing interpreter as she read his eyes
"We didn't know what he was saying, but she did," Kelly says. "And you could see it in his eyes. She said, "Joe, he wants you to know he's still got his car and he's still got his money.'"
The car. Talk about stories. That burgundy Mercedes. It was still in the garage, from what Kelly knew. He thinks it still has the RickDRuler license plate. That was his nickname. Rick The Ruler. Slick Rick, the rapper, had it first, but somehow the nickname grafted on to Dixon for the way he ruled the middle with his certain ferocity.
"When we were both playing for the Raiders, it was about ten below in Buffalo and Thurman Thomas was running the ball," Kelly says. "I was scraping over the top and I saw this flash shoot by me. Thurman went down. Rickey went down. They both went down."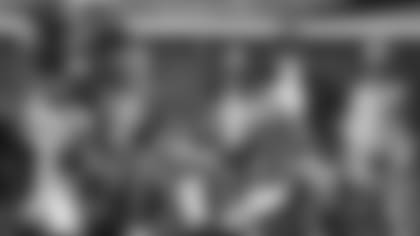 While the Raiders were picking up Dixon, the Bills were collecting Thomas.
"Did I get him, Joe?" and Kelly told Dixon he did as they led him off.
Wilcots remembers when he cut down Browns running back Kevin Mack on a Monday night, a 225-pounder. "Just trucked him," is the way Wilcots remembers it.
Wilcots also has a Rickey car story to go along with that truck. Just as the morning meeting was about to convene at Spinney Field, head coach Sam Wyche looked over at defensive coordinator Dick LeBeau and asked "Where's Rickey?"
"It was as if it was on cue," Wilcots says. "You hear this music. 'Boom, boom, boom.' It was Rickey pulling up in the parking lot. He was only a little late. If it was anybody else, there would have been hell to pay. But it was, 'Well, that's Rickey.' Even Sam had to laugh."
Dixon was such a great player at Oklahoma (Rickey Jr. accepted his College Football Hall of Fame induction last year) that the Bengals took him with the fifth pick in the 1988 draft even though they were full up in the secondary with guys like Thomas and Lewis Billups on the corner along with Wilcots, Bussey and the great Pro Bowler David Fulcher all at safety.
They viewed Dixon as a free safety, but the style that made him such a great player in Norman didn't exactly fit with what LeBeau was doing. Plus, he played so hard his body had a tough time holding up. 
"Natural safety in a corner's body," is how Kelly puts it so eloquently.
Still, the Bengals had a valuable, versatile player who could play every spot back there and did without complaint during his 32 starts. And with the smile. He was a nickel corner during the rookie run to the Super Bowl and Wilcots remembers him saving the big one for a few more minutes when he was the only Bengal left and he stood up Jerry Rice on that last drive at the end of 27-yard pass.
"He played a lot corner that year and he was big for us," Wilcots says.
All the while keeping them loose. Kelly remembers one training camp at sweaty, sultry Wilmington College smack in the middle of two-a-days and there was Rickey crossing the street to the locker room for the afternoon practice wearing sweat pants with his leather loafers.
"He was unique from the time he showed up," Thomas says. "A real neat guy."
Kelly saw a long time ago how in love Rickey and Lorraine were. She was Midwest shy and he was Dallas loud all the way. Opposites. Once after a Raiders game and in classic Rickey fashion, Dixon walked out of the locker room wearing bright Christmas red pants with a powder blue shirt that had some kind of a red dragon on it.
"Oh, my husband is so crazy," Kelly remembers Lorraine saying.
Since the Rice tackle is on YouTube, Rickey Dixon Jr., has probably seen it. His favorite clip of his dad's plays is his college highlight reel. The son started out playing football, but he's a lot like Lorraine and he opted for the books and an academic high school that didn't have football. He went to North Texas State, got his degree in computer engineering and works for a defense contractor.
He's got a car story, too. From when he and his brother were about four and five. Somehow they got the keys and drove the Benz into a neighbor's yard.
"He was mad at first," Rickey Jr. says. "But when he saw we didn't wreck it, he started laughing."
One more car story. One more Rickey story. There's always another one. Kelly should tell this one.
"He couldn't wait for winter in Cincinnati," Kelly says. "One day it started snowing and he drove through downtown with the top down wearing his fur coat. Right before practice. He always wanted to do that."
For his teammates, The Ruler will always be smiling through the snow.
"One of a kind," Kelly says.