The last time the Bengals had two offensive linemen making their first NFL starts on Opening Day 22 years ago, rookie center Billy Price was just shy of two years old and second-year right guard Alex Redmond was also all of one, even younger than his three-year-daughter Lincoln.
This isn't kid stuff. Lincoln is a major reason Redmond has gone from beefy practice squad hothead to streamlined Opening Day starter when quarterback Andy Dalton sets down his revamped offensive line Sunday (1 p.m.-Cincinnati's Channel 12) in Indy. Bengals head coach Marvin Lewis says Redmond "has grown more than any player in this building as a person," and Redmond points to Lincoln and his eight-month-old son Jeremiah.
"Having someone to rely on you so much. They need you to provide and they need you to do those things for them. That sense of purpose and accomplishment is greater with kids you have to provide for, too," Redmond said before Wednesday's practice. "It's made me more mature, made me more about my business. My approach isn't just, oh, I'm going to go make some money.' I have to provide for my family."
Redmond, known to write poetry while growing up in Cerritos, Calif., says there hasn't been much time for that lately. Not with kids and spending training camp trying to win a starting job, which he did when he outwrestled last year's incumbent Trey Hopkins in a decision that didn't come down until he showed up for work this week.
Just as well. Sunday's assignment is more pulp, a bare-knuckled dime novel featuring Redmond's searing intensity and outlandish strength he loves to throw around. Giving Redmond his first NFL start on Opening Day seems so anti-Marvin. But it also seems to be more than a roster move.
First-year offensive line coach Frank Pollack has been committed to changing the culture up front and while Redmond has tested him with a string of penalties, his aggressiveness and edge and 6-5, 312-pound vat of talent is exactly what Pollack wants his line to be.
"I have to give Frank Pollack a lot of credit," said Bengals radio analyst Dave Lapham, a Super Bowl guard for the Bengals. "A lot of coaches would be like, 'This can a tough decision to make.' I think Frank wants to establish an identity and this guy is a big, big factor in maybe establishing an identity just knocking people around. He'd be the poster child for it."
Lewis suggested as much, saying Redmond is the first guy he'd pull out of the locker room if he had to go into an alley.
"That's what you would want, because he's going to go down with you and he's going to go down swinging," Lewis said. "We just have to go with what is within the framework of what we're asking him to do technically. He's embraced it. Coach Pollack came in here with an open and fresh mind, so all of these young guys got a fresh start. They got an opportunity to earn his trust and to further their cause by doing it his way, which is the right way. They are seeing that pay off."
Indeed, listen to Redmond and it's as if Pollack has set him free as a player, unleashing that mean streak.
"My new offensive line coach absolutely loves it. He loves everything about the physicality of all that kind of stuff. I've other coaches in the past tell me to be something I wasn't and they're gone now, thankfully," Redmond said. "He understands. When you go out there he knows that it's tough. It's a hard game to play, so he gets it … They're pretty much letting me loose, let me do my thing. I'm excited."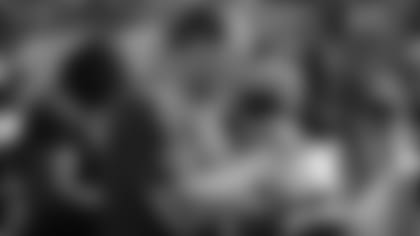 Left guard Clint Boling, the dean of line with 95 games, is one of four guards in the Green-Dalton Era whose first NFL start came on Opening Day. He did it in 2011 and Kevin Zeitler did it in 2012 before Hopkins last season and Redmond on Sunday.
"He's got an attitude and demeanor about him that kind of rubs off on some other guys. He's obviously really talented. He's one of those guys who can bring some energy to the group," Boling said. "That's one of the good things about him. You are kind of dialing him back sometimes and that sort of thing. Most of the time you are trying to get guys to play hard and that sort of thing. For him, it's the opposite."
Redmond knows what makes him tick. He gets high grades in his ability, but the Bengals love his approach just as much.
"I feel like that's something that makes me little different. Obviously you can find a million guys that do what I do," Redmond said. "But I feel like I try to out-physical my opponent every play. Even if that initial battle I'm going to be like, he got under my chest, I'm going to try to work and win that block. It helps me win a lot blocks that I necessarily didn't start winning from the beginning."
When Redmond arrived as a free agent rookie out of UCLA two years ago, he immediately became the most extracurricular Bengal. Reporters would take bets on the sidelines not to wager if Redmond would be the first player to get in a scuffle. But when?
"Every now and then," said sophomore defensive tackle Ryan Glasgow with a smile, who says Redmond has toned it down from last year. "I think that's a maturity thing as well for people on the other side of it. Everyone here wants to get better working on technique. It's a waste of energy on a 95-degree day in the middle of August throwing some punches or throwing someone down when the next play is the most important."
Michigan's Glasgow, smart guy, can see what's going on.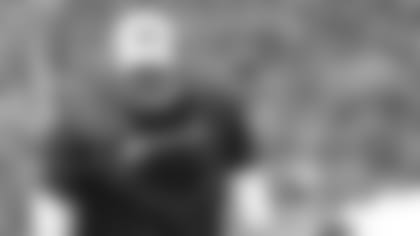 "As a guy that likes to play with intensity myself, it's a good thing as an O-lineman to have a physical edge to you and I think he brings that to the O-line," Glasgow said. "Finish your blocks. Max effort. Be physical. I think those are some things (Pollack) has been trying to instill in the O-line. I'd say that's kind of been Redmond's M.O. since he got here."
UCLA's Redmond, smart guy, admits he thought he blew his chance when he got the start in Buffalo in the third pre-season game and on the second series he false started on the first play and then was called for holding. Then he was pulled from the first group. But when he returned to play later in the game, he did well enough to win the job.
"I thought for sure it would set me back," Redmond said. "They say you can't outplay your bad snaps. Are you 20 yards better than this other person? Apparently I was. I keep getting better, make sure that stuff doesn't happen for the team. It's not going to be an issue."
"There's definitely a fine line," he said. "It's hard to ride that edge, that razor's edge. But I definitely try to ride it as close as possible. There is a very fine line, so I'm still working on that this week and I'll have it corrected by Sunday."
On Sept. 1, 1996, the Bengals also went young inside. Ken Blackman, the right guard, was a third-round pick. Rod Jones, the left guard, was a seventh-round pick, when they lined up against the Rams in St. Louis to open the season. The kids now were babies, all grown up, the Bengals hope, in time for Sunday.
"I always knew I could play ball. I always felt like I belonged out there, like I could play and help win games," Redmond said. "I feel like that film I put out there at the end of (last) year really helped. 'Get the little talking about ooh Redmond this and that.' Even though I'm actually a different player and person than I was last year because I was 350 pounds and mobility wasn't the best. Now I'm 312 with great mobility."
But the mean streak measures the same.