As the Bengals search for that complementary game in this uncomplimentary season, they got a lift at Thursday's practice when, first, franchise player A.J. Green practiced for the first time in 44 days in limited fashion. Then, offensive lineman Alex Redmond livened up things because he's looking to win a job and he reminded them what it means to be hungry as threw his weight around at his new position of left tackle.
The offensive line continues to be a story because there are stories all over the place. After fourth-rounder Michael Jordan's struggles the past two weeks, Billy Price got the call back to left guard this week as last year's No. 1 pick continues looking to assert himself.
"Keep swinging away and keep getting better. Do what you can to help the team," Price said before Thursday's practice. "This week is a great opportunity for us going against a historically stout defense and have fun. There's a lot of combo blocks on the left side, so we're making sure (Redmond) is queued in on where he's going and what we're doing. It's all about execution and efficiency."
Offensive line coach Jim Turner surprisingly pulled Redmond, 24, a third-year player whose 15 NFL starts all came at right guard last season, from the line ranks last week to give him snaps at left tackle with Andre Smith hurting.
Now with Smith (ankle) looking like he's not going to play Sunday (1 p.m.-Cincinnati's Channel 12) in Baltimore, Turner pulled another surprise after Thursday's practice. He said he's trying to decide on a starting left tackle between Redmond, a third-year player who hasn't played tackle since he was a sophomore on the junior varsity at Los Alamitos High School in Los Alamitos, Calif. , and John Jerry, the nine-year vet who has a handful of NFL starts at left tackle. Jerry played quite capably in Smith's absence for the last three quarters when he blanked Chandler Jones, Arizona's estimable pass rusher.
Turner keeps going to back to Thursday's chippy work and how Redmond influenced it.
"He finishes blocks. He pisses people off. And then there's some little shoving going and the next thing you know everybody is playing like it's the Super Bowl," said Turner and when asked if there were any fights he said, "I would say blood pressure went up a little bit, but no fights. He plays with an edge."
Now they're trying to find out if the guy with an edge can play on the edge after years as a guard.
"Guys like him just bring an energy. I love Redmond. He brings an energy in there, there's a physicality," Turner said. "He kind of like sparked that whole practice today. He plays hard and he loves football. Being around a guy like that it's contagious … We're going to find out (if he can play tackle). Not totally sure yet."
Redmond is in his second week back from a four-game NFL suspension stemming from violating the league's performance-enhancing drugs policy (according to profootballreference.com) and he definitely gives the Bengals a physicality they could use. Not only that, he's got a way with words.
"I'm ready to play some ball. I'm ready to roll," Redmond said. "Just play fast. I'm not real worried what I need to do. I've prepared … You get the river flowing so it could be the Grand Canyon or it's like a little stream. What you want to do is, how much pressure and water you want to put down that path. I feel like I'm doing everything I need to make sure I'm prepared."
Redmond had 11 penalties last season, among them six of the holding variety and four unsportsmanlike conducts. But Turner is looking for both discipline and an edge. They love the guy's mean streak.
"That will not be a problem," Turner said of his temper. "His maturity has definitely grown. He understands that. The big thing is it's not about him. It's about the big picture. You can't let your emotions take over because it affects the game … I'm not counting those (penalties). I have other issues right now. I'm excited that he's back, that he's here."
Ever since they signed Redmond undrafted out of UCLA in 2016, he's had various coaches rave about his ability to finish blocks. You can add Turner and assistant Ben Martin to that list. That ability comes in handy on protecting the passer, too, as Redmond discussed with his dad a few days ago.
"Whether you're playing guard or tackle, it's the same thing. Finish plays," Redmond said. "I was told by a couple of coaches I was the most finishing guy they've seen play. That's the thing I hang my hat on. I feel like it puts me in a good situation a lot of times. You might not win every battle, but I feel like at the end of the day I'm going to win most of the war. You're not going to get one over on me. I'll keep pushing forward."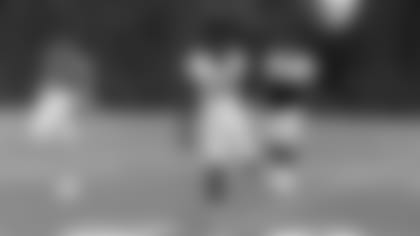 Jerry and Redmond are cut from the same cloth. They both play an edgy, physical, no-nonsense game suited for the inside but have been asked to take it outside because of injury. Jerry, a third-round pick of the Dolphins in 2010, never had a chance to practice at left tackle when he got moved out there during a game Jake Long blew out his shoulder.
"It's all kind of been a Rubik's Cube and John is all a part of that right now," Turner said. "We love having John here and I love the kid. I coached him with the Dolphins. He's nothing but a tough guy and so when you ask him to do things he just pops up and he goes. If you tell him we're starting somebody else there's no whining or nothing he says, 'OK,' and helps that guy get ready. He's just a pure team guy and he's going to help."
In Jordan, Turner is working with an even younger guy he thinks can be a starting left guard that can eventually kick out to tackle in emergencies. He's benching Jordan after he got roughed up by the Pittsburgh and Arizona fronts, but Turner vows Jordan gets back and he doesn't fear they'll be a loss of confidence.
"Mike's done a good job, but we just want to give Billy an opportunity and give Mike a break," Turner said. "(Jordan) is a rookie, he's a young rookie and he's a little bit nicked so we want to give him a little bit of a break and let Billy get his shot in there … This is no reflection of Mike He is going to play a lot more football this year."
Price made sure when he hasn't been playing that he's been taking two reps in there during every team period on Wednesday and Thursday. This week, of course he's getting the first-team reps.
"I'm very familiar with Andre J.J. and now Redmond," Price said. "Whoever that person is going to be, we have to make sure that new cog has the ability to execute."