Bengals offensive line coach Jim Turner watched it, as they say nowadays, in real time on Monday night. On Tuesday he broke it down. On Wednesday he summed it up.
"You know what stood out to me," Turner repeated after Wednesday's walk through the furnace as he reflected on Monday night's eight sacks of quarterback Andy Dalton. "Just how hard these guys worked until the last second of the last play. These guys go at it. It was a long night. But there was never a look. There's not a quitter among those five. I'll coach those guys until the end of time as far as I'm concerned."
So it doesn't sound like there's a change in personnel up front Sunday (1 p.m.-Cincinnati's Channel 19) at Paul Brown Stadium against the Cardinals.  Turner also looked at the game the Patriots played against the Bills last Sunday and the one the Bengals payed against the Bills the Sunday before that.
The Bengals gouged out 306 yards to New England's 229. They rushed for 67 yards while New England had 74. The Pats won. The Bengals lost. But Turner believes the flashes the Bengals have shown against elite defenses such as the ones in Seattle and Buffalo show they are on the right track early in the life of head coach Zac Taylor's first-year offense.
"We're still trying to find our identity as an offense and you learn some tough lessons sometimes and I think we learned one the other night," Turner said. "We're not a drop back 35-time team. In the end, that's pretty much the way it is. We have to run our offense and we don't want to be in those positions very often.
"It's like Zac said. We've got to be efficient on first and second down. Be efficient running the ball, screening. Even if we drop back on first down, we've got to be efficient doing it. You can't put all of it on 14 (Dalton) and these guys understand that. They're ready to do what we have to do to make this thing work."
Turner says it comes down to developing a rhythm that translates into their identity. They're a step ahead of a lot of people because they know what they want that identity to be. It's taking time for the philosophy to catch up with the Xs and Os.
"When you take over a team like Zac did, you know we all came over to a new team, there's a certain fit that you're looking for between the players and the coaches," Turner said. "A lot of times you don't know exactly what you're going to run (and) you don't know if it fits with the players you have and so on. So, I think we are still trying to find that identity … In the end, the theme of what we do is running the ball, play-action pass (and) screens off of our runs. That's our theme …
"Our offense is built to run the ball, to play-action pass, and to screen and to drop-back pass 10 to 12 times a game. We dropped back a lot the other night because the way the game unfolded. When they get a little jump on us, and they get a little bit of momentum, and they make a couple of plays, it just goes down that way. Sometimes it rains hard and it rained hard the other night."
The offensive line has been playing hurt all year. They're down to their third left tackle, Andre Smith, a right tackle by trade that's giving them everything he's got in a strange position. They've got a rookie left guard to go along with a new center and right guard to match a new scheme.
It sounds like Turner and Taylor, his play-caller, are going to try to help their line by examining pass-run ratio, which is out of whack enough that Dalton is on pace to break the franchise record he shares with Carson Palmer by 78 attempts for 664 passes, eighth most all-time in an NFL season. The Bengals' projected 284 rushes would be the fewest for a team in a full season since the merger.
They know that's not a good trend. Four of the five biggest passing seasons for the Bengals have come in losing years. Last year, the 369 rushes were the fewest in franchise history, a year after the 377 of 2017 were the fourth fewest. Both were in losing seasons.
They also know that the plan to be balanced his season was sabotaged in the first three games by first down inefficiency. Taylor seemed to indicate maybe he could have helped the O-line a little more Monday night with more than the 16 attempts by the running backs.
"You give up eight sacks and you say, 'We shouldn't have thrown the ball so much.' That's the easy thing for someone to say, and for myself to say," Taylor said Wednesday. "This is a week for us to get back on track.
"Through the first three games, there were some moments where those guys were really challenged, and they stepped up and really did a good job. This is the first time where it felt like, 'All right, they beat us up up front a little bit.' It was for a variety of reasons. We can take the pressure off of them with the play calls and the things that we were doing. That was a one-off from what we'll see. That's not going to be the norm. That was a physical front. As the game went on, they wore us down a little bit, but I still feel confident in the guys that we have out there and that they're going to do a good job."
Turner has no doubt that his five guys are going to bounce back. On Wednesday, their first day back to work, Turner got what he expected. They won't be scarred emotionally by what happened in Pittsburgh.
"They were outstanding. They were excellent," Turner said of Wednesday's approach. "The only guy who is young is (rookie left guard) Mike Jordan and not a lot is going to bother Mike Jordan. They've been through it. They know how it goes. They know there are going to be some highs and some lows. I don't think confidence is going to be a problem for these guys, I really don't."
Turner said the instant the right side let rookie Steelers linebacker Devin Bush get an untouched sack of Dalton to blow up the first series, it knew it made a mistake and fixed it right away. With 5:54 left in the first half and the Bengals in the red zone poised to go up, 7-3, Smith got jumped on the pass rush and allowed a strip-sack.
"The great thing about Andre is that he got beat early in the game, but he bowed up," Turner said. "Andre' not going in the tank. He played a pretty good game."
MORE UP FRONT: Turner brought Billy Price off the bench late to play for Jordan Monday night, but Taylor said Jordan is starting again Sunday.
"I want to get Billy as much work as I can. At that point in the game, I wanted to get Billy in the game for that reason," Turner said. "Mike had been injured as well, so it was a smart move. And same thing, I wanted to get Andre out of the game (replaced by John Jerry). Because the way I see the world, Andre is our left tackle and that's where I'm at. He's our left tackle and that's the way we are going."
No sign of left tackle Cordy Glenn (concussion) after he practiced for the first time last week in six weeks.
ROSS OUT, MORGAN IN: Wide receiver John Ross injured his sternoclavicular joint Monday night and is lost for six to eight weeks. He went on injured reserve, where he's one of a couple IR players eligible to return after the eighth week. Others are rookie left tackle Jonah Williams and cornerback Darius Phillips. So Ross, who leads the team with 328 receiving yards, is gone for as long as they've missed Green and maybe more. That's quite a blow to a team ranked 27th in offense.
"John was really starting to feel like the player he's supposed to be," said wide receivers coach Bob Bicknell. "But it is what it is. You get the next guys up and hopefully they can take this opportunity."
When Stanley Morgan, Jr., was promoted Wednesday from the practice squad, he joined Damion Willis as the second undrafted free agent receiver on the roster. With Ross and A.J. Green now shelved, he'll definitely make his debut, too, against the Cards.
When he missed his call from Taylor, the fellow Nebraska product, the head coached texted him, 'Everything's OK, you can call me." So Morgan knew he wasn't cut and, anyway, he had an idea he'd replace Ross.
Cornerback Darqueze Dennard suffered a similar injury last year and missed three games and four weeks, but it was scary. The sternoclavicular joint is basically at the base of the throat and he was inches away from being severely hurt.
And, no, there was no conversation about going outside the club for a receiver with NFL experience.
"You can always have the conversation," Taylor said. "No. These are guys we believe in, and if we didn't, we wouldn't bring them up – we'd go get somebody else. But we believe in (Willis and Morgan).
"You watch Stanley on the practice field, and he's dead tired from taking a thousand snaps on both sides of the ball. The guy competes his tail off. Those are just guys that impress you. You like the energy that they bring to the whole team. Yeah, they're undrafted rookie free agents that we went out and got, but I've really been impressed with them since the first couple of weeks they were here — enough that they're both active right now."
INJURY UPDATE: All three defensive linemen who missed the last two games were listed as full at Wednesday's walk-through: Carl Lawson (hamstring), Ryan Glasgow (thigh), Kerry Wynn (concussion). Everybody else was full, too, but Green, Glenn and Ross.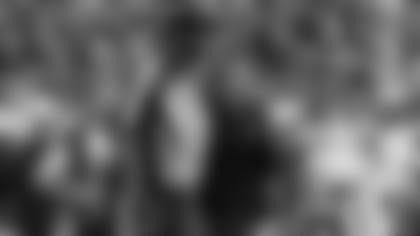 ZAC ATTACK: As he indicated after the game, Taylor didn't like that first Steelers TD, running back James Conner's 21-yard weave on a third-and-two pass that was illegal because of men downfield.
"If they are down the field before the ball is thrown, then there's an ineligible receiver downfield," Taylor said. "On a touchdown, you can't challenge whether it was OPI (offensive pass interference) down the field. So if they engage with a second-level defender, which they did... and they said that they missed it. That part is hard, because we can't challenge that because it was a scoring play. I made that mistake in the preseason. So that part was frustrating."