Left end Carlos Dunlap's team-leading streak of 115 straight games came to a rather abrupt end Friday when he missed practice with a knee issue and was declared out of Sunday's game (1 p.m.-Cincinnati's Channel 12) in Baltimore.
The injury apparently flared up in Thursday's practice, in which he was marked as limited, giving the Bengals run defense a hit even before it lines up against Ravens quarterback Lamar Jackson and his third-ranked offense.
Dunlap, who had his lone sack of the season five weeks ago in the opener, hasn't missed a game since the 2012 Paul Brown Stadium opener and a 34-27 victory over the Browns in which Robert Geathers started in his spot. Since then he's had 59.5 of his 73.5 career sacks, 10 from tying Eddie Edwards' franchise record. He falls two games shy of tying long snapper Clark Harris and tight end Tony McGee for the fifth longest games played skein in team history.  
Dunlap came into the season 1.5 sack ahead of Bengals defensive tackle Geno Atkins and both have only one this year because, in large, part the Bengals haven't been able to stop the run and are ranked next-to-last in a category they allow 167.6 yards per game.  Baltimore's strength is a run game averaging 192 yards and the Bengals are coming off a game the Cardinals rushed for 266. In Jackson's first NFL start back on Nov. 18 in Baltimore, the Ravens rushed for 267 in a 24-21 victory over the Bengals.
"He's frustrated like we all are," said defensive coordinator Lou Anarumo earlier this week of Atkins. "But again, when it's third and 4 and third and 5, the ball's going to come out quick. And these guys are not going to have as many opportunities. We've got to create the third and longer yardages for those situations to happen. That, generally speaking, is when these guys get their sacks. "
For the fourth time in five weeks they go into a game without three defensive linemen. Also out are tackle Ryan Glasgow (thigh) and end/tackle Kerry Wynn (concussion), which means Carl Lawson, primarily a pass rusher, probably gets his second NFL start in place of Dunlap. It also means Andrew Brown, in his fourth NFL game, looks to be the primary backup for Lawson and right end Sam Hubbard.  Rookie nose tackle Renell Wren, also in his fourth game, may be called for edge work, too.
They can use any kind of size they can get because unlike last week against the Cardinals, the Ravens have beefier personnel with a fleet of tight ends, a position Arizona disdains.
It's a tough week to lose Dunlap. They need as much athleticism as they can get on the edge while trying to mirror Jackson and Dunlap is one of their most athletic guys anywhere on the team. During the week Dunlap talked about the importance of stopping the run, an attack that teams have pointed at the edges and in the last two games has allowed quarterbacks Mason Rudolph and Kyler Murray to beat them despite coming into the game with one and four NFL starts, respectively. Now here comes Jackson in his 13th start averaging 6.2 yards per his 50 carries paired with running back Mark Ingram's five yards per carry on his 71 carries. Defensive coordinator Lou Anarumo has an idea where the Ravens are going to send Jackson.
"This is a repeat league and if teams have success doing something, you're going to see it until you stop it," Anarumo said. "Whether that be a double move on a wideout or a perimeter run or whatever it may be. (Against Arizona) the jet sweeps weren't the issue, it was the quarterback keeping the ball. We had some bad fits on that and certainly at the end of the game it killed us. When you give a guy like that space you're in big trouble and that's kind of what happened (Sunday).
"When you're playing these scrambling guys that can get out, you play man and you've got your backs turned, and then all of a sudden you see what happens late in the game. You play zone, and if you're disciplined in the zones, that's what happened on that play. Again, I'll get back to it. I've been doing this a long time. But if you chase plays, you'll give up more than you make."
SAM linebacker Nick Vigil says Jackson has improved much throwing the ball compared to that first start and says, "he's a little bigger, a little more experienced," than Kyler Murray, the Cardinals quarterback that rushed for 93 yards last week
"You see it all over the tape. He's making great throws down the field," Vigil said. "Long deep balls. He does a good job checking it down, not forcing things. We have to force him into some tough throws and play tight coverage."
For Vigil, it's pretty simple: "We've got to have better run fits, setting the edge and getting the guy down on the ground."
After Friday's practice Taylor said he expected rookie linebacker Germaine Pratt to start getting more snaps after the first five games he's had a high of 12 plays. Lawson is coming off last week's big teaching moment. He was on the edge when Murray sped for a 24-yard scramble up the middle as Lawson ran past him in a big up-field rush. Murray and Jackson are the kind of mobile quarterbacks that paralyze defenses with dilemmas.
"When he goes, he goes. He doesn't wait very long," Anarumo said. "Certainly at the end of the game we got two high on the edge with Carl and he saw that and took off running. We want to be aggressive and pressure the guy, but it didn't work out."
Jackson may have more company than Murray did. Anarumo said they had a defender stalking Murray (commonly known as a spy) on a handful of plays and it sounded like they could do more of it.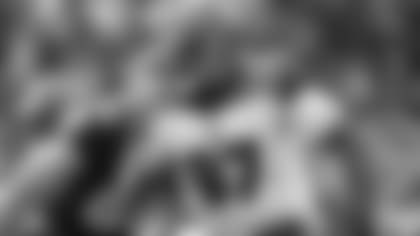 GREEN UPBEAT: Franchise wide receiver A.J. Green appreciated Taylor's gesture Thursday when he stilled trade rumors by insisting he wants Green back and that there are no plans to deal him. Green returned the favor and said he likes playing for Taylor and his developing culture.
"Zac keeping it clear. Everything is clear," Green said after Friday's practice. "You want your guy to always stand up for you. It's why I'll do the same thing for him. I love what Zac is building here. Not just on the field, just the whole coach of the locker room. I love the way he approaches the game. Building it from the ground up for high character guys who work hard."
After practicing for the first time Thursday, Green backed off his ankle a bit, although he was again listed as limited Friday. He'll take off Saturday and on Sunday he plans to run routes for the first time on the field in Baltimore. That won't scare the heck out of Ravens head coach John Harbaugh because he's already been ruled out to play. Green has killed the Ravens in their building with a tying Hail Mary in 2013 and fourth-quarter winning TDs in 2014 and 2015. Last year at PBS he scored three touchdowns in the game's first 17:02 of a win.
QUEZ READY: Slot cornerback Darqueze Dennard (knee) says he's ready to practice Wednesday if the Bengals are. He's eligible to come off the physically unable to perform list (PUP) on Monday. So is rookie left tackle Jonah Williams (shoulder), but he doesn't appear to be ready yet while Dennard has looked primed on the rehab field for a couple of weeks.
GIO TALK: One of the mysteries of the Bengals offensive struggles has been the relative absence of running back Giovani Bernard, regarded as a dangerous receiver as well as runner. But he has just 31 touches this season for just 133 yards while averaging just six touches per game. He played 26 snaps against the Cardinals last Sunday while rookie wide receiver Damion Willis had 40. Earlier this week after a practice, offensive coordinator Brain Callahan went through the challenges getting Bernard and running back Joe Mixon on the field together.
"I've always been in conversations with the places I've been with backs like Gio that you think he can be a slot receiver in a sense," Callahan said. "Sometimes it sounds good, and then you look out there and he's playing against a nickel corner who's paid to cover – that matchup doesn't look as enticing. But there are somethings that we can use Gio in. We've had bits and pieces of it. There are games we thought we were going to get more in that regard and then the game is kind of unfolded and we haven't been able to get to some of the things we had up."
The Bengals crafted a game plan for the Cards that had Bernard getting some heavy work in the red zone and he did convert a third down catching a pass.
"Gio has a pretty good route tree. He can do a lot of things," Callahan said. "The only thing you always get concerned about for quarterbacks if you put guys like that out wide, is they are small targets. They are harder to hit occasionally depending on the route.
"He's an exceptional blocker. Usually, if we are in a must-pass situation, two-minute drill or on third downs you'll see Gio in there quite a bit. He's savvy, he understands blitz pickup and he does a good job with it. So, that's kind of where he fits the best and we try to find ways to use his skillset in other places."